Andrew Chen – Vyopta
From finding a voice to forging a vision
Specializing in enterprise solutions and business analytics, with a unified communications (UC) management platform that's become a bona-fide best-in-class, Vyopta's clientele is a who's-who of Fortune companies: Astrazeneca, Comcast, UPS, the list goes on.
And yet, with $6 million on the line—a drop in the bucket for any of these enterprises—Vyopta's general counsel and co-founder, Andrew Chen, couldn't help but feel the heat.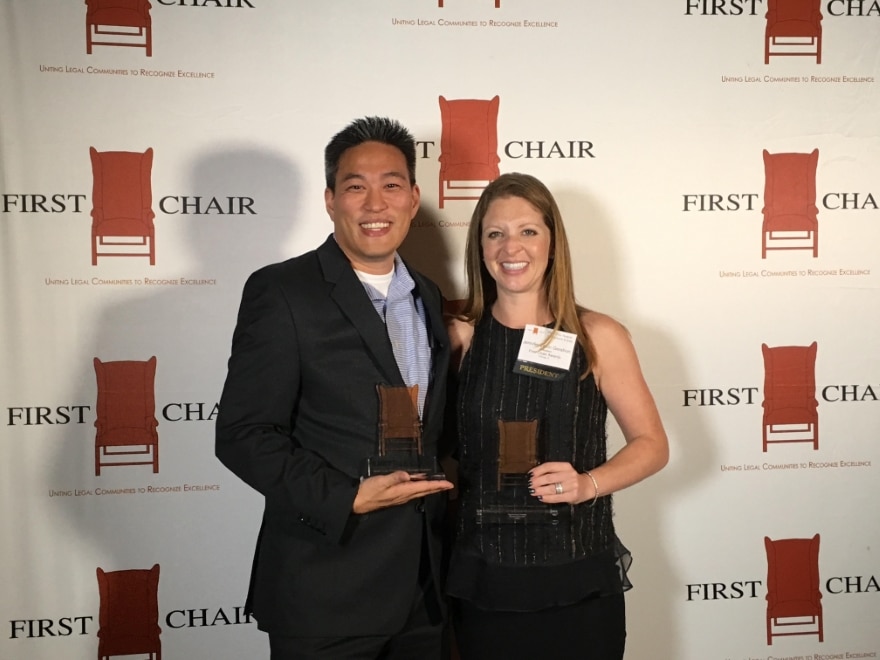 It was 2016, and Chen was helping the startup pursue its first venture capital since being founded in 2007. Hundreds of pages of paperwork had to be airtight.
"When you have all your documentation lined up, ensuring the process runs as smooth as possible, you're ensuring that you aren't letting anything fall through the cracks," Chen says. "It not only sets the company up to be in a better place systematically, but assures the investors that you're paying attention to the details."
Pitching down the middle
Like most corporate fundraising pushes, Vyopta began by pitching venture capitalists, both in and beyond the company's Austin, Texas, backyard. Chen helped develop a comprehensive terms sheet covering the company's goals: the amount of money needed, how that money would be spent, timing, and so on.
From there, Chen and his team of outside counsel honed in on the more granular details, everything from the issuance of additional stock to board voting agreements to changes in the company charter. Once an independent counsel signs off on the numbers, the agreement is ready to be signed—eventually.
"The process from a legal documentation perspective typically takes around three months," Chen explains. "The process is dependent upon how quickly the VC wants to move, how much time they spend on market analysis and due diligence of the company. We answer questions and address any concerns throughout the process to ensure that there's complete transparency."
After securing $6 million from the Austin-based AVX Partners in 2016, Chen and his team were able to secure another $5 million from Elsewhere Partners (the successor to AVX) in early 2018. Although Chen is proud of both successes, he insists it's not just about whether you land the money, but how you use it.
Shifting gears
According to Chen, Vyopta used the 2017 funding to pivot its business model from selling actual software products to software as a service, or SaaS. It was a switch that required a recalibration of the company's contracts: instead of issuing software licenses—where things like platform maintenance are "tacked on" and renewed annually—Vyopta now offers more inclusive, subscription-based contracts.
"To an extent, the nature of our client relationship has shifted," Chen explains. "We've had to have conversations with some of our clients to address what these new agreements are going to look like and how our relationship will continue to evolve in a manner that best suits them."
Data diligence
To ensure that pivot is executed on solid ground, Vyopta continues to invest heavily in retaining the best talent—in particular, the company's sales and product development teams. But for Chen, some of Vyopta's most critical investments are on the cybersecurity front.
As any tech company would agree, security these days is as much a matter of necessity as capital flexibility. After the European Union passed the General Data Protection Regulation (GDPR) in 2016, companies the world over—Vyopta included—scrambled to meet the May 2018 deadline for compliance.
It was Chen's job to take a sweeping inventory of what kind of data the company had, including everything from Vyopta's entire application database to information stored in sales and marketing. Once the inventory was in place, he created processes and protocols to ensure full compliance: air-tight data safeguards for all new products, consolidating all European customers into one list in order to solicit their consent, and so on.
Asked whether such measures demand an open-door relationship with Vyopta's CIO, Chen can't help but laugh: turns out, he wears that hat, too.
"Simply by virtue of having been here from the beginning, I kind of took on the role of CIO over time," Chen says. "We've since built a very strong committee of internal voices to help guide our security policy, but as with any small organization, you end up wearing many hats."
Indeed, Chen has always had a knack for seeing things—and arguing things—from a different point of view.
Bigger stages
While Chen excelled academically at Alief Hastings High School in Houston, Texas, he was also remarkably shy—at least early on. That is, until one of his teachers convinced Chen to join the school's debate team.
"It was this enormous adrenaline rush," Chen recalls. "It felt like a verbal chess match and I wanted to win!"
As a political science and policy studies major at Rice University in Houston, Chen first considered becoming an international diplomat. By his second year at The George Washington University Law School, however, Chen—citing his father's "entrepreneurial spirit" as motivation—turned his focus to business law.
After earning his J.D. in 1997, Chen joined the Houston firm, Baker Botts, representing commercial clients on issues including equity financing, mergers and acquisitions, and securities and real-estate transactions. Chen oversaw a similar purview at Gray Cary Ware & Friedrich (now DLA Piper), serving as an associate from 2000 to 2002.
In 2003, Chen forayed into the business world, joining the software startup Digital Animation Inc., a company built on the idea of streaming high definition video into homes. Following a brief return to private practice between 2003 and 2005, Chen was named general counsel of the warehouse optimization software company Reddwerks.
In 2007, Chen, along with Reddwerks' vice president of sales, Alfredo Ramirez and one of his old colleagues, Rick Leung, decided to start their own business software company. And so Vyopta was born.
Now, with the company on the cusp of adulthood, Chen is proud to be in a place where personal growth—"being one percent better than you were the day before"—is the most telling bottom line.
"SaaS is an incredibly competitive business, but so long as you have those cooperative elements functioning properly, everyone benefits," Chen says. "It's no longer just a matter of the business flourishing, but the people as well."
Showcase your feature on your website with a custom "As Featured in Vanguard" badge that links directly to your article!
Copy and paste this script into your page coding (ideally right before the closing