Dan Barsky – Fluent Inc.
An innovative approach to marketing brings a bevy of legal challenges
As the general counsel, chief compliance officer and secretary at one of the nation's fastest growing, most innovative companies, Fluent Inc.'s general counsel Dan Barsky brings decades of legal experience to the startup realm.
Founded in 2010, Fluent's unique approach to advertising and marketing gained the attention of IDI Inc., which acquired Fluent in 2015. While this acquisition help distinguish the business from its competitors, it also presents a number of unique challenges for general counsel Dan Barsky.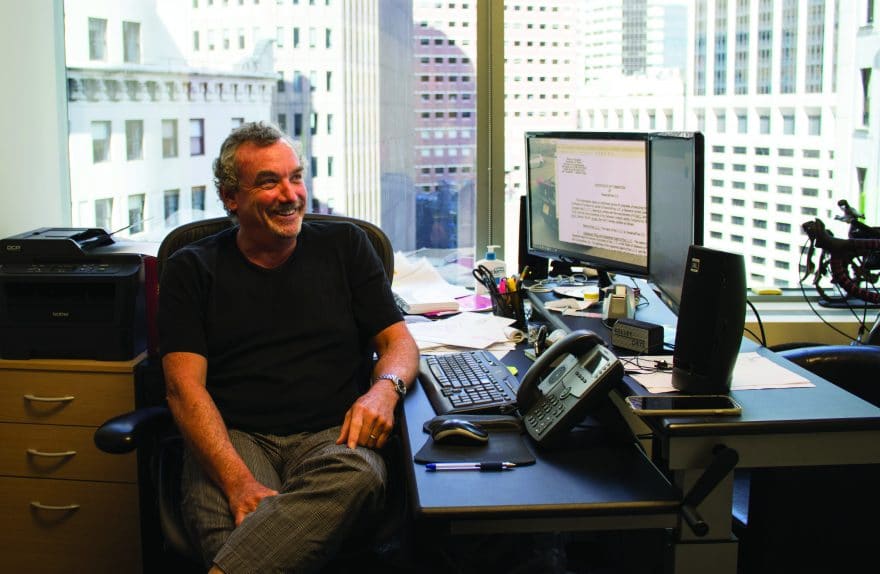 While most marketing companies track user's past buying habits and internet search history in an effort to drive targeted advertising, Fluent's unique, predictive approach tailors recommendations based on what a consumer might purchase in the future.
"It's not like cookie-based browsing; it asks questions about what you're into right now and is much more forward-looking," says Barsky.
As a performance-based marketing company, Fluent is working to replace the outdated cost-per-thousand (CPM) impressions model with one that pays out only when consumers take a concrete action.
"We do customer acquisitions at a huge volume, and we do that on a performance basis rather than paying for impressions. Whether that's installing an app, clicking on a link or signing up for something, we get paid only for that action," says Barsky. "The trend in advertising is increasingly performance based, and that's right where we are."
Fluent works with some of the country's most recognizable brands and websites, including Western Union, Shoe Carnival and Cheapflights.com.
The company's proprietary approach (a patent application is pending) starts when a potential new customer registers personal data with a website. After information like name, email address and mailing address has been entered, Fluent presents the user with a short survey designed to gauge their interest in a number of areas relevant to advertisers.
Based on the answers to these questions, Fluent will push out targeted promotions tailored to a consumer's particular interests, creating greater engagement and increasing the likelihood of a future purchase.
"People are not going to just pay for eyeballs anymore, they want to pay for action and we're good at that in high volumes. We have more than a half-million registrations a day, which is really exciting," says Barsky.
Barsky's role with the company is especially important given the amount of potentially sensitive personal data gathered in the process. While legal professionals at some companies might be able to get away with only having a cursory technical knowledge, Barsky has made a concerted effort to immerse himself in even the most the minute details of the process.
"It's important to understand how the backend really works, who is doing what, where the risks are and who should be responsible for that risk," he says.
A background in marketing, a passion for technology
Barsky started his career in private practice, specializing in tax and corporate law for six years before taking on in-house positions at a string of media-related companies. "When I started out and I was just a tax lawyer and it felt confining to me and it just didn't have the diversity I was looking for," Barsky says.
He gained experience in the marketing arena in 2005 when he joined the team at Hanover Direct, a major direct marketing firm with over $400 million in annual sales. There, Barsky saved the company over $1.8 million in annual legal expenses by bringing key legal functions in-house and, in cases when outside counsel was used, made sure to lay as much of the groundwork as possible.
"You have to know where you need help. If you can advance the ball 80 percent of the way and package your questions in the right way, you can use outside counsel without spending too much money and the whole process becomes much more efficient," he says.
From there, Barsky moved on to Snackable Media where, as general counsel and head of compliance, he deepened his understanding of both mobile-based and promotional marketing. It was during his time at Snackable that Barsky first encountered Ryan Schulke and Matt Conlin, who would go on to become Fluent's CEO and president, respectively.
After a number of employees left Snackable to join the Fluent team, Barsky's name came up and the attorney was invited to join the startup marketing company. "Fluent is interesting because I have always had a technology focus. Where the law intersects with advertising technology is a very interesting area and it was really a natural fit for me," he says.
Today, as Fluent's only full-time legal professional, Barsky relies on his skills as a legal generalist to help him meet the legal needs of a fast-growing company. "I do it all. I think the variety of the work flow makes it interesting; one day I will be reviewing an amendment to a credit agreement and the next day I'm working on an insertion order for an advertising client," he says.
This variety includes not only legal tasks, but compliance, human resources, customer service, corporate governance and event coordination. This range of responsibilities has been an eye-opening experience for Barsky, who has had the chance to explore some roles that he might never have encountered at a larger company.
Consistently named to "Best Places to Work" lists, Barsky has found particular enjoyment in working with the company's internal event organizer to host team-building events and celebrations for employees.
"It's a little new to me, but it's fun. We just had our sixth anniversary party and did a casino night where everyone got dressed up, we went to the New York City Fire Museum and everybody got $5,000-worth of chips," he says. "We do a tremendous amount of stuff to keep our employees happy, and we have an event of one kind or another going on every month."
Navigating the legal wilds
Working for a company where the entire approach is based on personal data, Barsky faces a number of specific legal challenges related to privacy.
"You really have to be as transparent as you can be and it seems to me we are good about that," he says, "We keep abreast of everything that is developing in the law and constantly look at what other people are doing."
Barsky points to the Telephone Consumer Protection Act as one example of how he helps the company to stay on the right side of the law when it comes to marketing and advertising.
"You cannot call someone unless you get written consent and if you're wrong it is extremely costly, something like $500 per call," he says. The general counsel must work hard to ensure that Fluent, its marketing partners and clients do not run afoul of laws when it comes to consent.
"I worked with the tech team to develop a backend process that displays a page with the user's agreement to be contacted and records the date and time stamp of the user checking a box which enables us to prove we secured valid consent. It's a complex interaction with our database and something that I have worked hand in hand with our technology team to build," he says.
While it's easy to fall into the role of the "no" person as the top legal professional at an innovative company like Fluent, Barsky prides himself on his ability to work with clients to arrive at mutually agreeable, legally protective solutions. "I am just fascinated by the intersection of law, technology and privacy rules, and we are always striving to do a better job of making things more transparent," says Barsky.
As the company continues to grow, Barsky is just excited to be part of an organization that is pioneering an entirely new way of conducting performance-based marketing and advertising.
"Fluent is on the precipice and has grown so rapidly that it's just incredible. Now we really want to become a billion dollar company, and I think we are really in the right niche," says Barsky.
Even in his downtime, Barsky likes to unwind by diving into technical projects like installing his own home theater system. When he's looking to get the blood pumping, he takes to his newest hobby, fat-tire biking at the beach. "You have to try it on sand. I took it to the beach and after I came back, my wife said that I looked so pumped," he says.
A passion for technical detail, years of experience across the marketing, technology and media sectors make general counsel, chief compliance officer and secretary Dan Barsky the perfect fit for up-and-coming performance marketing company Fluent Inc.
Showcase your feature on your website with a custom "As Featured in Vanguard" badge that links directly to your article!
Copy and paste this script into your page coding (ideally right before the closing