Fabian Rivero – Megalabs
Expanding the reach by simplifying the process
There were just three steps to the relentless business expansion underway at Megalabs in Latin America. Companies are vetted (1), purchased (2) and integrated (3). There may be other steps, too, but overall it's a simple idea—hardly the first of its kind. It stands out at Megalabs only because of its swift execution.
In the past two years alone, the business has absorbed seven Latin American companies.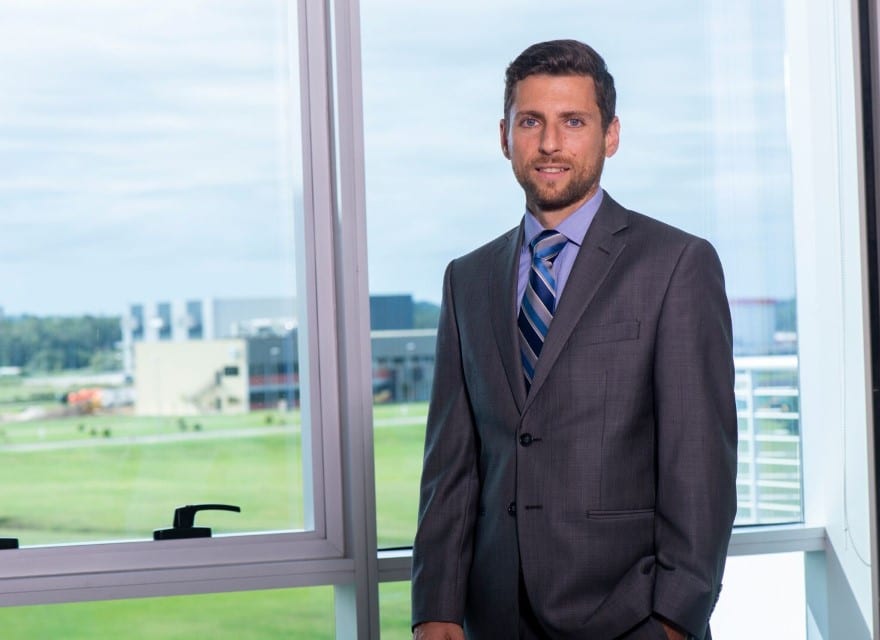 "The businesses come in all shapes and sizes," says Fabian Rivero, head of the corporate legal and compliance department at the pharmaceutical company based in Uruguay. "We just kept growing and growing."
And there are no signs of a slowdown. If anything, things will pick up, says Rivero, who is leading the process to streamline contracts across all the business units, as well as participating in a recent rebranding process that neatly packages all the acquired companies under one, recognizable fold.
"Growth brings great opportunities and responsibilities, but you also have to adapt to the needs and requirements of the company as it grows," he says.
Building business
Known as Mega Pharma before the rebrand, the company—founded in Canelones, Uruguay, in 2002—quickly emerged as one of the largest pharmaceutical makers in Latin America, with more than 7,500 employees and $1 billion in revenue, considering the group's several businesses.
Rivero was hired in 2013 due to his education and professional background working in one of the biggest law firms in Uruguay. He was quickly put to work vetting and ushering in companies from Uruguay, Argentina, Colombia, Chile, Brazil, the Dominican Republic and Mexico. Some of the businesses had valuable trademarks or therapies, while others had done promising research. Still others had value from a strategic standpoint, and so would need to be purchased.
"There is a lot of thought that goes into what we add in our portfolio," he says. "Every company we acquire is strictly analyzed prior to entering negotiations and once we agree on a price with the sellers, and therefore decide to move forward with such a target, we move fast, showing interest, honesty and respect for all the parties involved—from sellers, to advisors and definitely the employees."
Bringing countries into compliance
The biggest challenge, Rivero says, has been ensuring all the acquired businesses are in compliance.
"It's a process of getting each country what it needs from a corporate perspective," he says. "Of course, the more companies you acquire and the bigger the company is, the more work you create for yourself. So there's been a lot of work."
To help with this, Rivero partnered with the IT Department, which has developed means for tracking compliance from country to country. Megalabs has also implemented software to track and log the acquisition process over the past six months, providing the status of each potential acquisition through a digitized history of things like legal applications.
Contracting, accounting and similar processes have also been streamlined to help with the assimilation of newly acquired entities. To that end, Megalabs recently started using Merlin tracking software internally to keep track of all the information related to any kind of agreement—from the moment a draft is requested by the corresponding department (marketing, finance or regulatory, etc.—until it has been approved by all the required members of the company. In addition, it keeps track of the applicant, legal department employee assigned the task, changes and amendments, and status.
"With these tools all departments have first-hand information, correct monitoring of the current status of the negotiation process and can easily and accurately access the information so that we are all on the same page, working in a more agile and organized manner," he says.
Frequent flyer
Born in the United States, Rivero grew up in two different countries, the other being Uruguay. Rivero spent much of his youth shuttling back and forth between educational opportunities in both countries, (namely New York) as well as those abroad, so he says his current role is a natural fit.
After graduating from high school in Uruguay in 1999, he earned his law degree from the Universidad de la Republica in 2007. In 2012, he earned his master's in corporate law from the Universidad de Montevideo; a master's degree, cum laude, in banking, corporate and finance law from Fordham University School of Law in 2016; and an MBA in business administration at IEEM-Escuela de Negocios in 2019.
Rivero worked at Posadas, Posadas & Vecino from 2005 to 2008 before taking a position at Guyer & Regules from 2008 to 2010.
Eager to try his legal hand in-house, in 2010 Rivero joined Corporación America, where he analyzed bidding terms and prepared offers related to airport concessions and windmill construction until he made the jump to Megalabs in 2013.
"My favorite part of work at Megalabs is that you always have different challenges, you never get bored," he says. "Between the acquisitions, operations, marketing, regulations and rebranding of the group there is always something to keep you focused and motivated. I come to work every day happy."
Showcase your feature on your website with a custom "As Featured in Vanguard" badge that links directly to your article!
Copy and paste this script into your page coding (ideally right before the closing