Eric Peterson – VensureHR
He'd rather not see you in court
Prudency may be the reason same-day e-commerce behemoths outsource the actual moving of packages. So says Eric Peterson, and he seems to have much insight.
"It's awfully hard to stay compliant with the rules of so many jurisdictions," he says. "Especially in California, and other places are becoming just as complex. Seattle has its own minimum-wage law that differs from the state's which differs from the federal."
All the more reason, he goes on to say, for small- and medium-size companies to entrust their back-office responsibilities to his employer, VensureHR. Labor laws become quite cumbersome, and companies in noncompliance can face much liability. Often-times, Peterson says they can't really be faulted if they're unaware of a regulation, there being so many new ones and grey areas.
Take the companies that actually do the same-day deliveries. Typically, these are small operations contracted to move goods with the most transient of workforces.
Few, after all, aspire to make a career out of delivering for one of Amazon's subcontractors. It's usually a stepping stone or part-time job, but there still are rules that must be followed by the company that's onboarding and offboarding these hired hands daily.
Especially in California, Peterson rattling off just a few of the Golden State's laws pertaining to split shifts, daily overtime, detail-intense paystubs, mandated rest breaks and how an employee must be paid upon dismissal.
"How much easier if those companies just let us handle their payroll, benefits and compliance," he tells Vanguard in March from VensureHR headquarters in Billings, Montana.
PEO spells efficiency
Hundreds of companies, primarily those without human resources departments, have opted to do just that and in the process, Peterson says, mitigated their risk of litigation and other workplace unpleasantries.
A professional employer organization, VensureHR might even take credit for many of its clients still being in business—Peterson citing statistics of 60 percent of COVID-19 closures being permanent but how 58 percent of companies that used a PEO remain open.
As VensureHR's general counsel since 2020, Peterson's had an indirect role in serving company clients. They might be delivery drivers, bakers, florists, welders or plumbers—their common denominator being they'd rather concentrate on product or service while someone else handles bookkeeping and documentation.
Much of Peterson's responsibility is counseling the VensureHR divisions that directly address client concerns. However, if one of them is sued, he'll get involved. It's a unique relationship, one where Peterson says: "I'm not their lawyer but we're still tied at the hip."
Should a company client be sued, VensureHR should have in its software all the documentation needed to respond. The complaint winds up on Peterson's desk for him to evaluate. If it implicates an insurance policy, he'll forward it to the carrier and should the case proceed, he'll refer it to one of the labor law firms he's vetted for competence and reasonable rates.
"They (the client) don't have to answer these complaints themselves," he says. "Our goal is to be the service that takes a load off their minds."
And how those loads can accumulate.
Disorder in the courts
Subpoenas seem to breed bacteria-style with Peterson expecting 1,000-plus arriving this year relating to clienteles' information. That'll be a 300 percent increase since his arrival three years ago and high on Peterson's agenda is providing clients with data in 48 hours or less. His aides, Diana Cox and Christina McKell, make that possible.
Then there's managing the cases, which Peterson does through enhanced document storage and partnerships with law firms, with Atlanta-based Fisher & Phillips among his favorites.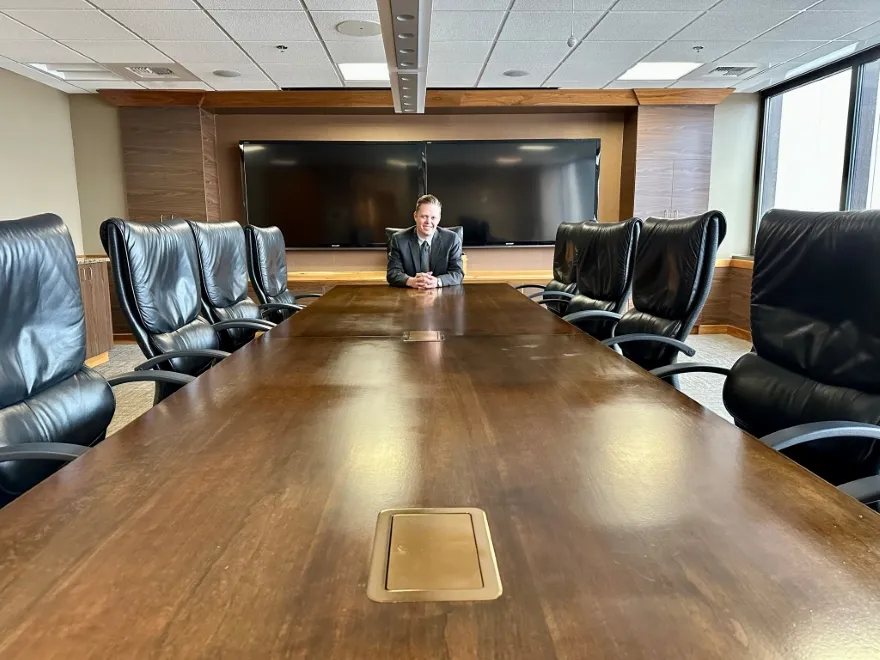 That firm won't shy from telling a company client what it might not want to hear: Settlements, sometimes with nondisclosure agreements, must be seen as the cost of doing business. Much as a company might cringe at paying what it deems an undeserved settlement, Peterson says it's usually cheaper than going to court—sound business practice that VensureHR strives to enable.
"Our business isn't about litigating," he says. "It's serving clients and litigation gets in the way of that. Early resolutions and settlements can be best."
A reformed litigator
Time was when Peterson would do the litigating. A Montana State and University of Iowa – College of Law graduate, he honed his skills in court, first at a Montana firm and then in-house with Avitus Group, another back-office service provider that VensureHR acquired in 2020 while retaining his services.
VensureHR's a much more aggressive operator, Peterson describing how it acquires another firm around once a month. Mergers, however, are handled by other lawyers, leaving Peterson to focus on advising other departments how to serve clients and avoid being sued.
"I was a natural fit to handle the claims," he says. "It was the same at Avitus, just on a larger scale. We had to get a handle on the litigation."
They have with Peterson in a managerial and supportive role rather than as a litigator. Sure, he might miss the adrenaline rush of facing off with opposing counsel but has grown accustomed to deriving satisfaction from staying out of court. Rather than drafting documents and deposing witnesses, he's dealing with matters administratively and demystifying labor law to clientele.
And if both sides walk away gnashing teeth, Peterson knows he's done something right. All in all, going in-house has been more than a fair trade.
"I had learned to hate chasing down billable hours," he says. "I want to get things done in a timely manner and not be billing clients in six-minute increments."
Demanding as the present role might be, it still leaves the 38-year-old married father of two to enjoy the Montana wilderness and his hobby as a country singer. Born in Austin and raised in Kansas City, he came to Big Sky Country as a boy when his father—a man of little formal education but much can-do—was assembling a cellphone network.
The younger Peterson can't claim the same technological acumen but seems wired with the same confidence.
"I pride myself on judgment," he says. "We can't let the perfect be the enemy of the good. We're not a law firm. We provide professional employment services and it's my role to keep it going smoothly."
View this feature in the Vanguard Spring III 2023 Edition here.
Showcase your feature on your website with a custom "As Featured in Vanguard" badge that links directly to your article!
Copy and paste this script into your page coding (ideally right before the closing