Christopher R. Miller – All American Healthcare
Recognizing nurses as heart of healthcare
The numbers don't lie, and they add up to a nationwide nursing shortage that'll only become more acute.
Baby-boomers are aging—and ailing—straining the limits of healthcare as it's now known. Nursing, made more demanding by COVID-19, is attracting fewer and fewer young women and men when they're needed most. Healthcare researchers estimate a 10 to 20 percent nursing gap by 2025.
That presents opportunity and challenge for All American Healthcare. One of the largest nursing staffing agencies for nursing homes, long-term care and assisted living facilities, AAH says it's been experiencing 100 percent annual growth since pre-pandemic 2018 and expects that trend to continue.
As Nursing is very regulated at all levels, last spring the business hired Christopher R. Miller as its first general counsel. A "reformed litigator," the 33-year-old Miller has been keeping busy assembling a legal department, ensuring compliance with rules and regulations of numerous jurisdictions; and weighing in on business matters.
"I'm touching every part of this business and feel very fortunate for it," he tells Vanguard in September from All American headquarters in Newark, New Jersey.
Them's the rules
Even if AAH only staffed New Jersey clientele, Miller says there would be much for him to do. Here, advanced practice nurses must maintain a regulated joint protocol agreement with a doctor for at least one element of practice. Registered nurses must take and pass the National Council Licensure Examination and complete a criminal background check, the New Jersey Board of Nursing application and Sexual Assault Nurse Examiner training. Licensed practical nurses cannot administer intravenous medication until completing a board-approved course.
And that, Miller reminds, is just New Jersey. The way AAH has been growing, he anticipates having a working knowledge of the rules and regs of 50 states as well as federal law.
"It'll be like we're operating 50 companies because each state has its own requirements," he says. "That's why the company hired me."
He's also dealing with moving targets, Miller explaining how COVID-19 had some states changing rules for temporary nursing assistance. New Jersey requires a license whereas neighboring Delaware doesn't. Illinois requires a nurse staffing license separate from that of a company providing on-call healthcare. California's 58 counties each have their own rules, with its most populous, Los Angeles County, recently implementing minimum wage for healthcare workers.
Then there are reporting requirements that are annual in some states, biannual in others. In many places, he's assisting All American nurses as they navigate from temporary to permanent licenses. The buck doesn't necessarily stop with him; everything Miller does entails interaction with accounting, business contracting, infotech and human resources personnel. But, as he emphasizes, at least nobody's lost sight of the well-being of the nurses.
"It's crazy what nurses are asked to do and often they make just minimum wage," he says. "Part of why we're such an enticing company are the rates that our nurses receive are more than what they'd get for full-time work in a lot places."
Tech comes in handy
Though he's still the only in-house lawyer, Miller says his oversight has been eased by technology that's reduced the documentation that nurses must complete. It's all being done in accordance with data privacy laws that differ by jurisdiction, and Miller noting how California and Virginia's are the most far-reaching. While hospitals have never been the company's primary clientele, Miller says that possibility is being explored.
"We're looking at a massive shortage in meeting the needs of an aging population," he reminds. "Everyone's dealing with it; and we anticipate being on the forefront of the solution."
For Miller, it's a much different role than how he started his legal life. A 2014 Rutgers Law School graduate, he made an early impact in the courtroom as part of a trial team that scored two Nationwide Top 100 jury verdicts with Callagy Law, a Paramus, New Jersey, firm with satellites in New York City and Phoenix.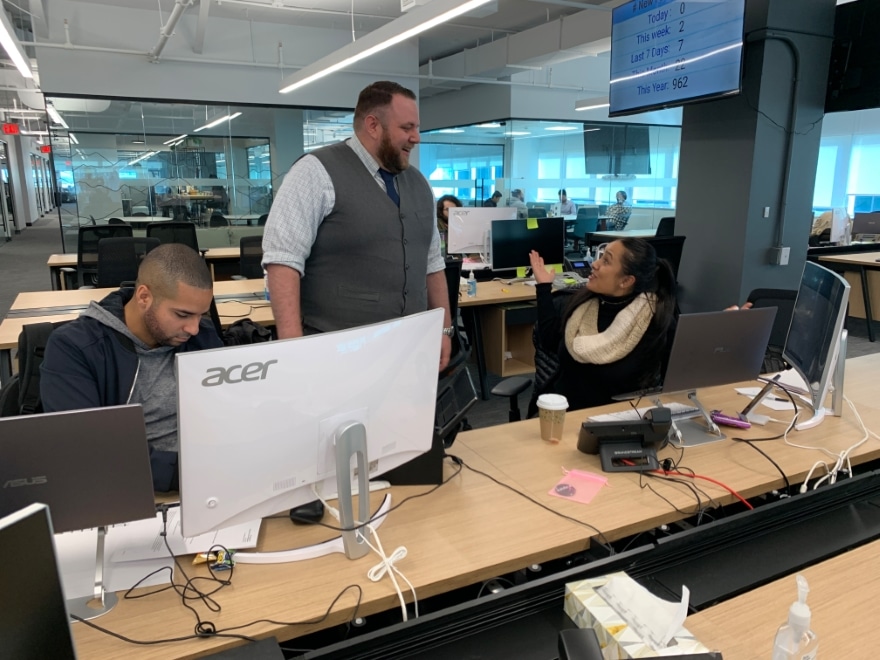 In 2014 Callagy scored a $33 million verdict on behalf of The Law Funder LLC, which alleged fraud by its in-house counsel. That amount was good for the 65th rung on the Nationwide list.
Two years later Callagy made the Nationwide's 75th spot with a $27.6 million case brought forth by the former president Zoel Holding Co. Inc., a healthcare staffing agency in Phoenix, who alleged his partners defamed and ousted him following his reporting of billing fraud. Yet those big-ticket verdicts didn't whet Miller's desire for more.
Now he means biz
"My interests switched from litigation to business advancement," he says. "I envisioned myself in an in-house role. I had those roles as an outsider with companies and while those were great opportunities, they weren't as if I were in the office daily. I'd see massive inefficiencies that I could have advised them on weeks before."
Miller's since had that opportunity at All American Healthcare and found the role more fulfilling. He's in the trenches daily, doesn't have to worry about billable hours and is able to flex his judgment early on some very sensitive nursing issues. The company's growth has afforded him a paralegal, a five-person contracting team and generous budget for outside counsel.
"As the only lawyer here, how I need them," he muses. "We'll soon be very active in all 50 states."
Life in his own state is agreeable, with Miller and his wife enjoying the Jersey shore and scuba diving vacations in the tropics. Time was when he played a mean saxophone in a rock band, but good as the band was, it wasn't about to displace Bruce Springsteen.
No matter, Miller's since tuned to more meaningful pursuits.
"We are here to support our nurses and give them flexibility and opportunities that they might not otherwise have," he says. "And how we need them."
View this feature in the Vanguard Winter I 2023 Edition here.
Showcase your feature on your website with a custom "As Featured in Vanguard" badge that links directly to your article!
Copy and paste this script into your page coding (ideally right before the closing