Gennaro Savastano – LGBT Bar Association of Greater New York
Clearing a higher bar
A teenager from a rural town kicked out of his home for coming out as gay. A trans employee fired from her job after management demanded she stop using the women's bathroom. A mom in danger of losing custody because she's a non-biological parent.
Gennaro Savastano knows that many people who walk into one of the LGBT Bar Association of Greater New York's (LGBTBarNY) clinics can barely afford rent, let alone legal representation. And yet, in his two years as the organization's president, these are the people Savastano has sought to help.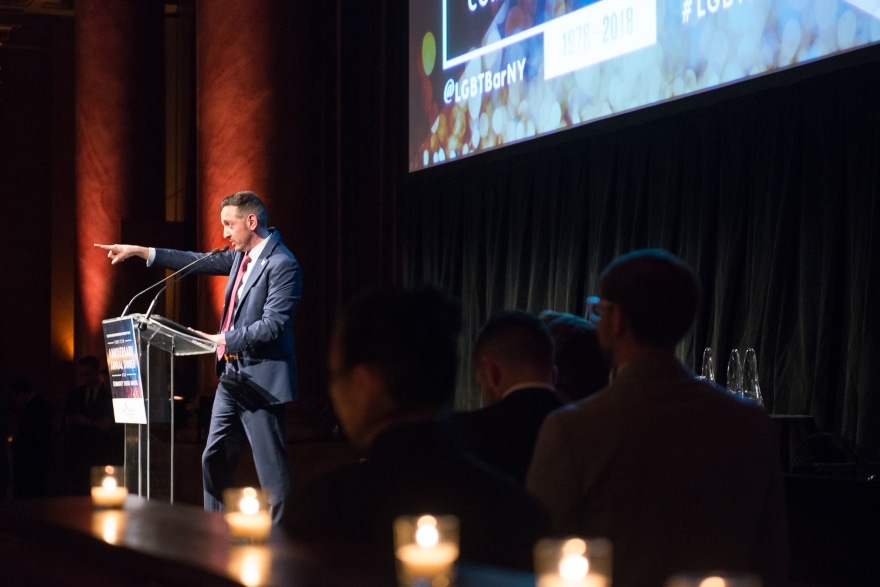 "I feel very fortunate to have served in this role when I did, at a time when the LGBTQ community has been under attack," says Savastano, who spoke with Vanguard just weeks before handing the reins to LGBTBarNY's next president, Kristen Prata Browde (@ChrissieSeeB). "What it's shown me is that you can do really meaningful work even on a small scale—work that does change the world, even if it is just for one person at a time."
The good fight
Established in 1978, LGBTBarNY came of age quickly, in part due to New York City's then-exploding AIDS crisis. Today, the organization operates several free walk-in clinics throughout the metropolitan area, in addition to fielding thousands of online inquiries each year—and countless calls through its hotline.
Staffed by volunteer attorneys, who provide vital support to LGBTBarNY's staff of three full-time employees, these pro-bono clinics offer everything from general legal guidance, referrals to trusted members of the bar association and third-party partners, to, in some circumstances, direct representation.
According to Savastano, LGBTBarNY has long been a beacon in New York's LGBTQ community. But it's been forced to step up its efforts in recent years, in response to a series of threats and challenges presented by some forces within the federal government—a list that, according to Savastano, only continues to grow.
"I don't think any of us were expecting the [2016 presidential] election to turn the way it did," says Savastano, who spends his workaday hours as an associate in the appellate/legal unit at the New York office of the law firm of Weitz & Luxenberg. "There was legitimate panic within the community and a sense of urgency that grew very quickly. What can we do? How can we help protect each other?"
The organization immediately held a post-election forum at the NYC LGBTQ Community Center—not only to assuage post-election fears, but also to educate the community about their rights under both federal and state law.
That, in turn, led to a redoubling of the organization's advocacy efforts. Specifically, Savastano helped LGBTBarNY's Legal Director, Rev. Brett Figlewski, and Executive Director, Eric Lesh, radically amp up both legislative advocacy and amicus advocacy. Through direct representation involving impact litigation and through its amicus advocacy, LGBTBarNY has been on the cutting edge of post-Obergefell family law issues, ensuring that LGBTQ families are afforded the dignity and protection they deserve.
More broadly, the organization sought to cultivate partnerships with like-minded organizations whose members may not necessarily identify as LGBTQ, but who are allies nonetheless. When the U.S. Court of Appeals for the Second Circuit was considering whether Title VI prohibited discrimination on the basis of sexual orientation, the organization partnered with the Anti-Defamation League and affinity-based bar associations like the National Hispanic Bar Association and Women's Bar Association, all of whom recognized the need to stand in solidarity.
Later, when President Trump issued an executive order barring citizens of majority-Muslim countries from reentering the United States, LGBTBarNY helped galvanized a coalition of organizations and law firms to devise legal strategies, write amicus briefs, and leverage contacts in the media.
Opening the digital doors
The leveraging of technology has been another pillar of Savastano's tenure. Thanks to LGBTBarNY's new online platform, designed by one of its many dedicated volunteers, even those in remote communities can find trustworthy counsel and easily navigate resources.
"New York is vast, and because LGBTQ-specific resources aren't as accessible in rural communities as they are in the metropolitan area, people turn to us for advice from all over the state," Savastano says. "We try to offer them more than just legal services. We try to give them a sense of community and comfort. Technology has allowed us to expand our impact, geographic scope, and help more people."
Despite some encouraging steps—including the Supreme Court's decision that same-sex marriage was a fundamental right—Savastano says the organization still faces plenty of challenges. For example, even in a relatively progressive state like New York, it was unclear whether same-sex married couples would be afforded the same legal presumptions historically afforded to opposite-sex couples.
"These are the sorts of issues that hit home hard and can tear families apart. We have to continue to lead the charge to protect these families," Savastano says. "I'm very proud of our work on these issues, but it's far from done."
Indeed, it's a fight that the openly gay Savastano was in many ways born to join.
Being the change
Growing up, Savastano saw just how skewed the American justice system could be. After watching his car get struck by another driver, Savastano's father, a working class man who emigrated from Italy by boat in the 1960s, went to court hoping simply to recover the repair costs.
To his surprise, upon arriving at the first court appearance, the defendant and the judge were not only speaking ex parte; they were schmoozing and clearly had some sort of an existing relationship. Together they offered Savastano's father, who was pro se, a "real pittance of a settlement."
"It was a total sham," Savastano recalls. "This wasn't the America he left his home and family to come to. That stuck with me. You can't overstate the importance of having a judiciary that reflects the community, treats everyone equally, and that is impartial in both practice and appearance."
Despite the epiphany, Savastano enrolled at the State University of New York at Fredonia to pursue a career in musical theater.
"It might seem like an odd jump to make, but for me to really connect with the characters I was portraying, I had to search for those grains of human universality," Savastano says. "In the end, it comes down to empathy. Performing ultimately taught me how important it was to try to understand people, and the importance of connection. I suppose that's the thread."
All the while, the lessons of his father stuck with him, inspiring what Savastano calls "a solemn commitment to ensuring a fair judiciary." Accordingly, Savastano went on to serve as vice chair of the LGBTBarNY's Judiciary Committee for several years, sat on a host of judicial screening panels, volunteered to serve as a small claims arbitrator for New York City Civil Court, and is now a member of the Independent Judicial Election Qualifications Commission.
Always moving forward
While earning his J.D. at Touro College, Savastano served as editor in chief of the Law Review and ultimately held a postgraduate clerkship for Paul G. Feinman, the first openly gay judge to sit on the New York Court of Appeals.
In 2013, after his third post-graduate clerkship and a stint drafting the civil pattern jury instructions for the New York Association of Supreme Court Justices, he entered private practice at the firm of Weitz & Luxenberg—a post he's held ever since.
Even here, at one of the nation's largest plaintiffs' law firms, his sense of justice—informed by growing up working in his family's pizzeria which imbued empathy for the working class and the little guy—has hardly wavered.
Indeed, if his two years at the LGBTBarNY helm have taught him anything, it's that no matter how difficult it seems, the good fight must be fought and backing down is simply not an option.
"I'll always be committed and involved with this organization, but I'm happy to pass the baton to someone like Browde, who has committed her life to progressive causes, especially for trans people, and especially now," Savastano says. "Activism begins at home and happens by opening one heart at a time. We have to lead by example and fight the good fight on behalf of the LGBTQ community here in New York. Our best days are still ahead of us."
Showcase your feature on your website with a custom "As Featured in Vanguard" badge that links directly to your article!
Copy and paste this script into your page coding (ideally right before the closing