Christopher Stearns – Aramark
Pioneering diversity efforts for hospitality giant
When Christopher Stearns joined Aramark in 2009 as a young attorney, he was excited to develop new diversity, equity, and inclusion resources for the Philadelphia-based, global hospitality company.
Almost 13 years later, Stearns is proud of Aramark's LGBTQ workforce and its allies, and the expansion of Aramark's DEI program. Aramark now has 11 employee resource groups—including the one Stearns co-founded—with 74 hubs across the U.S., Canada, and Northern Europe, supporting women, people with disabilities, veterans, the LGBTQ community, and more.
As a result of these and other DEI initiatives, Stearns says people of color comprise 32 percent of Aramark's salaried/management staff and 54 percent of the company's workforce. Women make up 49 percent of the salaried/management population and 59 percent of the workforce, and more than half of the CEO's direct reports are women.
"People are at the core of our strategy and equity is one lens through which we measure our success," says Stearns, an Aramark vice president and assistant general counsel. "This is the basis of Aramark's 'Be Well. Do Well' sustainability plan."
A sense of PRIDE
As members of PRIDE, the group Stearns co-founded in 2010, employees connect, share stories and guide Aramark's leadership in the community. A monthly newsletter and PRIDE's annual "Coming Out Stories" publication fosters a greater sense of connection among employees worldwide, Stearns says.
Because of PRIDE's efforts, for the past six years, Aramark has received a 100 percent rating and designation as a Best Place to Work for LGBTQ Equality from the Human Rights Campaign Foundation's Corporate Equality Index. But Stearns says there's always more to accomplish.
"There's a strong sense of pride for the work we've done as an ERG and the work we've done as a company to support all of Aramark's marginalized and minority employees, customers and their communities," Stearns says.
In 2015, Stearns lobbied executive leadership to join an amicus brief supporting marriage equality in "Obergefell v. Hodges" in 2015. Then, in 2019, Stearns asked Aramark to sign an amicus brief supporting a trio of cases, "Bostock, Zarda, and Harris," in which Title VII of the Civil Rights Act of 1964 became the basis to bar discrimination based on sexual orientation and transgender identity.
"I'm so proud of the company's progress and public statements supporting equality as a part of these historic Supreme Court decisions. Advocating with senior leadership for Aramark's participation has been one of the most professionally rewarding experiences of my career," says Stearns.
Making legal moves
In addition to his DEI work, Stearns is lead counsel to Aramark's facilities and leisure businesses. He's negotiated several of Aramark's largest client contracts—over $100 million worth—and managed multiple acquisitions per year.
With support from Aramark's legal department and its general counsel, Lauren Harrington, Stearns has also created teaching tools and led seminars to help young attorneys advance at Aramark.
For example, he says there wasn't a career path from counsel to assistant general counsel when he joined Aramark. Since Stearns identified the skills and experiences necessary for promotion, Aramark has filled half of its 14 current assistant general counsel positions with internal candidates.
"With these internal promotions, we're rewarding our highest performing talent and getting rewarded for the investments we've made," Stearns says.
Stearns also helped implement Contract Academy, an onboarding program designed for junior attorneys without experience drafting and negotiating contracts in the company's preferred method. The program includes a series of recorded seminars that started with an overview and has since narrowed to specific subjects.
Stearns is also spearheading a professional development series on effective communication. There are seminars on written and verbal communications skills and effective PowerPoint presentations, which will culminate in attorneys deploying these skills during a mock negotiation.
"We're really focused on the investments we're making in our people," Stearns says. "I am proud of and proof of what we've accomplished."
Debating and lawyering
A native of Maine, Stearns enrolled in a high school debate class and quickly realized how much he enjoyed researching and arguing his position.
He attended Bowdoin College, a short drive north of Portland, Maine, studying government and legal studies in preparation for going to law school. Before enrolling at the University of Pennsylvania Carey Law School, Stearns received a Fulbright Scholarship to study the British Human Rights Act of 1998 and its impact on judicial activism in the U.K. at the University of York in England.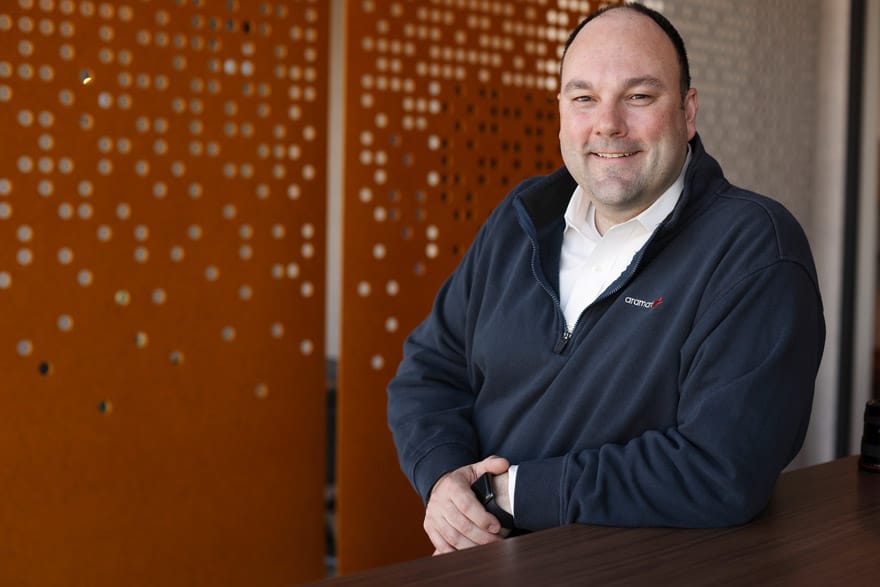 In law school, Stearns was interested in litigation before taking a summer internship with a firm that acts as outside counsel for L.L. Bean. Through some of those experiences and a second summer at Morgan Lewis, he became more interested in the business side of the law.
"In litigation, there's typically a winner and a loser, but in transactional practice, both sides win," Stearns says.
After graduation, Stearns decided to remain in Philadelphia where he met his husband and where they are raising their daughter. Stearns spent four years at Morgan Lewis as a corporate law associate in Philadelphia, practicing M&A and securities law before joining Aramark in 2009.
"It has been a good fit from the start, and I'm so grateful for all of the professional and personal growth opportunities my tenure as an Aramark lawyer has afforded me since," Stearns says.
View this feature in the Vanguard Spring III 2022 Edition here.
Showcase your feature on your website with a custom "As Featured in Vanguard" badge that links directly to your article!
Copy and paste this script into your page coding (ideally right before the closing