Harriet Munrett Wolfe – Webster Bank
Blazing a banking trail
During her 24-year career at the Connecticut-based Webster Financial Corporation, Harriet Wolfe has shepherded the organization through major milestones.
She became its first general counsel in 1997. In 2002, she helped Webster become listed on the New York Stock Exchange. Two years later, she oversaw efforts to convert its subsidiary, Webster Bank, to a national bank charter—while converting the corporation to both a bank and a financial holding company.
Over the past five years, Wolfe has helped create Webster's Environmental, Social, and Governance program. Launched in 2016, the program ensures that corporate governance practices remain at the forefront of the organization's long-term goals, she says. This past April, she led Webster's legal team as it closed its merger with Sterling National Bank, the largest merger in Webster's history.
But it's Wolfe's role as a mentor to more than 80 people that's been most rewarding, she says.
In 2020, she was named Best In-House Mentor at the American Lawyer Industry Awards. Earlier this year, she was named The Connecticut Lawyer's Mentor of the Year. While many would've seen these honors as exclamation points, Wolfe says the honors only reinforced her passion for working with the next generation of lawyers.
"My most gratifying experiences have been making a positive difference in someone's life," Wolfe says. "By doing so, we enrich the lives of others and create a positive ripple effect in our bank's culture."
Off and running
Wolfe built her storied career after earning her J.D. from Pepperdine University School of Law.
After graduating, she returned home to Fairfield County, Connecticut, where she accepted a position in the legal department of a nearby bank. It didn't take long, however, for Wolfe's proficiency—particularly in the area of governance and M&A matters—to garner the attention of others in the industry. In 1990, she was recruited by Shawmut National Corporation for a position in its Hartford office, serving as corporate counsel for the holding company and its bank subsidiaries.
Five years later, Shawmut began talks to merge with Fleet Financial Group. Wolfe was tasked with overseeing Shawmut's M&A work— everything from due diligence to closing the transaction. When the transaction was complete, she was offered a position at Fleet in Boston—but turned it down.
"I took some time off to regroup," Wolfe recalls, "but I kept getting phone calls to come back."
Wolfe figured the best way to handle the volume of requests was to go into private practice—which she did in early 1996. During that time, she guided small law firms that served, in turn, as general counsel for small banks. In addition, she shared her expertise with them on M&A, corporate governance and bank regulations.
"It was challenging for small commercial banks given the economy at the time," Wolfe remembers. "We often were heavily involved in working with the banks to address regulatory concerns."
Welcome to Webster
By 1997, Wolfe found herself at a career crossroads. More than anything, she missed the business side of working as in-house counsel. Recruited by Webster, Wolfe became the bank's first in-house general counsel that year.
"It was a perfect fit for me," Wolfe says. "I loved the organization, believed in its core message and respected its great reputation. Those are things important to me, so I joined them."
Once hired, Wolfe was given freedom to establish Webster's first legal department. She focused on hiring the right people and how to support Webster's business. A highlight of her career took place on October 17, 2002, with Webster's placement on the New York Stock Exchange.
As part of the NYSE tradition, James C. Smith—then Webster's chairman and CEO—was invited to ring the opening bell. Wolfe and the other members of Webster's executive team joined him on the bell podium to see the "WBS" ticker symbol flash across the exchange's big board.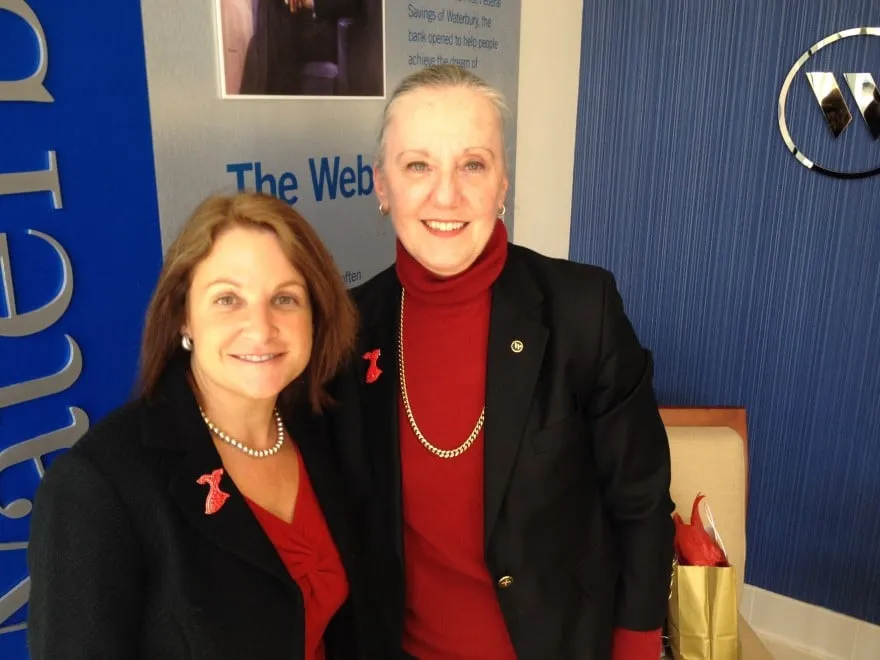 "It was a thrill to be part of Webster's history," says Wolfe, who was tasked with leading the project. "It was an achievement I'll never forget."
In the wake of this event, Wolfe continues to guide her department and manage the use of outside counsel. Webster's legal department has received high marks on its annual employee engagement survey, she says, achieving a perfect—and rare—score of "100" in 2015.
"Webster is a values-oriented company," Wolfe says, noting its guidelines are expressed as "The Webster Way." "We take personal responsibility for meeting our customers' needs; we respect the dignity of every individual; we earn trust through ethical behavior; we give of ourselves in the communities we serve; and we work together to achieve outstanding results."
Swansong
While Wolfe will be stepping down from her position later this year, she's determined to go out with a bang by helping wrap up the largest merger in Webster's history—a $5 billion acquisition of Sterling National Bank. The "merger of equals" agreement was signed in April. Once the transaction is completed, the combined assets of the organizations are estimated to be $65 billion.
"This is an exciting transaction," Wolfe says. "Increasing the size of our institution allows us to leverage more opportunities and grow our market."
Wachtell, Lipton, Rosen & Katz served as Webster's outside counsel on the proposed merger with Sterling, led by partner Edward D. Herlihy. He credits Wolfe with leading the Webster legal team in the transaction, including overseeing the regulatory requirements.
"Harriet is a talented lawyer with great judgment and expertise," Herlihy says. "She resolved numerous complex and sensitive issues—the transaction wouldn't have happened without her."
Not done yet
The merger is just part of the legacy Wolfe will leave behind.
Wolfe's particularly proud of promoting diversity at Webster, particularly at the board level, which now has five women and two Black participants on its nine-member board. She spearheaded development of management's ESG Committee back in 2015 and published its ESG reports online, which garnered a number of awards.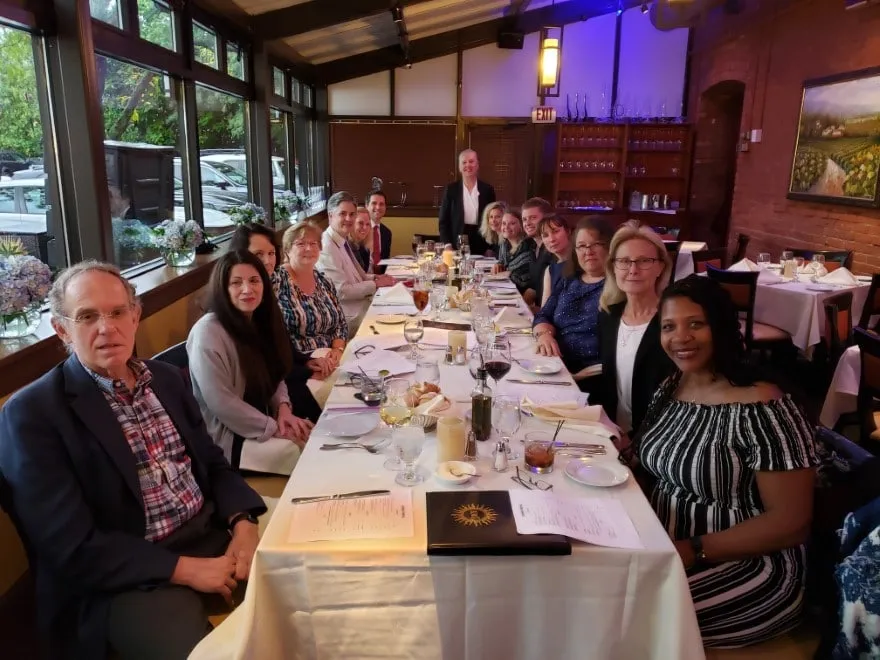 "I've been blessed in my career and have been fortunate to have worked with such a talented group of directors who are smart and forward-thinking," she says.
Looking ahead, Wolfe's to-do list includes everything from serving on advisory boards, to mentoring up-and-coming attorneys. She currently serves on the board at the University of Connecticut Foundation, which solicits, administers and invests private funds for the benefit of the university—Wolfe's alma matter.
"I'm proud of my career and I don't feel like I'm done," Wolfe says. "There are other opportunities to explore. I'm a big believer in fate and I know an avenue will open up that I never expected."
View this feature in the Vanguard Fall IV 2021 Edition here.
Showcase your feature on your website with a custom "As Featured in Vanguard" badge that links directly to your article!
Copy and paste this script into your page coding (ideally right before the closing