Nicole Greenidge-Hoskins – Human Rights Campaign Inc. and Human Rights Campaign Foundation
LGBTQ rights GC leads with inclusive perspective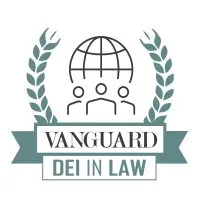 So far, 2021 has had a lot of defining moments for the transgender community. Dr. Rachel Levine became the first openly transgender person confirmed to a federal post. Openly transgender athletes competed in the Olympics for the first time.
But there have also been numerous attacks. Dozens of states have proposed, and some have approved, bills to ban transgender students from participating in school sports. Similarly, bills dictating which bathrooms transgender students must use have continued being pushed.
And, the murders of transgender people, especially trans people of color, have continued to increase. According to the Human Rights Campaign, at least 35 trans or gender non-conforming people have been murdered in 2021 as of early September.
The Washington, D.C.-based social welfare membership organization works to pass legislation that supports and protects the rights and interests of LGBTQ+ people. The Human Rights Campaign Foundation is the charitable and educational arm devoted to protecting LGBTQ+ individuals from discrimination, educating the public on treating LGBTQ+ people equally and equitably, and creating safe spaces for the LGBTQ+ community.
Supporting this mission behind the scenes is HRC's senior vice president and general counsel, Nicole Greenidge-Hoskins.
"Advancing equality and equity for all LGBTQ+ people is our work," she says. "Justice and equity for transgender people is a core focus of the HRC Foundation. It's a community that's far too often overlooked, especially where trans people of color are concerned. We've recently expanded our work to focus specifically on trans people of color communities, and I'm very proud of the trans justice work that HRC and the Foundation does."
Team perspective
According to Greenidge-Hoskins, the work of the general counsel office underpins the work of HRC and the HRC Foundation. She oversees and manages governance, corporate and regulatory risks, political law, nonprofit tax matters, intellectual property, labor and employment law matters, litigation, compliance and negotiation of agreements.
She and her team support trans justice work in many ways, from providing advice on the business structure to creating the legal documents for HRC's Corporate Equality Index, a tool businesses use to measure LGBTQ+ equality in their workplace policies.
"The breadth of work we do and the volume is astounding," she says of her team. "One of the things I enjoy very much is that we're collaborative. All our perspectives are reflected in the end result and it's richer because of that."
Having different perspectives is important, she says, adding that she's proud to have a diverse legal team of different races and representations across the LGBTQ+ community. "The people in this work are here because they care," she says. "No one at HRC is just casually passing through."
Because the work is "weighty and impacts people's day to day lives," Greenidge-Hoskins says it's crucial that she supports her team and that everyone is there for each other.
"We're very much a family and we backstop each other," she says. "Not only do we laugh together, but we celebrate and thrive together, and sometimes we cry, too."
Bigger impact
Greenidge-Hoskins helps set diversity, equity and inclusion goals and policies through her work on the senior leadership team and her involvement with HRC's board, as well as with the HRC Foundation's board. On both boards she serves as secretary.
"I enjoy being part of the bigger picture of the organization," she says. "People don't look to me for straight legal counsel, but also as someone who can contribute to business strategy."
Greenidge-Hoskins says she's especially proud of HRC's statement of racial equity and inclusion. The statement, which was released in 2019, recognizes that LGBTQ+ equality can't be achieved "while LGBTQ+ people of color continue to be oppressed on the basis of race."
As a Black woman who grew up in Africa, Greenidge-Hoskins says her perspective is important to HRC's work. Her father, who along with her mother is from Barbados, West Indies, taught her that neither her race nor gender were necessarily obstacles and that those identities could be powerful. Her father always gave her articles about the achievements of Black women leaders, such as Barbara Jordan and Shirley Chisholm, to show her what she could aspire to.
"Very much as a result of my father, I valued justice and equality for all people from an early age and I imagined myself leading," Greenidge-Hoskins says. "I didn't know the context, but I knew that I could and that I would."
Finding fulfillment
It didn't take long for Greenidge-Hoskins to realize she was interested in the law, she says. She also knew early on that she wanted her work to help people, with much of her career spent in healthcare and in service of the LGBTQ+ community.
After earning her J.D. from Boston University School of Law, her first pro bono case was for Whitman-Walker Health, a nonprofit health center in Washington, D.C., specializing in HIV/AIDS care. She later became general counsel of the organization, where she worked initially on implementing Health Insurance Portability and Accountability Act regulations.
"I've always felt most fulfilled when my work supports advancing dignity and equity for all people," Greenidge-Hoskins says. "I value work that lifts others up. My career in health care law and with LGBTQ organizations does that."
This sentiment guided her to other healthcare organizations and eventually to HRC in early 2018. She says her current role is incredibly fulfilling and that she's proud of the work she and her team do at HRC and the Foundation for the LGBTQ+ community.
"I'm proud of my contributions to an organization with a deep and abiding commitment to intersectional work in the LGBTQ+ community, which advances equality for all," Greenidge-Hoskins says.
View this feature in the Vanguard Fall IV 2021 Edition here.
Showcase your feature on your website with a custom "As Featured in Vanguard" badge that links directly to your article!
Copy and paste this script into your page coding (ideally right before the closing