Kristina Schaefer – Fishback Financial Corporation – First Bank and Trust
Raised to handle the unexpected
At first glance, there might not seem to be many similarities between working on the family farm and overseeing the legal department of a banking company. But there are indeed, says the personable Kristina Schaefer, who's done both on the high plains.
"My upbringing prepared me very well for banking," says Schaefer, who for the past decade has served as general counsel and director of risk management at Fishback Financial Corporation (FFC) headquarters in Brookings, South Dakota, not too far from the farm where she grew up helping her family tend to row crops and cattle.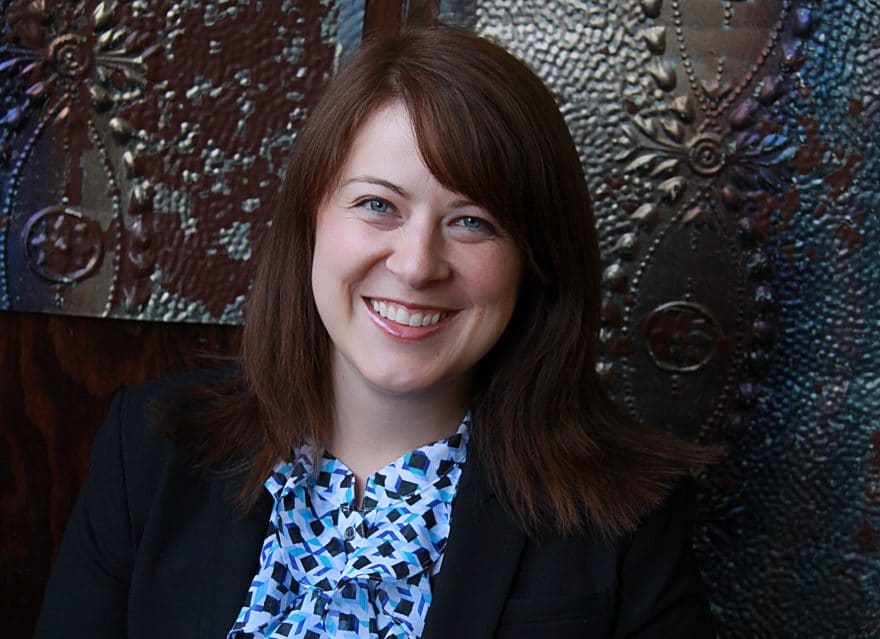 "On the farm, you never know what the year is going to bring; you might plan on X-Y-Z, but it might rain or hail—or not rain at all," she continues. "I learned at an early age that you've got to be flexible, and I've found that to be true in banking, as well. You never know what the Fed is going to do with interest rates or what Congress and the regulators might be up to."
Nowadays, that might be especially true on the financial side, as the Farmers' Almanac forecasts might be more reliable than any prediction of what Washington legislation might portend for the economy. Schaefer just has to stay on top of the overall situation and be ready to advise the FFC brass on short notice.
Which the 37-year-old married mother of two daughters seems to be doing without prompting.
One size doesn't fit all
One of South Dakota's largest privately-held bank holding companies, with 23 locations in 18 communities along Interstate 29 in the eastern part of the state, FFC recently expanded its eastward reach with a couple of acquisitions in neighboring Minnesota.
While that still doesn't make FFC a national giant, it's still subject to the one-size-fits-all rules and regulations that were put in place to rein in the larger banks that were so faulted for the financial meltdown of a decade ago. Replete with complex balance ratios that are supposed to minimize risk, the Dodd-Frank Wall Street Reform and Consumer Protection Act of 2010 has posed a dilemma for many small and medium-sized banks: Either hire more people and invest in costly software to ensure compliance, or curtail such longstanding services as mortgages and auto and home-improvement loans.
"I don't think the goal of regulatory reform is to make it tougher for customers to get mortgages and credit," says Schaefer, who regards much of Dodd-Frank as a solution in search of a problem. "Community banks weren't causing the problems to begin with."
Schaefer is quick to add that FFC has not compromised customer service. Whereas other independent banks in South Dakota and elsewhere have ceased mortgage lending, FFC won't withdraw from the practice by which many customers gauge commitment to community. For the most part, it is business as usual in the area of customer service.
While steering clear of partisan politics, Schaefer does hope that the current White House will be more business-friendly, and welcomes the opportunity to weigh in on financial issues, through her board participation on the South Dakota Bankers Association, which dispatches her and others to Washington each March or April for a meeting with decision-makers.
"It's always good for them to hear from us," Schaefer says, crediting Sen. Michael Rounds, a Republican who served two terms as South Dakota's governor, as someone who understands the impact that federal banking regulations have in their state.
Schaefer also muses that the changing nature of banking regulations means good job security for her, although she'd rather let sound business practices simply carry the day. It was among the factors that drove her legal interests to begin with.
Active role comes early
A South Dakota State University undergrad with a degree in political science and government, Schaefer earned her law degree at Creighton University in 2005. She spent the first two years of her professional life at the Sioux Falls firm of Davenport, Evans, Hurwitz & Smith, concentrating on and enjoying business law, but pondering whether it would be of greater satisfaction to go in-house.
"If I worked on an M&A (merger and acquisition), I'd miss knowing what followed after the papers were signed," she says. "I wanted more of an active role."
She found it at the age of 27, when most young lawyers are still cutting their teeth as junior associates under pressure to rack up 2,000 billable hours. Having long outsourced its legal needs, Fishback had gotten to know Schaefer well over the years and deemed it time for in-house expertise. She had worked at the bank's customer-service and compliance divisions during her undergrad years, and had interacted with Fishback during her stint at the firm. From a philosophical perspective she also seemed an ideal fit, and now supervises the fraud, compliance and third-party risk teams.
Among the longstanding practices of the 130-year-old bank is reimbursing employees for charitable endeavors. Employees have the chance to allocate funds to a cause of their choosing, and if they volunteer time, the bank will contribute to that organization based on the number of hours donated. These practices are above what the bank provides in terms of financial support to the communities served.
That approach complements Schaefer's down-on-the-farm values.
"Coming from a small town, you'd have an obligation to step up and serve," Schaefer says, adding that she'd see her father washing off the grime of the day and rushing 20 miles away to serve on the local school board. Meanwhile, her mother was active in 4-H, a youth mentoring organization.
"You can't assume that someone else is going to step up and serve," Schaefer says. "They (her parents) taught me early the necessity of taking the leadership role. I'm proud to be with a family- and employee-owned bank that's dedicated to giving back to community."
Showcase your feature on your website with a custom "As Featured in Vanguard" badge that links directly to your article!
Copy and paste this script into your page coding (ideally right before the closing