Jaime Orvañanos – WeWork
Working on a dream
Whenever Jaime Orvañanos visits one of his company's far-flung offices, he always takes time to look around. Throughout the space, he sees architects and graphic designers, writers and engineers. Some work collaboratively; others on their own. The verve seems contagious; the air alive with ideas.
Then it's off to the next city, to Buenos Aires or Sao Paolo or Lima, to a new building with a different vibe but no less teeming with energy. Orvañanos knows he's helping grow something special—a potential paradigm shift not only in how we work, but how we interact.
"It's the best job I've had in so many ways," says Orvañanos, general counsel for the Latin American arm of WeWork, a company specializing in shared workspaces. "I'm learning about different countries, different cultures, while still being challenged every day."
The right stuff
Following six years of steady growth in the U.S., by 2015 WeWork was looking to expand its footprint abroad. With no presence in Latin America to speak of, Orvañanos was brought aboard to WeWork's Legal Department to help find that foothold.
The first target was Mexico City—Mexico being Orvañanos' home country, not to mention one of the largest economies in the region.
"We tend to focus on capital cities, simply because they're the entry point for a given country," Orvañanos explains. "They give you the temperature of the larger market, which helps you decide on future locations."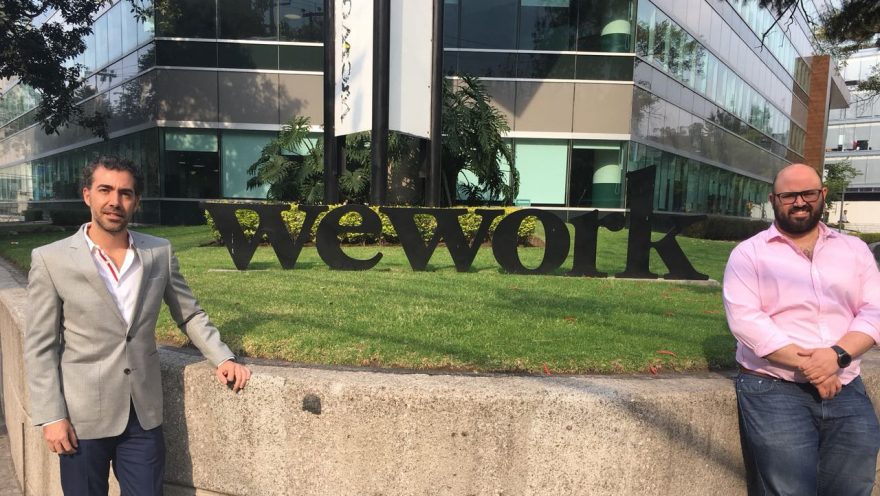 After doing the groundwork to establish the company as a legal entity, Orvañanos worked closely with the division's real estate team in finding ideal workspaces for a WeWork location.
WeWork offers comprehensive memberships that allow users access to private offices, printers, conference rooms, internet, cleaning and other amenities, and includes a platform that virtually connects members to all WeWork locations. It also allows members to access WeWork office sites around the world.
Since opening its first Mexico City workspace in September 2016, WeWork has expanded its presence to major cities in Argentina, Brazil, Colombia and Peru.
While the company's straightforward structure precludes the need for extensive government lobbying, Orvañanos says it's important for WeWork to outline how that model might benefit a particular country.
In 2016, Orvañanos lobbied the Tax Administration Service (known as SAT) to accept the membership agreement as a proof of tax domicile.
"We have showed to the different governments what we're trying to create," Orvañanos adds. "How we support entrepreneurs and freelancers and other people who might not have had a reliable workspace before."
Once a space is up and running, the legal team assumes a more behind-the-scenes role: overseeing day-to-day operations, employment matters, corporate governance, vendor contracts and helping the Community team in all legal aspects.
Making it work
Growing up, Orvañanos was enamored by shows and movies where lawyers featured heavily (and heroically). Inspired by his beloved grandfather, a prominent attorney in his own right, Orvañanos knew he would one day follow those footsteps.
His training started early, in the form of an internship with a Mexico City construction company during Orvañanos' third semester of college. Before graduating from Anahuac University in 2003, he joined the law firm of Baker McKenzie, where he focused on legal issues relating to labor and social security.
When he was accepted to Georgetown University Law Center in 2006, Orvañanos put his career on hold—a decision he looks back on as a watershed moment in his life. While earning his master's degree, Orvañanos completed an internship at the Mexican Embassy in Washington, D.C.
Upon returning to his home country the following year, he was offered a job as senior legal manager for Banco Walmart (Walmart's first bank worldwide), helping implement a program that allowed traditionally underserved populations to access money without having to visit a physical bank branch. Instead, customers could do their banking right inside Walmart stores.
Eventually, Orvañanos was transferred to the legal department of Walmart Mexico, where he was promoted to assistant director, focusing on corporate and real estate matters.
"Looking back, Wal-Mart was like its own academy," Orvañanos recalls. "I learned so much about the world, about taking on huge responsibilities and challenges. It was one of the best educations I've ever received."
In 2014, Orvañanos made his next great leap, becoming chief legal counsel for OfficeMax Mexico. Here, his duties entailed everything from risk management to trademark protection and labor litigation.
In WeWork, Orvañanos saw opportunity to leverage his skill sets beyond his native soil. By the end of 2018, the company plans to open its first shared office space in Chile, bringing yet another country under Orvañanos' legal umbrella.
Working closely with company headquarters in New York, Orvañanos helped launch a Mexico-centric version of the company's Creators Awards, a program designed to recognize and reward talented individuals and organizations across all industries and sectors (he's currently working on a similar initiative in Brazil).
As part of the awards program, WeWork has donated a total of $15 million to entrepreneurs, small businesses, growing companies, non-profits, artists and more, in cities throughout the world—$900 thousand of which was given away in Mexico at a major event held this past February.
"The initiative has been a big success in the U.S., and it had also a major impact here in Mexico," Orvañanos says. "It's exactly the kind of thing I envisioned being a part of."
Showcase your feature on your website with a custom "As Featured in Vanguard" badge that links directly to your article!
Copy and paste this script into your page coding (ideally right before the closing