Jill Greene – Faurecia
CLO helps tech company zoom into the future
In a world where sustainability consciousness is rapidly increasing, vehicle manufacturing is still about acceleration: how quickly new technology can be integrated not only to lower emissions, but also cater to drivers' cravings for adventure and luxury.
As Jill Greene explains, consumers want luxurious interiors with the latest technology, like Wi-Fi-connected devices and eco-friendly mobility. This presents challenges at Faurecia, the French global automotive company that has been making auto components since 1997.
The company's general counsel for international regions, Greene says that as few as five years ago, no one was concerned their car would know too much about them. With features that now constantly gather data, though, attorneys need to consider customer data privacy, she says. That's a concern for a company like hers, which has equipment in roughly one of every three vehicles on the road globally.
"Moving from a traditional manufacturer to a tech-based company, my team and I ensure we integrate legal risk management into tech solutions," Greene says. "We take care of the legal side so that the drivers across the world can slide into the most innovative vehicles, ones that spark joy while helping the planet."
Tech at the tips of your toes
Change is inevitable, as they say, and Greene recalls she's always followed the catalysts. At Faurecia, that means she provides legal support for the company as it innovates new technologies, like those for zero emissions and hydrogen-mobile vehicles. It also includes delineating the role of her legal team in introducing these advances.
For example, she says Faurecia can't simply offer autonomous driving—as futuristic and electrifying as that may sound—without considering the legal ramifications. According to Greene, apart from developing the necessary tech, Faurecia needs to anticipate obstacles the driver will face, such as facing backwards in a front driving car (and the safety concerns that creates during a crash) or the amount of personal data collected by Wi-Fi connected devices.
"Innovation for innovation's sake is pointless and dangerous. At Faurecia, legal discusses which innovations are feasible and safe for our end users," she says.
Sometimes, even promising technology seems far-fetched. Take, for example, Subpac, a California-based company, whose speakers are designed to resonate through skin, muscle and bone. What application does a strong, yet noiseless, bass have in a vehicle? Currently, Faurecia is considering placing it in driver seats, so that perhaps they'll feel a thump if any obstruction—including a vehicle or pedestrian—is in their blind spot.
Innovations like this are precisely what Faurecia presented at the Shanghai Auto Showcase in April 2021. The "cockpit of the future" encompasses everything a consumer may need, Greene says, and some things they never knew they needed, such as seats with embedded lights and the ability to monitor pulse and blood pressure.
"Other than safety improvements, for over a hundred years, there weren't many exciting changes in the automotive industry's legal regulations," she says. "Within just the past five years, however, we've been seeing explosive progress."
Automation depends on teamwork
Greene says her team follows trends by collaborating with local and global external lawyers. For instance, Faurecia's outside counsel network and IP counsel in California get new scoops on recent, relevant cases. With California leading the way in terms of safety regulations related to tech, the local lawyers provide Greene and her internal team with "imperative information."
She makes certain she and her team scour tech blogs, too, and share what they learn. To this end, her France-based boss and group general counsel, Nolwenn Delaunay, brainstormed and cooked up the Binome project in January of 2021. Each region's local lawyer was paired up with a Nanterre, France-based, and usually more senior, lawyer.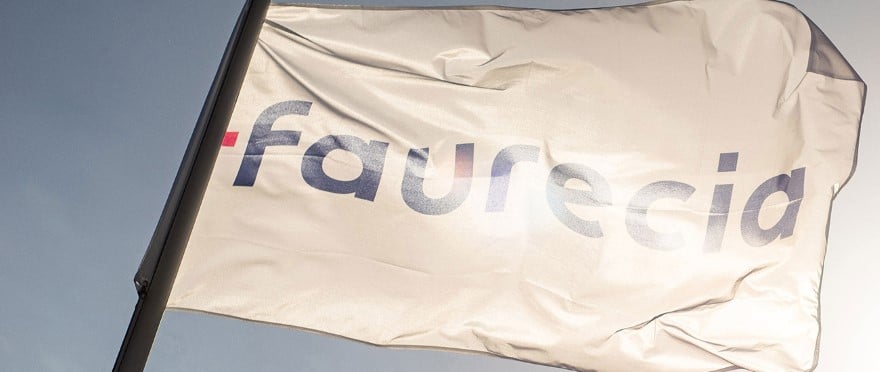 "In six months, it absolutely flourished. We asked for volunteers, expecting a handful. Every single person volunteered in the various global regions," Greene recalls. "This informal setting and collaboration boosted confidence in female lawyers while also highlighting diversity, making a global team seem much more local."
Creating opportunities
According to Greene, she's always pushed for diversity and inclusion. At Faurecia, for instance, she spearheaded the first "speed mentoring" event at the company's U.S. headquarters. Over breakfast, senior-level management spoke with mentees in an open discussion. Every three minutes, a bell would ring and the mentees would speak with a different management member.
Another initiative promoted by Greene was the "French Cafe," in which multinational interns, predominantly French, shared first in a forum, then in staff meetings, their experience of working in the U.S.
In a related endeavor, she created an annual questionnaire in which the international legal team rates their skill and interest in tasks like drafting corporate minutes or filing pretrial motions. Most of her attorneys have shown annual growth in 15-20 skill sets, she says.
As for being a lawyer in the automotive industry, Greene says she wouldn't do anything else. "We legal teams get to be just as creative as tech innovators, sometimes filing legal solutions for tech advancements that we may not have thought possible a year ago—or when we woke up that morning."
View this feature in the Vanguard Fall I 2021 Edition here.
Showcase your feature on your website with a custom "As Featured in Vanguard" badge that links directly to your article!
Copy and paste this script into your page coding (ideally right before the closing