Kaley Bell – Consilio
The right combination for locking up digital data
Typically, if a company experiences a data breach, that company sees it as an emergency requiring immediate attention to protect its—and its clients' and customers'—information. When the issue is resolved, the company moves forward.
At Consilio, however, any such data breaches could result in a complete loss of client trust, which is why Consilio focuses efforts daily on domestic and international compliance as well as early and effective response in the event of such an incident. So says Kaley Bell, a senior corporate counsel for the global leader in eDiscovery, document review, risk management and legal consulting services.
In short, Consilio securely stores, reviews and enables required downstream activities (such as breach notification)—so compliance is paramount to protect client information. Consilio offers a variety of services to clients ranging from small startups to government agencies and global Fortune 100 companies.
That's precisely why Bell is committed to ensuring that Consilio has strong employment and data privacy compliance processes and procedures.
She takes a "no room for error" approach to compliance, and as Consilio continues to grow, Bell and her team work to adapt their policies and processes to fit the ever-changing compliance landscape.
"We're a very large company with over 5,000 employees across the world, and we're handling sensitive data for large, often global companies," Bell says. "Every facet of our internal and external compliance needs continuous review and evolution to keep up with changing data privacy, technology, and employment laws, rules and regulations."
Making data searchable, safe and defensible
Consilio isn't just securing and storing data. It's also making it readily available for when a company needs it, which Bell says is more complicated than it seems on the surface.
As she explains, the larger a company gets, the more likely it is to be involved in litigation. To properly defend itself and comply with litigation demands, a company needs access to years of data—but not all of it will be relevant or presentable. That's where Consilio's services come into play.
Consilio can store, process and save data for companies according to client needs. More importantly, Consilio makes this data searchable, so that in-house counsel at client companies or partners in law firms don't have to comb through years of data, which can be millions or even billions of files.
To make the files further accessible, Consilio has recently launched a new product called Sightline, which handles legal workflows, data synchronization, automation and reporting accuracy.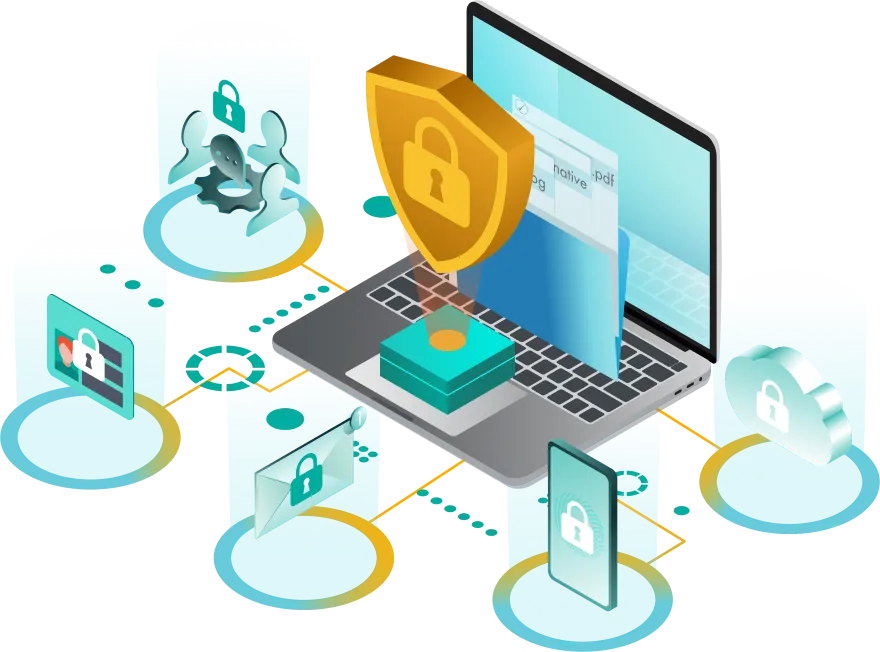 "We want to make certain that companies have the data they need at their fingertips, that we've used defensible processes in gathering and processing that data and that it's ready to present to the opposing party when needed," she says.
For the latter, as part of its tailored service offerings, Consilio has been using artificial intelligence. According to Bell, while AI has been gathering steam for the past few years, Consilio has been utilizing AI tools in the legal services workspace far longer. Consilio continues to work on increasing AI uses to create efficiencies for its clients, while ensuring compliance with all rules and regulations, including the movement of data across state and country lines.
For instance, when pulling data, Consilio may also pull protected personal information—think phone numbers, birthdates or home addresses. These should not be presented with the other evidence in court, but it takes hundreds of hours for a legal team to manually redact the information.
According to Bell, Consilio can utilize AI tools to search for PPI. In a matter of minutes—or even seconds—it can redact the sensitive information, saving both Consilio and its clients' valuable time.
"We always want a defensible process in place," Bell says. "If a judge or anyone in court asks our clients or their lawyers about the process and data, we want them to have confidence that Consilio has complied with all laws, rules and orders."
Acquiring efficiency—and innovation 
Being compliant and having streamlined processes isn't just helpful during litigation. It's also been important as the company has grown through acquisitions and expanded certain areas of its business, such as legal staffing and individualized legal solutions.
Bell's practice focuses on assisting enterprise legal services, which supports corporate legal departments and law firms by providing the company or firm with temporary and permanent attorneys, legal services personnel and customized solutions that fit their individual needs. For example, if a corporation needs a trademark attorney for approximately 10 hours per week, then a Consilio talent manager would source for the specific skill set and availability to assist the client on an as-needed basis.

She has plenty of experience in this area as she previously worked as a talent manager with Legility, acquired by Consilio in 2021.
Bell also uses her expertise to give back to the community. While at Belmont University College of Law, she was a member of Belmont Legal Aid, a co-founder of the Women Law Students Organization and served as a pro bono legal intern in Magdalene House, which provides long-term residential treatment for women victims of sex trafficking.
Since beginning her law practice in 2014, she's been a mentor for law students through Belmont Inns of Court and a committee and executive board member for the Lawyers Association for Women.
"In my personal and professional life, my goal is to collaborate and serve those around me so we can all achieve a level of success not possible alone," Bell says. "Consilio's focus on creating successful solutions for our clients through collaboration, innovation and compliance aligns with my vision for personal and professional success—it's the perfect combination."
View this feature in the Vanguard Summer II 2023 Edition here.
Showcase your feature on your website with a custom "As Featured in Vanguard" badge that links directly to your article!
Copy and paste this script into your page coding (ideally right before the closing