Karen Sanford – Alterra Mountain Company
Bridging the great divide of recreational opportunity
The Great Divide usually refers to the Rocky Mountains, but it could just as easily apply to those who do and do not enjoy its fabled heights. People of color, as well as many other historically underserved groups, have not always had the same opportunities to experience the slopes, raft the rivers or even hike the trails. Childhood participation in recreation declining, it's a gap that's only likely to widen.
Thus, the need for the winter recreation industry to go beyond its snow-white base while marketing its opportunities to enjoy nature. It's as much sound business practice as it is socially responsible, Karen Sanford emphasizes.
Chief legal officer of Denver-based Alterra Mountain Company since its 2017 founding and, before then, with one of its predecessor entities, she recently had the title of social responsibility officer added to her letterhead. What a complementary fit, she tells Vanguard this past winter while overseeing sustainability efforts on two fronts. There's the diversification of the workforce and customer base at Alterra Mountain Company's 12 U.S. and three Canadian ski destinations, and the push for sound environmental practices everywhere.
In Sanford's mind, that's two sides of the same coin.
For peak inclusion  
"By all indicators, diversity's lacking and we've got to make the mountains welcoming and inclusive for all our guests and employees," she says. "That's how you remain sustainable as a business."
And it helps to reach these potential customers while they're kids, she goes on to say. Get them breathing that crisp mountain air and safely mentor their introduction to skiing and snowboarding. Bring them to the slopes four times and chances are they'll want to keep coming back.
"The one-off visit won't bring about a change," she says. "You need a long-term plan."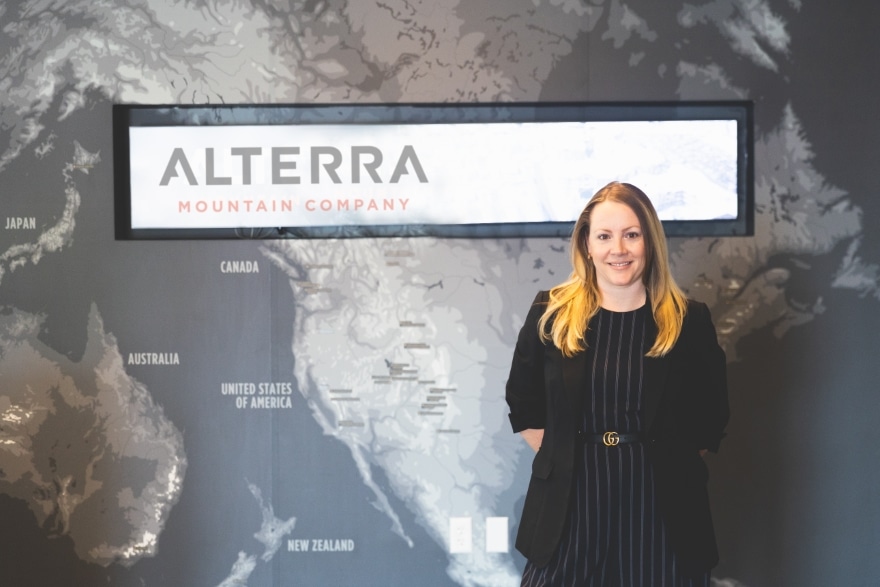 Alterra Mountain Company has such a plan, with Sanford having helped arrange in 2021 its first major partnership with a grantmaking organization known as the Share Winter Foundation. By 2028, Share Winter, with the help of partners such as Alterra Mountain Company, plans to have introduced 100,000 kids to the slopes, doing its outreach at schools and youth organizations near resorts. Share Winter funds programs for three to five years, monitors for efficiency, arranges transportation and works with its grantees to provide the best experiences for the kids.
"Even in Colorado, so many kids have never been to the mountains," she says. "We're working to teach these kids to learn to ski through four lessons in the course of a season, and hopefully instill in them a love and passion for the mountains that will last throughout their loves and help make them our future guests and employees."
A mandatory, specialized equity training was provided to all ski and ride instructors to also ensure the mental and emotional well-being of their youth participants, in addition to their physical safety. That workforce also should reflect what Sanford intends to be the increased multicultural makeup of the customer base. She wants all Alterra Mountain Company's holdings to fill the ranks from a diverse talent pool.
Each resort unique
It's an ambitious project, with Alterra Mountain Company's properties themselves being so diverse. There's the rustic charm of Steamboat and the cowboy culture of Steamboat Springs, Colorado. Just 90 miles to the southeast, Winter Park Resort also boasts 3,000-plus vertical feet, and is home to the one of the world's largest and oldest disabled skiing programs, the National Sports Center for the Disabled. Big Bear Mountain Resort and other California resorts have a younger appeal with artists like Snoop Dogg sometimes deejaying at the base.
In Utah, Deer Valley Resort's pristinely groomed slopes, no-snowboard policy and 5-star lodging nurture another type of guest. Vermont resorts Sugarbush and Stratton draw from a loyal New England base. To the north there's the European ambiance at Tremblant in Quebec. Down in West Virginia, home of Snowshoe, the resorts don't have the same vertical drop or Olympian terrain of Colorado, Utah and California, but offer Southeasterners a rare and more affordable way to enjoy the snow. And for the real gutsy skiers, there's the virgin powder accessible only by helicopter at CMH Heli-Skiing & Summer Adventures in Canada.
The more individuality and uniqueness in the destination brands, the better, says Sanford, who weighs in from a strategic and legal standpoint as Alterra Mountain Company acquires and grows. Each destination is given the freedom to carve its own niche while maintaining high company standards.
Among those standards, Sanford says, is proper stewardship of the gift from above that is snow. Alterra Mountain Company has immersed in a cooperative effort with other resorts, including those of competitors, in adhering to a sustainable slopes agenda that focuses on addressing climate change, including reducing energy costs and water usage.
"If there's too much warmth, our ski season and our livelihood is in jeopardy," she says.
Not all play
While Sanford enjoys these far-reaching initiatives, much of her role is basic legal. There's regulatory compliance on many fronts, the establishing of guidelines and contracts to advance the company's many business initiatives and the overseeing of enterprise privacy, corporate governance, risk management and insurance.
Based in Denver, she oversees a dispersed team of 12, including company general counsel and assistant general counsel, several corporate counsel, chief privacy officer, vice president of risk and insurance, director of corporate governance and social responsibility professionals.
Vancouver-born and a graduate of the University of British Columbia's law school, Sanford's been in the ski industry since 2008 when she joined the former Intrawest Resorts Holdings Inc. as vice president of risk and litigation. The next decade she was part of many changes, with Intrawest going public in 2014 and returning to private three years later following its acquisition by affiliates of private equity firm KSL Capital Partners and Henry Crown and Co.
And how Sanford relishes the industry in which she gets to apply her legal and business learnings as well as hit the slopes.
Winter Park is just 30-miles from her Evergreen, Colorado, home and is a favorite day trip for the married mother and her three children. On a sunny and mild midwinter day with fresh powder from the night before, she says there's no better place to be.
"We've got to sustain this," she says. "And diversify."
View this feature in the Vanguard Spring III 2022 Edition here.
Showcase your feature on your website with a custom "As Featured in Vanguard" badge that links directly to your article!
Copy and paste this script into your page coding (ideally right before the closing