Lane Verlenden – e.l.f. Beauty
Putting his best legal face forward at e.l.f. Beauty
Jennifer Coolidge being a noted vegan and advocate for animal rights, the star of "The White Lotus" seemed an ideal partner for e.l.f. Beauty. The beauty company, after all, touts its products as vegan and cruelty free. But there still was a maze of legalities that had to be crossed before her commercial could air during last February's Super Bowl.
As the assistant general counsel at e.l.f. Beauty, Lane Verlenden helped oversee the process, though he never got to meet the actress—"I did hear she was a delight on the set," he says. e.l.f. Beauty's marketing department had the fun of being on set while Verlenden negotiated the details with Coolidge's representatives.
It wasn't a tough process, he tells Vanguard this past July. Being able to quickly and successfully pull this off at "e.l.f. speed" just required him being a business partner first and an attorney second. It's about knowing what is important to both sides, he says, finding common ground and not being caught up in "what ifs" or "winning points."
Pulled together from concept to shooting in a mere three weeks, the commercial ran during the second quarter of the Kansas City Chiefs' 38-35 victory over the Philadelphia Eagles. That game, unlike so many of the NFL's championships, being a nail-biter, it's likely the commercial was viewed by tens of millions, a good chunk of them being millennials and Gen Z'ers—the very demographic e.l.f. Beauty targets.
Young at heart
At 40, Verlenden isn't so far removed from that demographic but admits he sometimes needs to look up trends on social media after hearing some marketing ideas.
e.l.f. Beauty's CEO often jokes that this is an entertainment company that happens to sell beauty products. Verlenden believes there's truth to that statement—the company seeks to engage its consumers through a variety of disruptive marketing campaigns.
There are its "moving at the speed of culture" social media posts and unexpected collabs such as with Meghan Trainor and The Weather Channel. And its digital series, such as a TikTok influencer "reality show" and Vanity Table Talk's "get ready with me" series. And the company's producing songs, creating music videos and co-branding with companies whose consumer base complements.
"Traditional marketing is out the door at e.l.f.," Verlenden says.
But as much fun as untraditional marketing is, he explains it entails much thinking outside the box and being flexible. He cites deals the company's cut with Chipotle, American Eagle and Dunkin.'
"We've come up with some really great co-branded products that have amusing, cheeky illusions to those brands," he says.
These collabs included a lip scrub featuring a Dunkin' coffee scent, a makeup sponge that looks like an avocado and an eye-shadow palette that resembled the counter of your local Chipotle.
While Verlenden says these collaborations are fun, it falls upon him to think through the legal complexities and ensure the company acts thoughtfully. That includes sorting out what intellectual properties belong to whom, thinking through exclusivity and ascertaining the marketing doesn't push too far.
"Legal is very much part of the process from the beginning," he says. "Our marketing and legal departments have regular touch points on what's on the docket and what's coming down the pike. Who are we marketing to? What's the media plan? Are we staying within all the applicable regulatory guidelines? How will our statements be received by our consumers, watch groups, or our competitors?"
Additionally, while the company has mostly operated in the United States, it's looking to expand globally and that means speaking in new languages, tailoring marketing to new locales and customs, and, as Verlenden reminds, always being entertaining in the process.
"The more our marketing resonates with, and is memorable to, our consumers, the more likely people are to think about our products when they're shopping," he says. "We always want to delight our consumer, wherever they might be."
Not just a marketer
For a $7 billion-plus market cap company, e.l.f. has a surprisingly small legal department of three attorneys. That has Verlenden's legal expertise needed across the entire organization.
As part of his responsibilities, Verlenden is a member of the company's core ESG team. While an environmental-social-governance mindset had long been present, the company has committed "full-throttle" down the ESG path with everyone agreeing it's both ethically appropriate and good business. It has Verlenden working with many departments, including operations, to further e.l.f.'s purpose-driven mission and ethos.
Recently e.l.f. worked with Fair Trade USA™ to create a new framework for beauty factories to become Fair Trade Certified™ and transitioned to a multi-node ecommerce distribution model and lighter, smaller packaging to help reduce its footprint.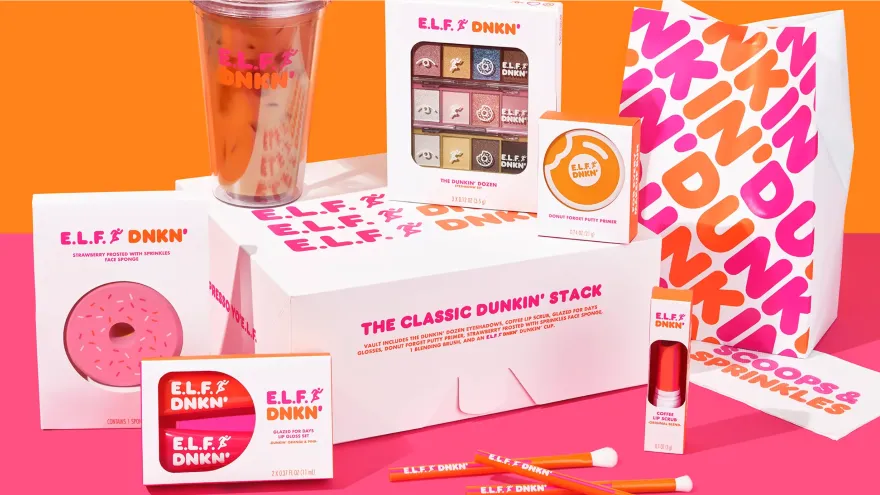 Being part of a small legal team has required Verlenden to learn new areas of law and become a true generalist as he has had to address a wide array of legal issues across all touch points at the company. It's something he has relished and keeps him on his toes.
"Being able to work at a company that's growing and pushing the limits and that embraces the legal department as business partners has been invaluable," he says. "I wake up each day knowing something unexpected is going to happen."
While he says working at e.l.f. is more fun than private practice, Verlenden credits two firms, Schulte Roth & Zabel and Wilson Sonsini Goodrich & Rosati, for grooming his skills after his 2009 graduation from Boston University School of Law.
By 2016 he was ready to go in-house, first with a two-year stint with video game developer Zynga, and then his first tour of duty with e.l.f. Beauty from 2018 to 2021 (he rejoined e.l.f. in late 2022 after a stint at an investment manager started by former co-workers).
"In due time, I envision being a general counsel," he says. "In the meantime, I'm well-positioned to enhance my skills at e.l.f."
View this feature in the Vanguard Fall I 2023 Edition here.
Showcase your feature on your website with a custom "As Featured in Vanguard" badge that links directly to your article!
Copy and paste this script into your page coding (ideally right before the closing