Laurie Robinson Haden – CCWC
Avoiding 'death by delay' in the drive to diversity
When Laurie Robinson Haden and 10 of her friends gathered around a dinner table in New York City in 2004, they couldn't have known how much influence these women of color attorneys would one day wield—in the Big Apple and beyond.
What was clear was that, in a city of 57,000 practicing attorneys (according to the 2000 U.S. Census), they could count the number of minority women practicing law they knew on two hands.
According to Robinson Haden, what the group sought, more than anything, was a supportive network allowing them to share their perspectives and career-development strategies. In the days before LinkedIn and Facebook, the women went old school as each was asked to email and invite five women, like themselves, to get involved.
Within months, the group blossomed as more than 1,000 women joined. Today, the Corporate Counsel Women of Color is 4,700-members strong.
"We were all so isolated in the beginning and the only ones of our kind at any given corporation." Robinson Haden says. "That was 17 years ago. It's amazing how far we've come."
Emboldening women
Today, CCWC hosts events covering everything from how to ask for a pay raise to creating better mentorship programs for minority employees. Prior to the pandemic, more than 1,300 women attended seminars on career strategies and retirement planning.
"I've never seen so many people looking for information on career development, negotiations and how to build wealth for the future," Robinson Haden says. "Many of these women are the first in their family to go to college, so insight and guidance has helped them tremendously."
As an example, Robinson Haden says women of color earn 63 cents for every dollar earned by their white male colleagues. For Hispanic women, it's particularly bad—just 55 cents on the dollar. Minority women can lose out on almost $1 million over the course of their career.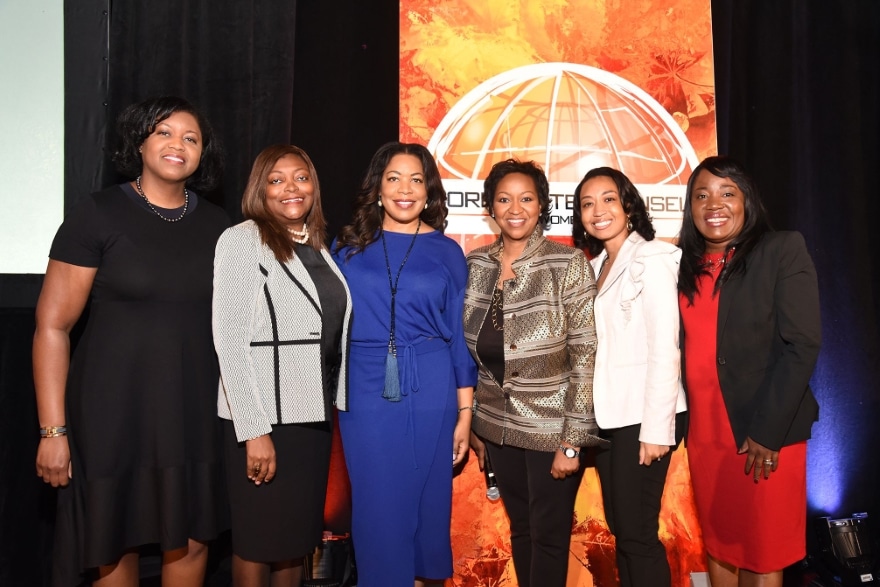 "Women know the disparities, and we have to teach them to work past their fear," she says.
The group also shares the latest information on employment laws that forbid companies from asking employees about their salary history. Robinson-Haden also shared the latest proposed rule to the U.S. Securities and Exchange Commission about the risk companies can face if they don't diversify boards—delisting on NASDAQ.
"The more people are informed, the better," Robinson Haden says. "Together, we gain strength."
Death by delay
Initiatives related to diversity, equity and inclusion may have gained more corporate popularity in the wake of George Floyd's death and Black Lives Matter protests, but it's nothing new to CCWC.
"That's our mission and what we stand for," Robinson Haden says. "We've been making the workplace more equitable for the past 17 years."
Specifically, CCWC is helping corporations set up programming to attract and retain a diversified pool of job candidates. And while many businesses have sought to create diversity, equity and inclusion committees and task forces, she cautions these well-intentioned initiatives often go nowhere.
"They're created with great pronouncements, but will die from death by delay caused by overthinking everything," she cautions.
Instead, Robinson Haden says corporate leaders need to have skin in the game by building diversity within senior management, developing a pipeline to recruit minorities and by drafting minorities to work on projects without requiring them to take training development programs not required of their Caucasian counterparts.
"If the tone isn't set and articulated at the top—from leadership and in HR—initiatives get frozen," Robinson Haden says. "It's their responsibility to fix inequities in compensation."
Visible role models
Growing up in Fort Washington, Maryland, Robinson Haden admits she was "one of the lucky ones" because there were plenty of role models on her street, including a doctors, a military general and her father, James Russell Lowe Robinson, who was a lawyer.
"He let me earn $5 typing his briefs and carry his briefcase around the house when I was a child," she says. "I had a role model and I'm sensitive to others needing one."
She earned a bachelor's in political science from North Carolina Central University in 1994, then attended Indiana University Maurer School of Law, where she earned a J.D. in 1998.
"I didn't know anything different. We were always told we could be anything we wanted to be," she says. "I was not used to barriers or the glass ceiling."
After starting her legal career in 1998 at Epstein Becker & Green in New York City, she wanted to see more partners of color. Before long, she was meeting up with other minority women at other law firms who had found themselves in similar situations.
"We all recognized it as a barrier," Robinson Haden says. "We wanted mentors, sponsors and the right work assignments for training and development."
Two years later, she was hired as an associate at Seyfarth Shaw, where she represented management in labor relations and employment affairs. When a position at CBS Broadcasting Inc. opened up in 2002, she saw a larger opportunity and was hired as an assistant general counsel.
The next chapter
For nearly two decades at CBS, Robinson Haden augmented her legal responsibilities by partnering with the HR and compliance departments on anti-harassment, anti-discrimination and anti-retaliation training. With support from CBS, she juggled her time with CCWC simultaneously with her legal responsibilities up until 2020. Today, she serves as the CEO of the nonprofit and serves on university and advisory boards.
"The need is so great," Robinson Haden says. "The time is now to expand our programs and initiatives to elevate women of color in their careers."
She further bolstered her training in DE&I with a degree in diversity and inclusion from the Yale School of Management in 2019.
"I want to be a thought leader in the space and move the needle on diversity," she says.
Some of Robinson Haden's most meaningful work has been to develop solutions for up-and-coming minority lawyers who were hit hard by COVID-19. As she explains, because of the pandemic, many law students had job offers rescinded, or missed out on internships. In response, CCWC created a summer internship training program in 2020 for eight students and found scholarships and mentors for them.
"Helping them is fulfilling and brings me great joy," Robinson Haden says. "People were there for me when I needed it, and now our duty is to return the favor."
View this feature in the Vanguard Summer III 2021 Edition here.
Showcase your feature on your website with a custom "As Featured in Vanguard" badge that links directly to your article!
Copy and paste this script into your page coding (ideally right before the closing