Mark Baggio – Vistex, Inc.
Impacting the top (and bottom) line
Every company knows the importance of the bottom line. Far fewer realize walking that line is like traversing a tightrope without a net.
Founded in 1999 by Sanjay Shah, Vistex develops software and solutions to help companies address the bottom line by taking control of complex programs and data and centralizing them into pre-configured dashboards.
"We're focused on making sure every dollar spent or earned is really driving growth, not additional costs," says Vistex Vice President and General Counsel Mark Baggio. "From complex pricing to trade programs and royalties and incentives, our goal is to help clients get the most out of their investment, not only in enterprise software, but also to realize their full potential across the board."
Profitable chain of events
Based in Chicago with more than 1,600 associates and 21 offices worldwide, Vistex has solutions deployed globally, from software to administration and game-changing advisory services. Baggio joined the company in April 2014 following eight years in private practice at Ice Miller and a prior general counsel role for a NASDAQ-traded company.
"Our focus isn't solely on enabling success for our customers, but also their customers," Baggio says. "With that in mind, we're focusing on both back and front office operations, enabling our customers to run their sales and marketing programs and financial operations in collaboration with their customers."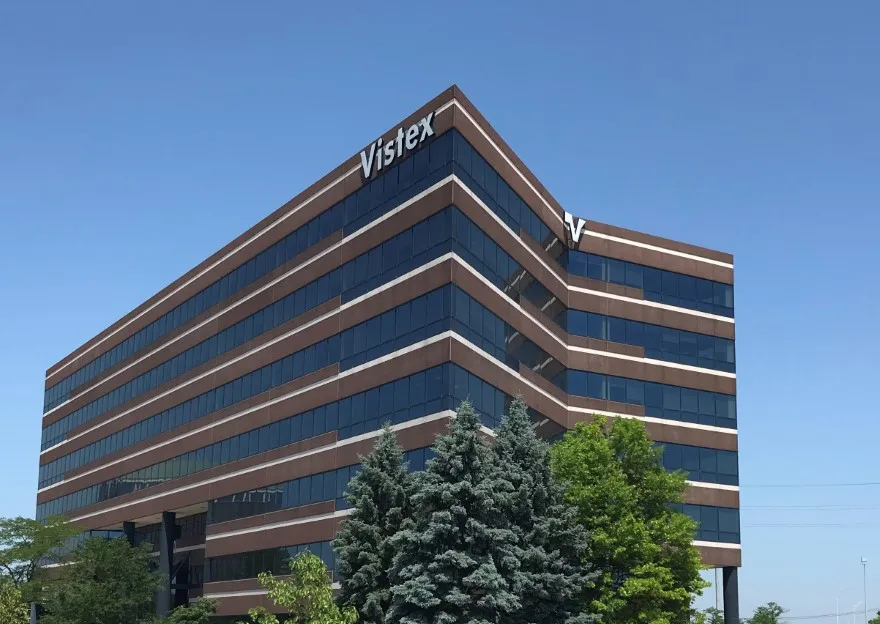 Vistex also provides predictive analytics in partnership with business advisory teams to overhaul a company's operations. Implementation and companywide adoption are critical to long-term success. In conjunction with administration and advisory services, Vistex ensures that each program is optimized to each customer's specifications.
"Our mantra is that working for our customer isn't a right, rather a privilege. From a legal perspective, we're aligning our operations with the customer's goals," Baggio says. "Our mission is to ensure all the dots are connected."
Enabling informed business decisions
Strong internal teams and external partners are especially critical to Vistex as the company provides expertise in industries including retail, agriculture, wholesale distribution, life sciences, high tech, media and entertainment, industrial manufacturing, chemicals and automotive.
While each industry and individual company has specific needs, processes and nomenclature for business operations, Vistex supports processes for companies such as GE, ViacomCBS, Bayer and GM.
For example in the auto industry, a determination is made whether dealer incentives are working or not working. For pharmaceutical companies, it might mean analyzing chargebacks, rebates and revenue management—key challenges faced as suppliers shorten production times and increase profits.
"Our software analyzes what's really driving behavior and offers insights into what's working and—just as importantly, not working," Baggio says. "We bring critical information and numbers to the forefront which help clients ensure everything adds up."
That might mean a dashboard with planning tools telling a company what will likely happen if it drops the price of its product by a certain amount. This allows sales teams to quickly make deals, while integration between platforms like Salesforce, CRM tools and ERP are fundamental. Vistex serves as an integral system to address market dynamics between back office and front office operations.
Bullseye: on the mark
Any ERP augmented with Vistex software should channel the right information to the right people at the right time—key to driving success, Baggio says.
Vistex has enabled customers and itself to realize significant business benefits. More than 31 million claims have been processed for clients to the tune of about $1 billion in revenue and $120 billion in tenant payments for entertainment content has been routed to service suppliers. Internally, the streamlining of an annual report drawing from more than 4 million documents that used to take months to prepare now only takes minutes.
Vistex's portfolio includes software embedded and fully integrated in SAP ERP, both Business Suite and S/4HANA. The integration allows customers to immerse in one system. In addition, Vistex offers a full suite of cloud-based products that integrate with any enterprise platform and just added enterprise-scale industry cloud applications on the SAP Cloud Platform.
"Vistex is the fuel that empowers the enterprise platform, by being embedded in SAP, but also integrated with Microsoft- or Oracle-based systems as well as other enterprise platforms," Baggio added, "Versatility is key, and on the legal side, we work to ensure every client interaction is smooth when it comes to agreements and regulatory compliance."
Beyond expanding its core portfolio, Vistex works globally, and just expanded into Japan. Baggio and his team supported this by putting the right people and resources in place, as well as building strategic alliances with local firms.
More broadly, Baggio ensures the legal department remains an asset to Vistex's customers and a vigilant and responsive resource for internal teams.
"As far as legal counsel, my mission is to guarantee that the wheels of operation move as fluidly as possible," Baggio explains, "Sales is the key driver for every business, and cost centers like legal need to make sure we are a value-add to our operations."
Being human
From the new Vistex Hospital in Bihar, India, to the "Close to Home" program allowing employees to support those in need locally, Vistex and its Vistex Foundation look beyond business to humanitarian assistance, too.
"It's really nice to see our folks out in their communities making a difference," Baggio says. "We're big on finding ways to utilize our talents and treasure toward making the world a better place."
Improvement, drive, seeking and finding new destinations—it's all a journey on which Baggio and Vistex are constantly learning from the past to keep both life and financial bottom lines trending upward.
"For us, learning is a constant. If we don't know, we find out," Baggio says. "In this business, there is no winning. Our game is to elevate our learning and get ahead. We seek destinations, but it's really about the journey."
Showcase your feature on your website with a custom "As Featured in Vanguard" badge that links directly to your article!
Copy and paste this script into your page coding (ideally right before the closing