Phyllis J. Zanghi – American Equity Investment Life Insurance Company
Equal to American Equity's formidable task
A self-professed "nerd through and through," and at ease among alternative assets, annuities and actuaries, Phyllis J. Zanghi couldn't help but be intrigued at a new opportunity in 2020.
Though a valued member of the Brighthouse Financial legal team in Charlotte, North Carolina, for over three years, the opportunity arose to take part in the assembly of a new business model at American Equity Investment Life Insurance Co. in West Des Moines, Iowa.
The strategy is called AEL 2.0 and is part of an ambitious effort to diversify this retirement income provider beyond its fixed and fixed-index annuity wheelhouse and into a market-shaping player in private investments and a formidable provider of financial security solutions to retail clients. American Equity isn't going into it alone, as AEL 2.0 involves an exciting cornerstone partnership with the investment giant Brookfield Asset Management Inc., including the latter taking up to a 19.9 percent interest in American Equity and reinsuring approximately $10 billion of its annuities.
That means lots of details for Zanghi to oversee in her new role as general counsel of American Equity's life companies.
"The pillars that make up this AEL 2.0 strategy are so exciting," Zanghi tells Vanguard in February. "They relate to leadership, culture, investments, insurance regulation and a go-to-market strategy. When I learned of this, I knew I had to be part of this transformative change."
Four-fold objectives
It's a wide-ranging list of responsibilities Zanghi has undertaken for AEL 2.0, while assisting AEL Holdings General Counsel Renee Montz and reporting to CEO Anant Bhalla, also a former Brighthouse Financial executive.
Bhalla has entrusted her to lead a team of legal and compliance professionals who draft contracts with business partners, advise on financial products under development, help design executive compensation, handle personnel issues and oversee compliance. Zanghi also has a role in negotiating a deal with Varde Partners and Agam Capital Management to form a multibillion reinsurance entity in Bermuda.
All of the above contribute in some fashion to the four primary objectives of AEL 2.0:
Strategic partnerships aligned with AEL's interest in sourcing and underwriting private assets; decoupling dependence on public, fixed income investments; and optimizing risk-adjusted returns.
Fast-track growth through reinsurance as well as building access to third party capital.
Transformation of American Equity's business model from purely investment spread to a combination of spread and fees, to drive higher return on equity than would be typical in a sustained low-yielding environment.
Increased sales and sales excellence—with a focus on product innovation that provides customers various choices to have the dignity of a paycheck for life—and attractive asset accumulation to build wealth or inter-generational transfer of wealth. It's all part of making a strong, reputable firm even stronger, says Zanghi, who's a veteran of sorts when it comes to transforming corporate mindsets as a leader on an in-house team. It's the type of law she's always aspired to practice—collaborative, rather than the combative approach that comes with litigating.
"I don't have the disposition for that," she says with a chuckle. "I never liked how attorneys would pull scheduling tricks and the like. Business law is much more suited to me."
Mitigating factor at MetLife
That could be because Zanghi's father is a businessman who operates a bicycle shop in New York. A most interesting man, she says—born in Manhattan, he went back to Italy as a child, only to return at 17.
While his formal education was very limited, his friends and customers included lawyers, one of whom advised him on business matters. Looking back on her own upbringing, Zanghi says she couldn't help but be influenced by seeing how a lawyer could sort out her father's matters, and opted for St. John's University School of Law in 1994 after graduating Rutgers University-New Brunswick.
Though a "rookie," Zanghi was among some bright young lawyers hired by MetLife to, among other duties, review enterprise marketing material. Having taken every tax-related course in the St. John's curriculum, she so proved her worth to MetLife that the company covered the cost for her to pursue a master's in tax law at New York University School of Law from 1999 to 2002.
On that front, the company got a return on its investment, as Zanghi ascended to senior vice president and stayed with MetLife's New York office until August 2017. Then, when MetLife spun off a portion of its U.S. retail segment and Brighthouse Financial commenced operations, it debuted on NASDAQ with Zanghi in tow.
"I loved the idea of building from the ground up and doing it the way you think it should be done," she says. "You don't have to worry about history and anyone's emotional investment in 'the way it is' when you start anew."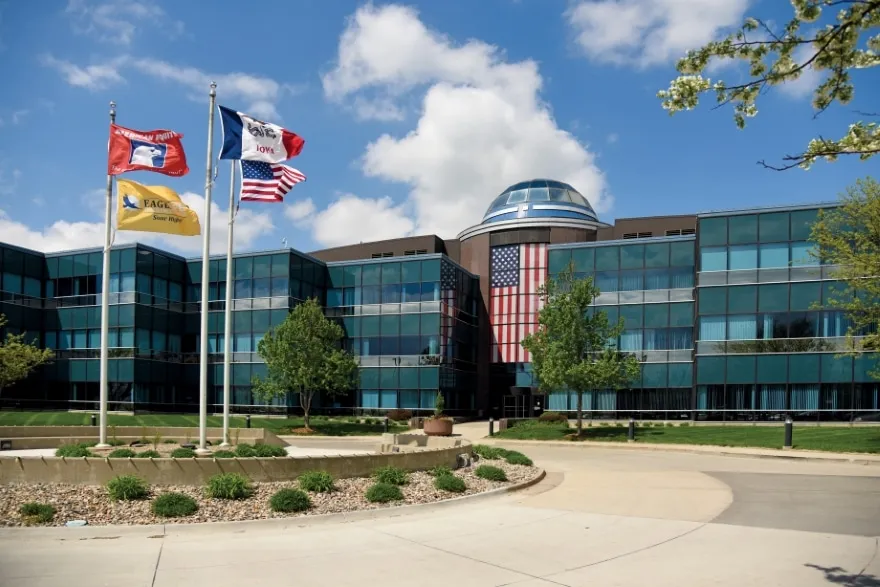 Some similarities abound with her more recent responsibilities at American Equity, though it's not a ground-up build per se. But it's still transformative change with a great team of people, and that's been a common denominator in all of Zanghi's career stops.
She's been to West Des Moines three times since her October hiring and talks excitedly about the area and the people. Efficient as she is at working remotely, Zanghi says there's no substitute for personal interaction and the opportunities that present from working in-house.
"Because I was in-house, I was working on complex transactions from a young age that none of my friends in law firms could access," she recalls. "If you're willing to work hard in-house, there's no limit to what you can work on. There's no other career like in-house law."
Provided, of course, one's willing to delve into some rather intricate reading, and able to put it in everyday terms. Though these seemingly dry details aren't all she reads.
"I read for fun, too, and just love Stephen King," Zanghi adds.
Showcase your feature on your website with a custom "As Featured in Vanguard" badge that links directly to your article!
Copy and paste this script into your page coding (ideally right before the closing