Randy Haight – Los Angeles Football Club
A legal leader who's goal-driven
In early March, just days into the 2020 season, Major League Soccer was forced to blow the whistle on all matches indefinitely, owing to concerns stemming from COVID-19.
Whether it'll be game on anytime soon is anybody's guess.
As general counsel of the league's Los Angeles Football Club, Randy Haight laments the lost opportunity to build on the third-year team's success of last season, when it made the Western Conference finals before dropping a 3-1 decision to the eventual champion Seattle Sounders.
"Last year was just fantastic," he tells Vanguard in April while working remotely. "The club had a historic season shattering multiple records, Carlos Vela was named MVP and we won the Supporters' Shield (best regular season record, 21-4-9). That's a lot of momentum we'd like to harness."
He'll continue doing his part even with LAFC sidelined with 25 other teams in the United States and Canada. After all, there's still a slew of legal and business issues that need his attention, some of which lack any real precedent to refer to.
"I can tell you that my day-to-day has been vastly different," he goes on to say. "I'll start off my morning by looking through emails and scrolling the various media outlets to catch my bearings. Afterward it's addressing questions from business partners, conference calls with league officials as well as the legal departments of other teams and organizations, staying current with government authorities, and maintaining constant communication with the attorney on my team, Tara Hicks. My days have never been so varied, and that's not to say my position had been routine before."
But at least there had been some predictability to the agenda.
That's multicultural
Soccer being the most global of games, MLS rosters are largely made up of players from outside the United States whose work permits the league processes. LAFC's players hail from Britain, Canada, Ghana, Libya, Netherlands, Norway and Yugoslavia, as well as multiple Latin American countries—and even include a few born and bred in the U.S.
With many of those players now likely outside of Southern California, they could be subject not only to league regulations, but national, state and local ones should they be called back to work.
Lengthy quarantine before they can again lace up their cleats? Further protocols if a player or staffer tests positive? Preparations for what might be a second COVID-19 wave later this year? What precautions—and liabilities—must a franchise assume in the interest of fan safety? Temperature checks and scattered seating?
"We could not have anticipated many of the issues we are currently facing," he muses. "But I'm fortunate to be surrounded by a creative, dedicated and passionate team and together we're working through them."
Then there are Haight's efforts in building corporate partnerships so essential to the financial well-being of any pro sports team. While he's moving forward here, he also recognizes that what has been a supportive Los Angeles business community may have more pressing matters than soccer.
But, as Haight emphasizes, the downtime can't go to waste. That keeps him in good standing with the MLS brass and its commissioner, Don Garber, who is so intent on growing soccer's popularity amidst a very crowded U.S. sports industry.
United they'll stand
It's called MLS Unites, a league platform recently launched in partnership with the MLS Players Association to foster civic engagement. Each team undertakes a charitable cause, and with Haight in a prominent role, LAFC is committed to being a force for good. Thus far those good deeds have included donating fresh produce and perishable food items, providing access to free personal protective equipment for members of the LAFC community, teaming with American Red Cross and Banc of California to host blood drives, and raising money for other goodwill programs.
Even prior to MLS Unites, Haight had assumed such non-legal responsibilities as helping his internal business partners harness a strong regional soccer culture through such initiatives as an extra-fanatical fan group called "The 3252"—a homage to the number of standing-room-only seats that often sell out at Banc of California Stadium.
"I really gravitate toward cultural events that grow the game," Haight says. "I want to see LAFC black and gold as much a community fashion as Dodger blue."
That certainly seemed the case last November when around 1,000 fans followed LAFC to Leon, Mexico, for a home and away series that the team qualified for through its stellar regular season. While LAFC lost 2-0 in Leon, they won the home game 3-0, so in terms of goal differential, could claim overall victory.
And there will be more victories, assures Haight, who's already a sports law veteran at the age of 36. He's encouraged about the potential of eMLS, the league's spinoff that's become a virtual fix for those who miss attending soccer matches in person.
If there is a bright side to the season being on hold, Haight says it's the time allowed to work with colleagues on finding new, creative ways to engage the LAFC community. And he's feeling blessed about how his career has been going, Haight having had a series of jobs—including this one—that might make other young lawyers envious.
Though his path here would seem a bit unconventional—at least at first glance.
Analyze this
A center midfielder for the State University of New York at Buffalo soccer team, Haight majored in criminal justice and worked for the Metropolitan Police Department of the District of Columbia from 2006 to 2008. At the time, he hoped to be a special agent for the FBI but turned to law after working closely with the district attorney's office as a police officer.
He worked full time in various legal positions while enrolled at George Washington University Law School, where he graduated in 2013.
Following a judicial clerkship at the United States Court of Appeals for the Ninth Circuit, he moved in-house to advise on business and legal strategy for Red Bull, the energy drink that sponsors many sporting events.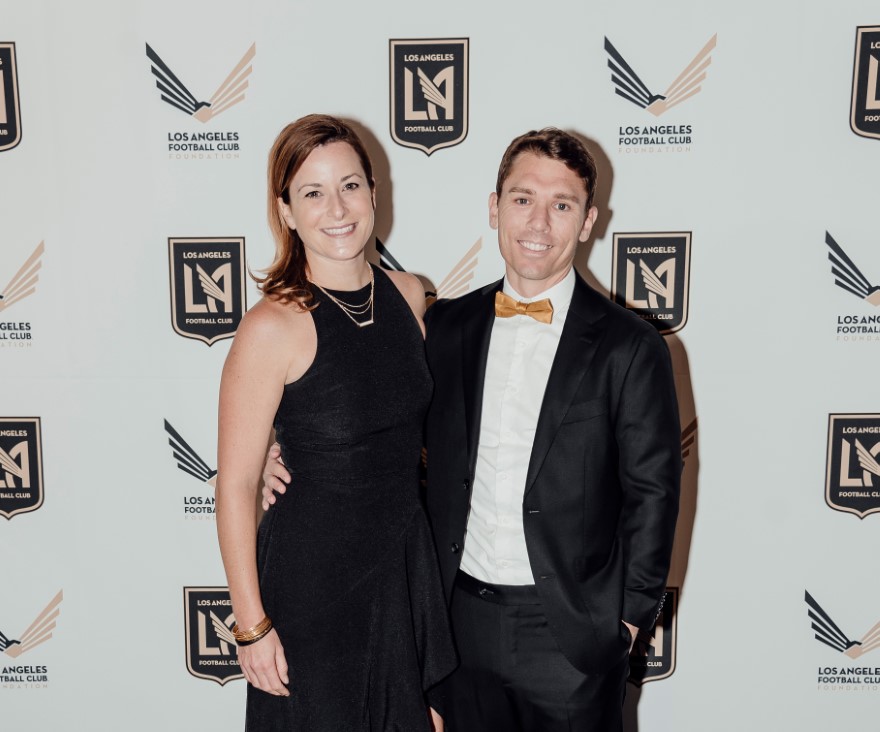 Haight would network his way into a legal counsel's role with the NBA's Los Angeles Clippers from 2015 to 2017, then become director of business and legal affairs for the film/television production company and comedy video website Funny or Die, cofounded by Will Ferrell, who has an ownership stake in LAFC. Following another year-long stint with the Clippers, Haight would come to LAFC as associate general counsel in 2018 and be promoted in 2019.
There are some notable differences between the NBA and MLS, he says, the latter being a single entity that employs its athletes. Though MLS has yet to reach the NBA's visibility, the LAFC position gives Haight additional responsibilities. LAFC owns Banc of California Stadium, with Haight overseeing legal and business affairs for the stadium's concerts, festivals, international friendlies and other special events.
There had been many events planned this year: Santana with Earth, Wind & Fire; Zac Brown Band; Maroon 5; Virgin Fest 2020; MLS All-Star 2020; and, of course, the LAFC team that came so close to winning it all in just its second year.
"This year we were planning to host more concert and festival days at Banc of California Stadium than soccer matches," Haight says. "We're committed to building a world-class brand for both the sporting and entertainment sides of the business. COVID set us back, but not forever."
Photos Courtesy of LAFC
Showcase your feature on your website with a custom "As Featured in Vanguard" badge that links directly to your article!
Copy and paste this script into your page coding (ideally right before the closing