Scott Swanson – Marshfield Clinic Health System
AGC lays legal groundwork for life-changing medical initiatives
In 2003, the American Cancer Society opened the Hope Lodge in Marshfield, Wisconsin, thanks to significant community funding. The 22-room guest house catered to cancer patients receiving treatment at the adjacent Marshfield Clinic Health System as well as their families. For years, the three-story building sheltered people who had traveled from far outside Marshfield to battle cancer.
Then, in 2020, the COVID-19 pandemic hit, and the ACS shut down Hope Lodge abruptly. And it would remain closed from the summer of 2020 until today. Not that people stopped needing cancer care; they just scrambled to find a comparatively expensive hotel room or drove long distances to undergo that treatment. Although, soon after the Hope Lodge closed, Marshfield opened Cattails Cottage, a modest alternative that provided the same level of support to a smaller number of families.
Then, in late 2022, the ACS started talking with administrators at Marshfield about how to better help cancer patients. And that's where Assistant General Counsel Scott Swanson came in.
"Our partners [at ACS] made the determination that transferring [Hope Lodge] to Marshfield Clinic Health System would be a better way to move the facility forward," Swanson says.
He worked with outside counsel on finalizing real estate transfer documents, which he had drafted with the legal team at ACS. Marshfield is now looking at ways to leverage the facility, including reopening the building, which will be renamed, sometime this year. In the meantime, Swanson says Cattails Cottage will remain open to patients and their families.
"That project and that situation is one that I'm particularly proud of," he says. "We treat a lot of cancer patients here at Marshfield."
Advancing science and treatment opportunities
But Swanson is proud of other work he and his colleagues do to improve access to care, the Marshfield Clinic Research Institute being just one example. It plays host to clinical trials testing everything from how the immune system responds to an investigational chickenpox vaccine to whether adding an anti-cancer drug to chemotherapy and radiation improves outcomes for rectal cancer patients.
"A lot of times, industry-sponsored studies come along that pique the curiosity of our physicians or researchers," Swanson explains. "And I'm there in the background, helping to make sure that a conversation is able to happen, and that we're able to maintain the confidentiality of information that's not for public consumption."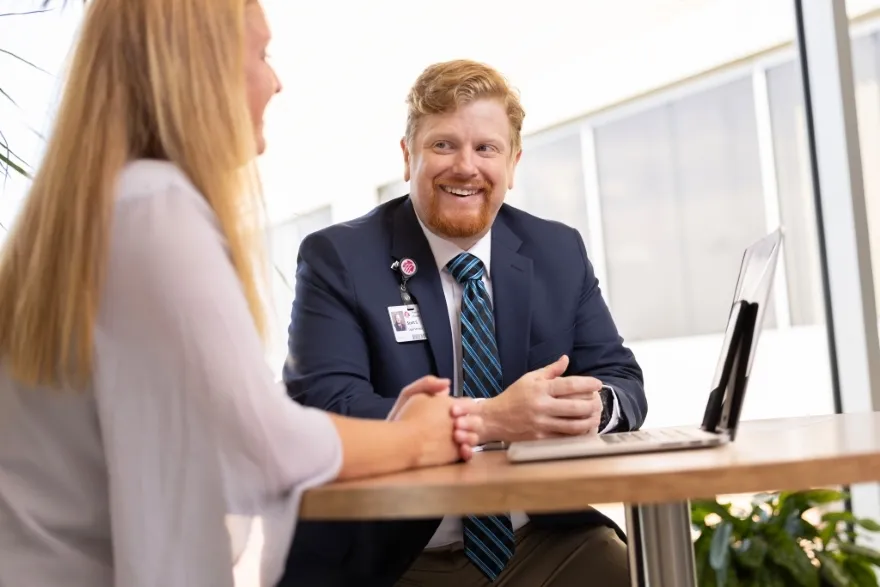 Swanson gets involved in clinical research from the beginning. He negotiates nondisclosure agreements so Marshfield can get data to make informed decisions. He engages with pharmaceutical companies or universities launching the clinical trials conducted with Marshfield's researchers, investigators and physicians. That includes negotiating the clinical trial agreements, completing an average of one per week thanks to Marshfield's "really active" population of research scientists and physicians.
"Our main focus is to do our best to negotiate an agreement that protects our institution and sets out the guidelines for how the trial is going to be conducted here, in accordance with the protocol, to ensure that our patients are going to be protected," Swanson says.
That can mean a variety of things, from making sure patients are fully aware of how their samples are going to be used to ensuring they have protections in place should they need medical care as a result of their participation in the study.
"To have a dedicated research institute at a place like this in a community that is, let's face it, not in an urban area, is pretty unique and a positive thing," Swanson says. "I think it really opens doors to folks."
Negotiating for fresh talent
As a fully integrated health system, Marshfield's Division of Education trains new health care workers to ensure the next generation is ready to step in when industry veterans retire.
Swanson negotiates agreements with universities across the country that have nursing, radiology tech, ultrasound tech, social work and similar programs to allow their students to train at Marshfield. That gives the students experience working in a clinical setting; it also introduces them to the pace of life in a rural community, where Swanson hopes some of them will decide to settle.
Likewise, the physicians who train at Marshfield through the Division of Education's residency program. Swanson is the attorney of record assigned to assist with that program when questions arise, when Marshfield has to craft agreements concerning residents or when it has to work out arrangements for a resident to do a rotation at another institution.
"The health care industry is dealing with these staffing shortages, and Marshfield Clinic isn't immune," he says. "But having programs in place to have the next generation here, it does give us a leg up and an opportunity to find the next people who are going to be in these roles."
Joining the home team
A 2005 graduate of Hamline University in St. Paul, Minnesota, where he earned his J.D., Swanson hails from Marshfield.
He'd always known he wanted to return to Wisconsin, so after passing the bar, he signed on with a small law firm in Black River Falls, where he worked on everything from criminal defense to healthcare collections to family law. He also served as a court commissioner for the local circuit court.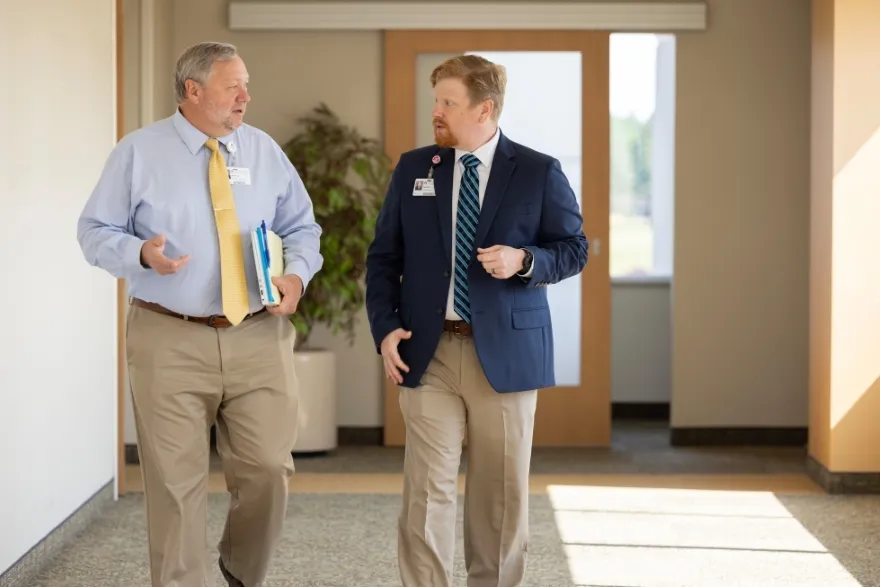 He stayed there for about seven years, but eventually, through his work in healthcare collections, he got to know a local collection agency that specialized in medical debt, which hired him to serve as its general counsel and compliance officer. Swanson worked there for six years, gaining experience in health law, before a position opened at Marshfield in January 2018.
"I've got to say that my boss, our deputy general counsel, Nelsen Wahlstrom, he's a big reason why I enjoy coming to work every day, because he creates a work environment where there's collegiality and a real desire to work together to find a solution," Swanson says. "It's great to have a group of colleagues who you know will always pick up the phone. And every day, you don't know what the work is going to be or where you're going to go."
View this feature in the Vanguard Summer IV 2023 Edition here.
Showcase your feature on your website with a custom "As Featured in Vanguard" badge that links directly to your article!
Copy and paste this script into your page coding (ideally right before the closing