Susan Baker – Community Health Care
Nurse-turned-GC helps Community Health Care grow
Susan Baker has watched Community Health Care grow from a two-person office in Canal Fulton, Ohio, to an independent medical practice with 18 office locations, 30 physicians, 24 nurse practitioners, nearly two dozen additional licensed professionals and more than 80,000 patients.
A registered nurse before she was an attorney, Baker shared with CHC's founder, Dr. Rodney Ison, a conviction that healthcare systems could be doing better by patients—no long wait times and no rationing of care based on financial straits.
"I was the nurse and he was the doctor in the office," recalls Baker, who is now CHC's general counsel. "Healthcare is very fragmented in its delivery. And our approach is very team oriented. We are a team that helps each patient, and then you don't have silos of care that don't talk to each other."
Baker enjoyed working with Dr. Ison and in other doctors' offices over the course of her 10-year nursing career. But then, in 1989, the physician in whose office she had been working decided to retire. He sold his practice to a local hospital, and Baker found herself part of a healthcare system where administrators wanted to know how many people she was sending for costly tests and why.
"The system wanted us to base care on financial numbers, and I just could not tolerate that," Baker says. "I got into it several times with the hospital administrators. Eventually I just said, 'I need to have a profession where I can have autonomy.'"
That led her to law school—and, eventually, back to CHC. Today, Baker says it's rewarding to be able to help so many more patients than the company could in those early days. The practice added eight new doctors last year, and it's continuing to grow.
"It's been exciting to go through the process with them," Baker says. "We are looking at where we can expand our footprint to better serve the community."
Making house calls legally viable
One way Baker has been helping CHC grow is by building the legal foundations for more home visits. The home visit program is designed for CHC's elderly and Medicare patients, some of whom are not in nursing homes but have deteriorated to the stage where they can't get out anymore.
Say one such patient gets out of the hospital on a Friday with instructions to see a doctor within three days. By the time the patient gets home, the doctor's office will be closed for the weekend and it will be too late to secure an appointment for Monday. Some patients aren't in shape to make it to a doctor's office so soon after their release, anyway.
So, at CHC, the nurse manager on that patient's transition of care team gets a notification upon the patient's discharge. He or she then tells the home health nurse assigned to that patient to put a visit on his or her schedule if the patient can't get an appointment for Monday or is unable to make it out of the house.
While home visits are great for patients, they present a bevy of legal issues for Baker to navigate. One is malpractice insurance coverage; people's homes present a whole different practice setting for nurses and doctors. Baker also has to consider things from a workers' compensation standpoint. Moreover, she needs to deal with general liability insurance issues: Are these healthcare workers in their own car, or is CHC providing one for them? What if they get in an accident on their way to a job?
"Now we have people who will be out in their cars on a regular basis, so that's a different manual classification to be covered there," Baker explains. "So, that needs to be attended to, to be sure if someone ever—Heaven forbid—would be hurt while traveling to or from a patient's home, there would be appropriate coverage."
Navigating AI to provide efficient care
CHC's physicians focus first and foremost on the seriously ill. The nurse practitioners provide care for patients with chronic conditions. As Baker puts it: "If you're acutely ill, and you need to be seen today, there's going to be an appointment for you."
And the practice is now aiming to do that more efficiently by piloting an artificial intelligence product to help take some of the administrative burdens off providers.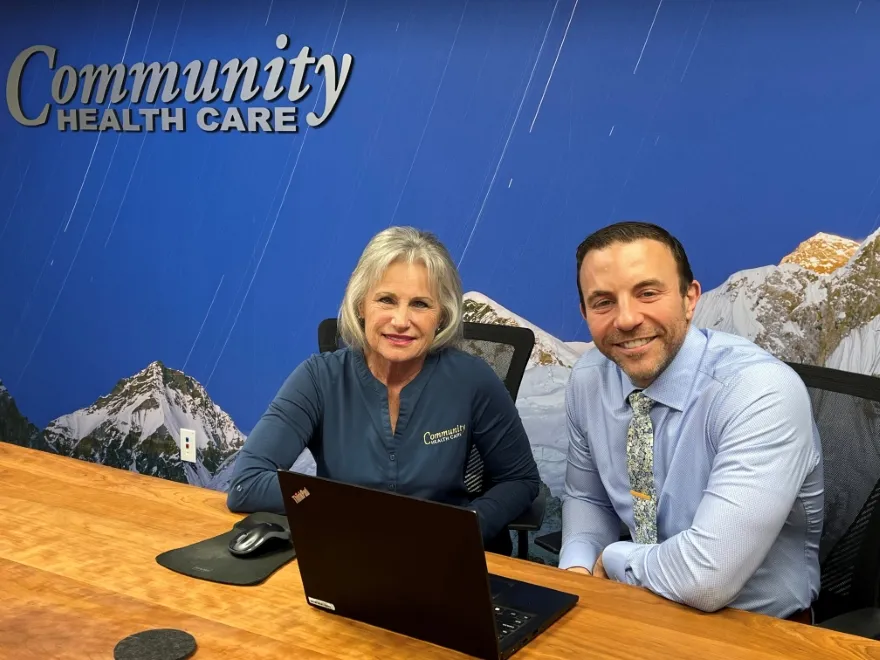 The pilot program, which will begin June 1, 2023, targets Medicare Advantage patients, who, according to Baker, are reluctant to make a call after hours. Its goal: to save patients from the emergency room or any other expensive trip to the hospital (after which, Baker says, elderly patients almost never return to their previous level of functioning).
When patients have an issue, the AI device prompts them with questions to determine which health concern they're facing. Say a patient is short of breath: "Have you checked your blood pressure?" it may ask. Or, "Did you have a change in medication?"
Then the AI device will notify providers that the call has been made. If its protocol finds an issue that needs immediate attention, it will alert the provider on call, who can reach out to the patient directly.
Baker had to learn about nascent areas of the law, such as privacy and cybersecurity, to properly prepare the practice to use the AI.
"AI is one of those areas of technology that is advancing far faster than the regulations are," she says. "It's a very grey area, so you have to make sure that the company is protected as much as possible."
Coming full circle
After earning her J.D. from Case Western University Law School in 1992, Baker worked at Critchfield Critchfield & Johnston, an Ohio-based law firm.
"They were growing and they were supportive of any type of innovative practice—they didn't have a workers' compensation practice; I grew it," Baker says. "But I always retained my interest in healthcare law and worked with healthcare providers on their individual practice issues."
While she was working for Critchfield, CHC was a client, and at first, it wasn't big enough to need its own general counsel. But as Baker prepared to retire from her partnership at the law firm, Dr. Ison started lobbying her to helm the legal department of the growing practice.
And today, she's proud to serve as general counsel for a healthcare group that is patient-centered, physician-led and professionally managed.
"When you start with mergers and acquisitions at the rate that we're growing, and the innovative things that we're doing, it does have to be professionally managed—meaning everyone except the administrative staff are practitioners, which makes a big difference in how they approach things," Baker says. "And legal is an integral part of that."
Showcase your feature on your website with a custom "As Featured in Vanguard" badge that links directly to your article!
Copy and paste this script into your page coding (ideally right before the closing