Zachary Katz – Age of Learning
Furthering the age of digital learning
In spring 2020, there were few companies whose products were in greater demand than Age of Learning, Inc. COVID-19 having forced tens of millions of American families to become overnight homeschoolers, parents flooded to the leading brand in children's digital education, Age of Learning's ABCmouse Early Learning Academy.
"The entire Age of Learning team rose to the occasion, working around the clock to meet the needs of families, teachers and schools across the country," recalls Zac Katz. "Our mission—helping children everywhere develop a strong foundation for academic success and a lifelong love of learning—felt more relevant than ever."
Katz had supported Los Angeles-based Age of Learning's growth since 2014, when he joined the then-100-person, pre-Series A startup as senior vice president of corporate development, but his role would evolve with the company's expansion.
Come 2016, Katz was leading the legal function as well as helping lay the groundwork that would enable Age of Learning to meet the challenges of the upcoming COVID era. As the company scaled, this work included overhauling privacy, data management, accessibility, consumer subscription and cancellation flows, and other key policies and processes. Then, as schools across the country closed in March 2020, Katz's team spearheaded the firm's School Continuity Initiative, empowering schools to support more than 1 million students with free access to Age of Learning's products at home.
While the worst of the pandemic may be over, the demand for high quality digital learning continues to increase, with Age of Learning poised for further growth. Recently named the most innovative company in edtech by the Software and Information Industry Association, Age of Learning is also embracing the opportunities of AI. Toward that end, Katz has been keeping busy.
On the money
Having supported the company's previous round of venture funding, Katz helped lead the Series C effort that in June 2021 bolstered the firm with $300 million in equity investment at a $3 billion valuation—at the time, the largest capital raise for any U.S. edtech.
He and his colleagues enlisted Goldman Sachs & Co. as exclusive placement agent while TPG, a global alternative asset manager, led the round. Collaborating with Age of Learning's CFO, Katz helped develop and execute fundraising, creating and delivering the company's management presentation, addressing extensive diligence requests from prospective investors, and working with Gibson, Dunn & Crutcher on deal documents.
"We're fortunate to have an outstanding team of senior executives, each of whom played a vital role in responding to investors' questions and telling our story, culminating in an oversubscribed round," Katz says.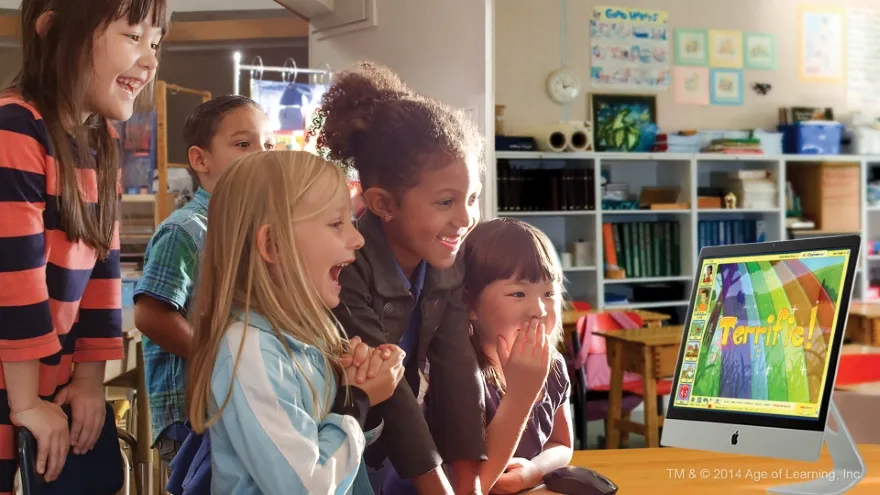 And while ABCmouse—a comprehensive, research-proven learning app for children ages 2-8 with more than 10,000 digital interactive learning activities—remains the company's flagship, it's joined by other offerings. My Math Academy and My Reading Academy, which recently launched in schools, use the company's patented Personalized Mastery Learning System to pinpoint what each student knows and create personalized learning paths. Adventure Academy is a multiplayer online education game for elementary and middle schoolers.
The company, more than half of which is comprised of engineers, curriculum developers and other creators, is also embracing AI to accelerate and enhance a wide range of internal projects.
All that adds to Katz's legal workload. Whereas the firm had mostly been a B2C operation, it's taking on more school districts as clients, which has Katz's team immersed in government contracting and compliance issues that include accessibility and cybersecurity.
"We're enjoying the work of supporting a rapidly growing enterprise SaaS business alongside our more mature consumer business," he says.
Then there's Katz's team ensuring compliance with labor and employment law, and how complex that's become since the pandemic led to Age of Learning's workforce, which grew to almost 700, going remote and dispersing. For Katz it's the latest and maybe the most fulfilling role of a career that's often had some aspect of public service.
A role in connecting America
Katz joined Age of Learning after several months as a senior fellow with the USC Annenberg Center on Communication Leadership & Policy. That was a transitionary role, after he and his wife had their first child and returned to California following Katz's years in Washington, D.C.—first in the Obama White House followed by four years with the Federal Communications Commission.
What exciting days those were in the nation's capital, Katz recalling how as deputy special counsel to the president in 2009, he managed a team that vetted presidential nominees for senior administrative roles. He also helped prepare Sonia Sotomayor for her confirmation on the Supreme Court.
The FCC role proved eventful, Katz ascending to chief of staff under Chairman Julius Genachowski and helping implement President Obama's national broadband plan, Connecting America.
"I've been interested in technology and science for as long as I can remember," Katz says. "In college (Yale University), I started off as a neuroscience major, fascinated by how neurons enable complex processes like memory formation. But I like working with people and found that the isolation of doing experiments alone in the lab, with no one but mice to keep you company, wasn't a great fit."
Science still appealing, Katz majored in the history of the subject, graduating magna cum laude in 1999 and working three years in Palo Alto with tech-focused consultant and venture capital firm R.B. Webber & Co. In 2002, he returned to Yale, this time to its law school, where he was elected editor-in-chief of The Yale Law Journal. Upon graduating in 2005, he clerked for Judge Kim Wardlaw on the Ninth Circuit and then logged three years at Munger, Tolles & Olson in Los Angeles, prior to the move to Washington.
So, it was a variety of experiences that Katz brought to Age of Learning in what initially was a business rather than legal role. Even then, he says lines blurred, and how that's even more the case today.
"Every role I've had I've looked for an opportunity to make a positive impact on the organization and the people we serve, and I've certainly found that here," he says. "Age of Learning has also been great because we have a 10-year-old daughter and 8-year-old son, who I can always get to test prototypes of our new products."
View this feature in the Vanguard Summer III 2023 Edition here.
Showcase your feature on your website with a custom "As Featured in Vanguard" badge that links directly to your article!
Copy and paste this script into your page coding (ideally right before the closing