Adam Schreck – Discovery Capital Management
When choosing a collaborative approach sparks a new career in law
Adam Schreck spent seven years in private practice before considering how he wanted to advance his career—and whether he wanted to continue the path to making partner.
"No matter how great any private practice is—legal or otherwise—it only has a finite number of pie slices—a competitive model I didn't really want to continue immersing myself in," he tells Vanguard in July 2023. "It's a bit like being in a tense relationship from the start—and no resolution exists because that's simply how things work."
Instead, he wanted to become an in-house counsel, a role allowing him to work collaboratively with others in the legal department and across an organization and "where a rising tide lifts all boats," he says in allusion to work being plentiful and rewarding for everyone.
The opportunity to join such an organization arose for him in 2011 when he began working with Discovery Capital Management as outside counsel, helping the acting chief operating officer on various matters. A year into handling legal issues for the Connecticut-based company, he realized it needed an in-house counsel. When he mentioned this to its COO a short while later, Schreck was asked to come in for an interview.
Initially, Schreck was reluctant as it would have been more than an hour-long commute—but the advantages eventually won him over.
"Discovery checked all my boxes," he says. "I got used to the commute very quickly, and I love what I do; there's a reason I've been here for over 12 years—and we're still valued clients of the law firm where I previously worked."
Speed and satisfaction
Schreck says he finds satisfaction in working with others to achieve what may often seem impossible. Launching a new fund alongside the COO and CFO for the investment management firm in only three weeks is one such impossible feat, which was accomplished by leveraging valuable service provider relationships in 2017.
He says well-established investment managers like Blackstone can usually launch a new fund from start to finish in two months, and it usually goes up from there for other managers.
Of course, it helped that Rob Citrone, who founded Discovery in 1999, was also heavily involved in the project. Citrone felt that due to political shifts in Europe, a rare "global macro" trading opportunity presented itself—and he wanted to take advantage of it. Schreck says Citrone's work ethic is "legendary." His trading desk operates 24 hours a day, and his presence pushes those involved, including third-party partners, to be efficient.
"We did an amazing job, and I'm very proud of our work on this fund," Schreck says. "Sometimes, I still can't quite believe we wrapped everything up smoothly in under a month."
A small but mighty—and unified—team
When Schreck started at Discovery in 2011, he built both the legal and compliance functions from scratch. The department has varied in size over time and now consists of only him and his compliance officer, which he prefers because it allows him to be intimately involved with almost every facet of the business.
With such a small team, he handles and assesses risks and protects clients and the firm. He can't manage everything independently, so he builds and leverages external relationships.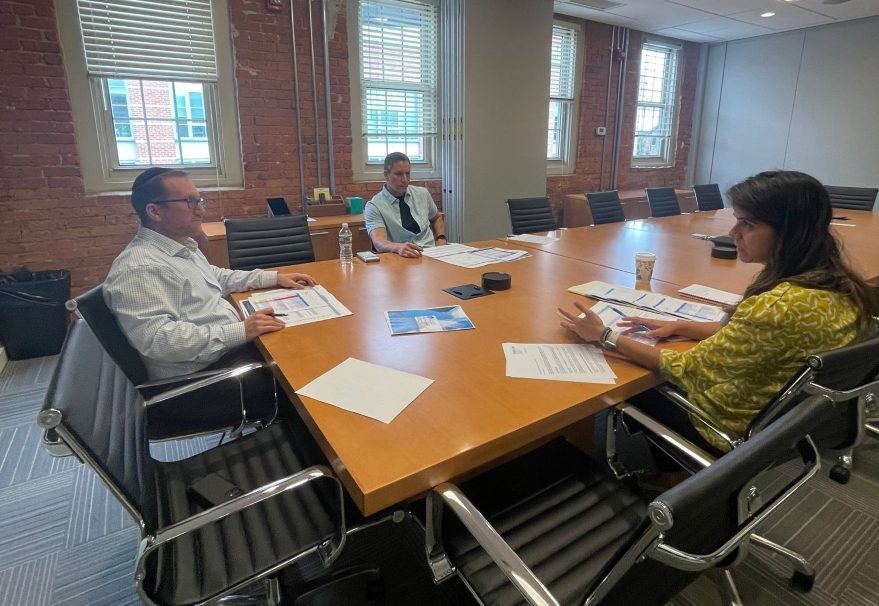 "I ensure work is completed on time through my resourceful network and the augmentation of our very small in-house team through trusted outside counsel," Schreck says.
He uses external counsel in a way he says complements his in-house capabilities, such as relying on them to be his eyes and ears regarding regulatory focus areas. In this way, he can remain vigilant regarding compliance risks and execute a broad range of legal tasks without compromising quality or standards.
"Working collaboratively is critical, and it's precisely what's led Discovery to some big wins for its clients throughout the past decade or so," Schreck tells Vanguard.
Collaboration at all rungs of the ladder
The collaborative DNA within Discovery has meant that alumni who have gone out to start their own investment firms continue to work with Discovery because they trust its capabilities and compliance rigor, Schreck says.
He adds the success Discovery has experienced over the past decade has a lot to do with the culture of trust and integrity at the firm. In particular, he believes these values permeate the leadership team, members of which often give Schreck the reigns to make judgment calls in the fast-paced environment.
Apart from that, he wants to focus on additional product offerings, compliance initiatives and assisting Discovery in continually expanding.
"I have a deep sense of pride in what I've accomplished here in the past 12 years, not only building a legal and compliance function but expanding my network and the firm's over the years," Schreck says. "I'm excited for the potential of what we can do and offer in the coming years."
View this feature in the Vanguard Fall I 2023 Edition here.
Showcase your feature on your website with a custom "As Featured in Vanguard" badge that links directly to your article!
Copy and paste this script into your page coding (ideally right before the closing