Matt Pierce – Suntec Concrete
General counsel protects his people while teaching the next generation
While Matt Pierce knew he wanted to be a lawyer from the time he was a senior in high school, it was pure serendipity that brought him to his current role as general counsel at Suntec Concrete.
"I didn't actually look for this; the position fell into my lap," he says. "And that's the only way I was ever going to leave my old law firm."
Eighteen months ago, Pierce was a partner at a firm in Phoenix, Arizona. He'd been arguing a case involving Arizona's version of the Uniform Anatomical Gift Act, a statute that governs how relatives of a deceased person can donate their late family member's remains for scientific and medical research. Given Pierce's typical construction case work, this one was an outlier—and he was having a grand time litigating it.
When he got word that the court of appeals deciding the case had ruled in his favor, Pierce was certainly happy for his client, but also felt deflated, knowing the one case he'd been enjoying had come to an end.
That same day, his fellow partner and mentor—the man who'd taught him the ins and outs of construction law—came into his office. The partner had just received a call from a company called Suntec, which was looking for a new general counsel.
"He says, 'These are the types of things that they want. Let me know if you can think of anybody,'" Pierce recalls. "Then he says, 'Matt, what they're describing is you. That's not something you'd be interested in, is it?'"
Any other day, he might've brushed it off. But with the biggest trial of his career behind him and his interest in high stakes work suddenly piqued, Pierce realized he might not get an opportunity like this again.
"I said, 'You know what? Today, yes. I'm definitely interested.'"
Hope for the best, plan for the worst
At Suntec, a concrete subcontractor headquartered in Phoenix, Pierce is doing what he'd wanted to do from the time he was in law school: serving as in-house counsel for a dynamic company.
"I was always troubled by the transaction law—providing legal guidance, reviewing contracts—versus litigation decision that law students face during recruiting," Pierce says. "A corporate general counsel position offers both opportunities."
But with 16 years in private practice, he brought a wealth of construction-law knowledge to the job. Now, he's doing everything in his power to help insulate Suntec from potential economic turmoil.
This includes limiting the amount that owners and general contractors allocate to retainage—the security deposit those parties withhold from each billing cycle to make sure the subcontractor finishes the job on time (typically around 10 percent). For example, several years ago, Suntec worked on a project in which there was a total of about $3 million withheld in retainage. Around the time Suntec finished its work, but before the overall project was complete, the general contractor filed for bankruptcy. It took Suntec roughly two years from that point to get its $3 million.
From the perspective of subcontractors like Suntec, it's not exactly a fair system. Even though the company usually finishes its work early in the project, it might have to wait years to receive full payment. At any given time, Suntec has tens of millions of dollars being withheld by various project owners (after Suntec has finished its work and spent its own cash on labor and materials).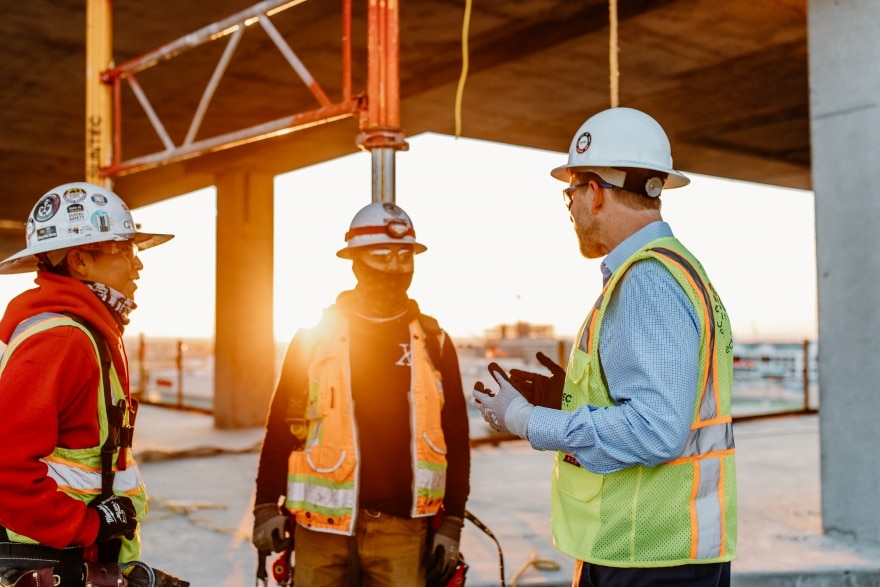 And as Pierce saw during his days in private practice, bankruptcy can cause that money to evaporate, leaving subcontractors with pennies on the dollar. His solution: negotiate reduced retainage and demand payment in full earlier in the construction process.
"I'm the one who makes sure that's clear in our contracts," Pierce says. "In 2008, 2009, 2010, I spent a lot of time chasing money owed to contractors that just didn't exist. I want there to be as little of that as possible, so if the market really slides downhill, we don't lose revenue after we've already done our work."
Preserving company culture
In addition to Suntec's commitment to protecting its people, Pierce also appreciates the company's driven culture, and is overseeing initiatives aimed at protecting it for the next generation of employees.
To that end, Suntec has created a program in which company leaders are given the opportunity to purchase stock from the senior-most leadership (including the company's founders). It's a way of entrusting Suntec to people who have shown their commitment to its culture. It's also a way to create more marketability for its shares.
Pierce is ensuring that this process goes according to the agreed-upon procedures in Suntec's corporate documents. This includes, for example, the shareholder agreement and bylaws, which company leadership heavily amended two years ago to create this transfer process in the first place.
"We want to create a way for some of these [legacy shareholders] to be able to retire if they so desire," Pierce says. "So that's the mechanism we're using to kind of keep the company moving forward while maintaining the same core principles and culture and relationships with our clients and vendors."
Teaching the next generation
Another way Pierce is helping empower the next generation: teaching construction law at Arizona State University, which he's been doing for nearly 16 years.
"Teaching has been an important part of my career," he says. "It's certainly not for the money. When I was in private practice, I couldn't tell you how much money I lost over the years teaching that class, just because of the hours I wasn't billing to clients. But I do it because I enjoy it."
Pierce knows well the impact teachers can have on a student's career choices. He'd been committed to a career in law since a high school anatomy class convinced him to abandon pre-med studies.
"We'd look at a dissection, and I'd go, 'These muscles and organs, they all look the same,'" Pierce recalls with a laugh.
His AP English teacher, struck by how the young Pierce loved to argue, convinced him to give law a try.
After receiving his B.S. in accounting from Arizona State University in 2002, Pierce got his J.D. from ASU's Sandra Day O'Connor College of Law in 2005. He clerked for a federal judge in Arizona before joining Warner Angle Hallam Jackson & Formanek, where he represented contractors and property developers in all facets of the construction project lifecycle.
Pierce says his competitive advantage is his eye for nuance, which he tries to impart to his students. At the end of the day, he's at home practicing construction law.
"It's helpful to go into contract negotiations knowing the other party is fully aware of Suntec's reputation for integrity and grit," Pierce says. "When I request an accommodation, they know there's no risk with such an accommodation as there would be with other subcontractors."
View this feature in the Vanguard Winter IV 2023 Edition here.
Showcase your feature on your website with a custom "As Featured in Vanguard" badge that links directly to your article!
Copy and paste this script into your page coding (ideally right before the closing