Allyson Guy Krause – Promethean
Innovating for the global classroom
Students have taken personalized tours of the White House, spoken with a park ranger halfway around the world on the topic of adaptation, and even tinkered with protons, neurons and electrons—without having to worry about blowing anything up.
Those are just a few examples of how Promethean's interactive educational products are being used in classrooms from New York to New South Wales, but there are hundreds, more likely thousands more, says Allyson Guy Krause.
"The goal is to allow teachers to engage students in ways that they otherwise would not be able to," says Krause, Promethean's executive vice president and general counsel. "Our work has an actual and real impact on students and teachers across the world."
The future of education
Owned by Hong Kong-listed gaming company NetDragon Websoft, Promethean sells its products in more than 100 countries. It is best known for its interactive front-of-class displays—the ActivPanel® and the ActivBoard® Touch along with its award-winning lesson delivery software, ActivInspire®—and it is expanding into educational gaming, simulation and virtual platforms.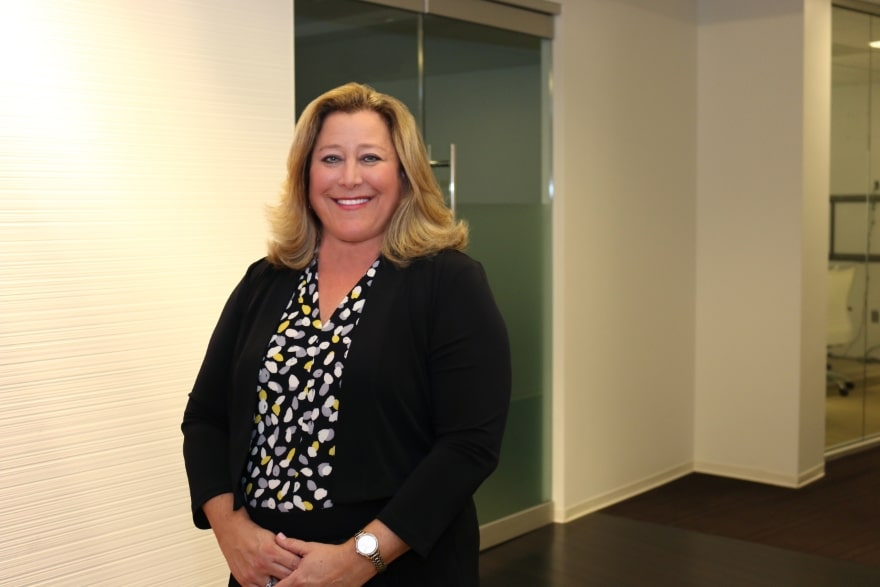 The company's name is derived from Greek mythology, in which Prometheus creates humans from clay and defies the gods by stealing fire and giving it to humans.
Krause came aboard in 2010, and described it at first as being "a little like the wild west" from a legal perspective. The company had launched in 1997 in the UK and slowly expanded to the U.S., but had no states-based attorney. So while it wasn't technically a startup, it certainly felt like one, she explains.
She's since built the U.S. legal department, and taken over global legal operations. As she explains, the company's focus has expanded rapidly since its acquisition by NetDragon in 2015. While its primary product to that point had been hardware, it has since been growing in the software as a service (SaaS) sphere with CLASS FLOW®. This cloud-based collaborative platform comprises interactive lessons, activities, quizzes and resources from educators around the world.
This expansion will only continue, Krause adds, with NetDragon's acquisitions of Edmodo, a K-12 collaborative platform, and JumpStart Educational Games.
For her and her legal team of three, this provides a whole host of challenges. She puts it this way: Installing a piece of hardware on a wall doesn't collect information on anyone. Software, on the other hand? It is constantly amassing data on users—both educators and students.
This requires constant focus on privacy policies, service agreements and student data privacy regulations. At least 39 U.S. states have enacted laws related to the latter, Krause says—not to mention, the California Consumer Privacy Act passed in 2018 and set to go into effect on January 1, 2020. Then there are all the federal and international regulations to get a handle on, including the implementation of General Data Protection Regulation (GDPR) by the EU in 2018. Other countries around the world are now following that model and instituting broad privacy laws, she says.
"It's such a rapidly changing landscape," Krause notes. "We have all had to learn and become experts in that area and keep our finger on top of it as much as possible. It's always interesting and challenging."
Similarly, with NetDragon poised to continue expanding in the educational space, her team is focused on building strategic partnerships around the world, while exploring ways to integrate the functions and capabilities of Edmodo and JumpStart into new and existing educational platforms.
"Our goal is to create a lifelong learning community that starts in early pre-K, continues through 12th grade, and goes well beyond higher ed into adulthood," she says. "The best is hopefully yet to come in terms of the impact we will have on education."
A professional quest
All of this is an educational experience for Krause, an Emory University Law graduate, who calls her work "tremendous and exciting."
"Every day is a new day with something new to learn," she says. "The variety of work that comes across my desk in a single day is mind-boggling."
But diversity has been a hallmark of her career. Initially, she started out handling indigent felony and misdemeanor defense cases at the Fulton County Courthouse in Atlanta. Her clients were defendants appointed by the court. She recalls being paid $50 per misdemeanor case and $125 for felonies. Shortly thereafter she became a prosecutor and handled everything from charges of DUI and hunting violations, to voluntary manslaughter and child molestation.
"It was a great experience learning the criminal justice system and learning from other lawyers around me," she says.
Later, as assistant attorney general for the State of Georgia, she handled tort cases brought against the State and represented the state dental and medical boards—which ultimately gave her a taste for being an in-house counsel. "I enjoyed having relationships with one client and getting in-depth in the regulations governing the professions," she says.
After jumping into the corporate sphere with Southwire Company, one of the largest wire and cable manufacturer in North America—pretty straightforward corporate work and some interesting merger and acquisition work, she explains—she joined Promethean.
"Just the idea of working for a mission-oriented company was attractive to me," she says.
As the company has shifted and evolved, she has taken on additional duties to her general counsel role, including stints as chief privacy officer and interim head of human resources. "It surprised me," she says of the role's complexity. "I have a newfound respect for the position and the challenges and difficulties in managing HR as a complex global business."
All told, she is excited to be with a company that is helping shape the future of education, she says. "It's been a good place for me. I have enjoyed being part of something bigger than myself."
Showcase your feature on your website with a custom "As Featured in Vanguard" badge that links directly to your article!
Copy and paste this script into your page coding (ideally right before the closing