Andrew Glickman – sweetgreen
Speedy, spicy salads and a unique ordering experience
When lunchtime rolls around, most people are looking to get their food quickly—but some things are worth the wait, like the unique salads at sweetgreen.
When someone visits one of the over 150 locations, they can expect to wait for 20 minutes or longer to get their hands on dishes like the Guacamole Greens or the Shroomami. The American salad chain has specialty local items, too, like the Citrus Shrimp and Avocado salad bowl, available only in Miami, and the Catfish Remoulade salad bowl, available in Atlanta only.
"A great dining experience is about excellent, fresh and local flavors and ingredients—and getting that food quickly," says Andrew Glickman, vice president of legal and business development.
Since joining sweetgreen in 2019 as its vice president of legal and business development, Glickman's been a proponent of guests ordering online, particularly through sweetgreen's digital app. Not only does it diminish the wait time for diners and provide a more customized experience, but it can also be more profitable for the salad chain.
Still, he says, there have been challenges to orders placed these ways. sweetgreen doesn't have delivery personnel, and it didn't have its own app until 2013. While sweetgreen offered a pickup option through its app, diners would have to order through marketplace apps like Uber Eats, Grubhub or Doordash if they wanted delivery, and in some cases still do.
Glickman saw sweetgreen growing revenue but losing money on its delivery orders; these apps not only charge the restaurant chain a cut for posting products, but also charge the customer delivery and service fees. So, he helped sweetgreen launch its native delivery program in early 2020 with UberEats as its preferred delivery provider. Customers could now order through the sweetgreen website or app and UberEats would deliver.
"Then the pandemic hit; digital ordering and delivery went through the roof," Glickman recalls.
Delivering delivery
As Glickman is always thinking about time, he didn't want sweetgreen to partner with apps that would deliver in 20 minutes if someone ordered through their marketplaces but take up to an hour if someone ordered delivery directly through sweetgreen.
He also had to account for legal ramifications, like California's Prop 22, which stated that app drivers are independent contractors. Until a superior court judge ruled in August 2021 that the law was unconstitutional, it restricted driver benefits.
"With sweetgreen locations spread across 13 states and Washington, D.C., it was complex, and I ended up creating a different structure for California," says Glickman, who helped sweetgreen shift to DoorDash as its native delivery partner in November 2021.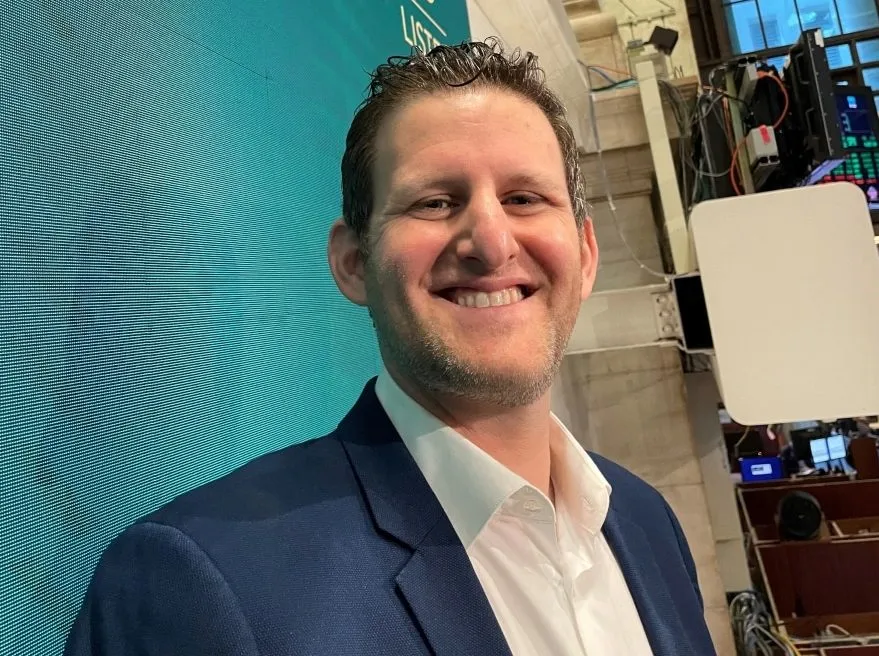 Yet, sweetgreen still competes with marketplace apps, so Glickman, along with several departments and executives, is always looking for ways to drive diners to sweetgreen's app and website.
The "Eat Like a Chef Collections" showed what award-winning chefs, like Kwame Onwuachi and Missy Robbins, were ordering from the salad chain. A limited time promotion, it led to unique menu items being exclusively available through sweetgreen's app. With Glickman's help—think contracts laying out royalties and creative control over naming and developing custom salads—sweetgreen has since partnered with other celebrities, including Valkyrae, a YouTube gamer and top streamer, to create and promote new salads.
"Many of our salads and bowls aren't even available in sweetgreen locations. You have to order them through the sweetgreen app or website," Glickman says. "In this new, intricate digital space, we're pushing the envelope. We want to drive customers to our best-in-class digital experience"
Speedy—and safe—salads
Glickman also helped sweetgreen push into new technology realms, shepherding in the acquisition of Boston-based Spyce and its fully automated kitchen. Once someone places an order at a kiosk, robotics add a customer's chosen salad ingredients to a bowl. This, he says, is safer and more efficient, as the process is primarily touchless.
"Automating the process would mean that someday, maybe three to four minutes after customers place their order, they'll be out the door," he says.
Working with the board of directors at both chains, as well as the Spyce founders and investors, he joined the preliminary conversation in late 2019 then led the complex transaction in early 2021, when Spyce said it was open to being purchased.
Glickman had to work out a contract in which sweetgreen would pay up front even though Spyce would deliver technology updates continually. He also spent two months performing diligence with senior members of the sweetgreen team to ensure that Spyce had the necessary technology. This meant going to see how one of the locations functioned and the time between ordering and receiving the food.
The acquisition was finalized on September 6, 2021.
"We've done some test launches at Spyce's Harvard Square location, combining the two menus and getting customer feedback," he adds. "We're really excited about this."
A spoonful of business and legal
In fact, the technology aspect of the growing company is what drew him to sweetgreen.
"I grew up loving food, especially healthy food, as my mom is a vegan," Glickman recalls. "sweetgreen immediately drew my interest because it's a tech-enabled restaurant."
The chance to start sweetgreen's in-house legal function also drew his attention. In his prior job with Uber, he was excited to be one of the first 20 lawyers when he joined in January 2015. He helped the rapidly growing company with mergers and acquisitions, then going public, in 2019. He also worked with outside counsel, who learned he was looking for a new challenge. His law firm network connected him with sweetgreen's founders and chief financial officer—and he couldn't wait to start.
Only his fourth position since graduating from Fordham University School of Law in 2009, it's already one of his favorites.
He also constantly refreshes his legal and business knowledge as a full-time charter member of the general counsel peer community, TechGC, and shares his knowledge as a board member for The New School of San Francisco since August 2020.
"I also try to stay healthy and ran my first half-marathon during COVID," Glickman says. "Since I'm planning on running my first full marathon in NYC this year, it's fitting to work at sweetgreen, which is focused on healthy eating."
View this feature in the Vanguard Spring II 2022 Edition here.
Showcase your feature on your website with a custom "As Featured in Vanguard" badge that links directly to your article!
Copy and paste this script into your page coding (ideally right before the closing