Anne Sherwood – Xcel Energy
Wired to transition Colorado to clean energy
The Rocky Mountain State's high on a carbon-free future. In 2019 Colorado's lawmakers mandated that by 2030, utilities reduce emissions by 80 percent compared to 2005 levels. Eighty percent of electricity must then come from such clean energies as wind, solar and batteries with Old King Coal dethroned as the primary power source.
For Xcel Energy, the Minneapolis-based utility that provides for most of Colorado's consumers as well as those in seven other states, that's a lot of mandate to turn into reality. But it's making progress, assures Anne Sherwood who plays a pivotal role as lead assistant general counsel.
"I understand our goals and ensure we are aligned with public policy as well as being drivers of positive change," she tells Vanguard in February from Denver. "Sometimes I get blank stares and sometimes I get smiles, but it allows me to come into the case with an open mind."
Head of a five-lawyer team spearheading the clean-energy transition, Sherwood finds her days passing quickly in the run-up of the second phase of a plan that's to be filed with Colorado's Public Utilities Commission this summer with a ruling expected in the fall. A filing submitted in early 2021 outlined to the PUC what resources Xcel Energy would need, and the next will be about accepting bids.
And there's no turning back, Sherwood noting how at the end of 2022 Xcel decommissioned one of its three coal-burning power plants in Pueblo with another to close in 2025. Furthermore, Xcel Energy intends to surpass the state mandate by eliminating carbon emissions in all states where it operates—Minnesota, Colorado, Michigan, New Mexico, the Dakotas, Texas and Wisconsin—by 2050.
Rust never sleeps
For all that capacity to come off the grid, the utility must have partners and provisions. Sherwood has helped fashion one arrangement with Form Energy, a Massachusetts company, to install what's known as iron-rust oxide batteries at the Pueblo station and at another Xcel Energy facility in Becker, Minnesota.
Such a battery capable of storing energy for 100 hours, it lasts longer than most lithium types and can complement other renewables such as wind and solar power, renewable gas, hydrogen technology and whatever other options the future may hold. Sherwood's department will help evaluate the bids for all possibilities, collaborate with subject-matter experts and finalize the proposal to the PUC.
Then there's dealing with retired generating stations and Sherwood preparing an application to the PUC for the cost-recovery of decommissioning and demolition in Pueblo, and remediation for environmental effects. A large solar farm now soaking up rays on adjacent property, she says the future of Colorado's energy production is indeed bright. However, just getting to this position took some doing.
Though well-versed in commercial law and litigation, Sherwood didn't know much about utilities when she joined the Xcel Energy legal staff in May 2020. "I made notecards about everything, and it was like I was studying for the bar exam all over again," she recalls.
Only this time she was essentially doing it on her own, what with COVID-19 having forced most staffers to quickly adapt to functioning remotely. She gathered a laptop from an empty office, met colleagues through Zoom videotelephony and didn't shake many hands for around a year.
Passing the test
"But I did learn what great people I had to depend upon," she says. "I learned a ton about the utility world from them and found it so fascinating. It did help that I'm a fast learner."
The learning is ongoing, the utility industry among the most closely watched and regulated. It's a most exciting time to be involved, she says, with Xcel Energy vying to be an industry disruptor and the legal department entrusted with ensuring compliance and accuracy in interaction with regulators.
It's also a different cause than what initially drew Sherwood into law, but one she still finds complementary. Meanwhile her role model—and biggest fan—is proud.
Sherwood is the daughter of Robert and Kathleen Zellner, the former a noted private trader and latter of whom you may have seen on Netflix's two-part series "Making a Murderer." Herself an attorney, Mrs. Zellner earned her credentials as a wrong conviction advocate in Chicago whose clientele has included Steven Avery, the series' subject whom, with her exhaustive work, continues to appeal his conviction. Mrs. Zellner's work has resulted in 21 exonerations, the most of any private attorney in America.
The work continues
While Sherwood—the former Anne Zellner—didn't have a major role in the case, she was shown walking through hallways and sitting at a conference table. Following her graduation from the Northwestern University Pritzker School of Law in 2006, she joined her mother's firm for five years, representing those whom she too felt had been wrongly convicted and helping secure the release of seven.
Afterward she spent several years each with three firms in the Denver area: Reilly Pozner, Godfrey Johnson and Ryley Carlock & Applewhite. But after 13 years in private law and going from client to client, in-house became appealing even if it meant a crash course in a new industry.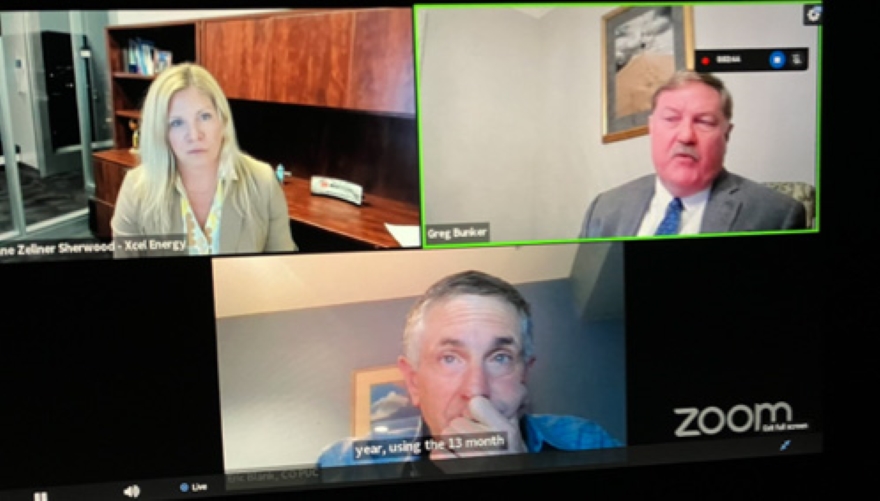 Not quite three years into her role at Xcel Energy, Sherwood says it's been personally and professionally fulfilling, even more so with the emphasis on sustainability and environmentalism. The Colorado lifestyle suits her and husband Brandon, who runs a private investment fund. An active couple, they enjoy skiing and trips to the tropics, where they've both become certified scuba divers.
Sports always has been among Sherwood's interests, she having been on the tennis team while majoring in political science as a Wheaton College undergrad.
"Being part of a team while playing as an individual teaches you lessons," Sherwood says. "As attorneys, we have individual caseloads but still work together and problem-solve. And political science—it's applicable in the utility world with all the rigor of data testing."
View this feature in the Vanguard Spring II 2023 Edition here.
Showcase your feature on your website with a custom "As Featured in Vanguard" badge that links directly to your article!
Copy and paste this script into your page coding (ideally right before the closing