Andrea Halverson Harper – Pepco Holdings
Energized to decarbonize the nation's capital
Her recent reunion at the University of Virginia School of Law was a joyous occasion with midcareer attorneys basking in the Southern charm of Charlottesville. The all-nighters, the moot courts, the paper chases of decades ago, the brushing up on Latin—it all seemed worth it.
Maybe even more so for Andrea Halverson Harper, a proud 2002 graduate who's inclined to think she has the best of both worlds. That's because, in her own words, she acts as both lawyer and a part of the business at Potomac Electric Power Co., where she's served as assistant general counsel since March 2014.
An Exelon-owned transmission and distribution utility, it energizes Washington, D.C., and some surrounding communities in Maryland along with its sister utilities in Delaware and New Jersey. In the process it's enabling Harper to immerse herself in new projects that transcend traditional legal roles and, best of all, contribute to what she sees as the positive changes in the utility industry.
With Pepco in the forefront, transformation proceeds from centralized energy production to a grid that accommodates two-way flow. The company also is following the District of Columbia's ambitious agenda to electrify and decarbonize the community with benchmarks set in five- and 30-year plans, and Harper leading the plans through the regulatory process.
"It takes everyone to make this happen, not just the utility," the personable Harper tells Vanguard in May from Pepco's headquarters in the nation's capital. "We are working in partnership with the district government, the Public Service Commission and the district stakeholders to support the district in achieving its leading decarbonization goals."
A goal shared
It takes some doing to find common ground with the goal of a carbon-neutral D.C. by 2050, Harper explaining that a municipality and a utility are two very different entities. In her role with the district's sole electricity provider, she's among the minds behind the five- and 30-year plans, advising on business matters as a non-lawyer and navigating the regulatory and statutory hoops as an in-house counsel.
"I spend my day looking at the law and regulations, but also spend my day trying to figure out how it transforms our business," she says. "It's a strategic function that sometimes relies more on thought and judgment than my legal skills."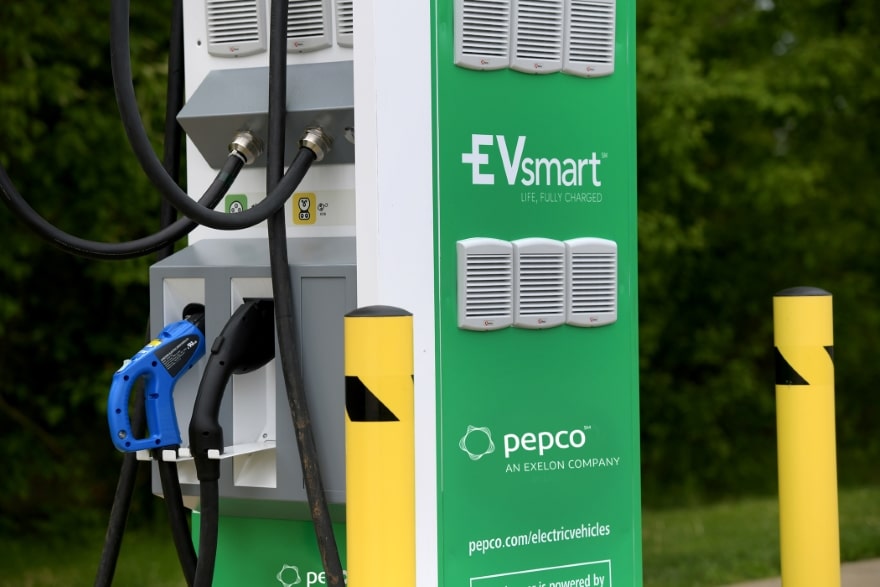 Pepco's taken quite the initiative with its five-year climate solutions plan that includes 62 programs—over half in process—aimed at four areas: electrification of transportation, decarbonization of buildings, improved infrastructure for climate solutions and use of the local area's clean-energy sources.
Last summer, in response to a D.C. directive, Pepco laid out its blueprint for decarbonization that aligns with district policy and establishes metrics of meeting progress. Highly encouraging, she says, is a study showing that under plans established by the CleanEnergy DC Act, the grid would experience peak load growth that's below what Pepco has experienced and managed historically.
Multiple approaches
Pepco has unveiled an array of programs to support clean energy growth, including proposed rebates to customers who plug electrical-vehicle chargers into the system and solar energy being generated and stored to support increased demand.
The Pepco-D.C. collaboration is proving fruitful, says this attorney whose responsibilities were primarily in the district but have broadened to Maryland, Delaware and New Jersey.
The district itself sets policies, and Pepco's five-year plan and other programs supporting those policies, along with its rate and service structure, are subject to approval from the Public Service Commission. All three entities sharing the goal of affordable and environmentally benign power, she's upbeat about prospects.
"My career highlight has been my involvement in the company's transformation these past five years," she says. "Pepco has embraced its new role as a utility committed to sustainable and affordable service. We're 200 percent onboard and it makes for better partnership between the utility and its stakeholders."
As to how Harper embraced utility law, she is the daughter of a noted anti-trust lawyer in Minnesota, New York and Washington DC. A Harvard undergrad, Class of 1995, she held off on law school for four years, working a couple years each with the Twin Cities advertising company Carmichael Lynch and the litigation consulting firm JuryScope Inc., in Greenbrae, California.
Finally, as a UVA School of Law student she interned with the Washington, D.C., affiliate of Houston-based Vinson & Elkins, and was placed in its energy regulatory group. Houston being Ground Zero for so much energy law, she took a liking to it. Upon earning her juris doctorate, she rejoined the firm for a 12-year stretch.
Whereas she's now focused on the electric industry, Vinson & Elkins had her handling a lot of natural gas and petroleum matters and dealing with the Federal Energy Regulatory Commission, which regulated energy transmission at the federal level. Nevertheless, the firm prepared her for the Pepco role she accepted over eight years ago.
Family life also factored in Harper going in-house, her four children then ranging in ages from 1 to 14. Life's good at their home in McLean, Virginia, and as demanding as Harper's Pepco role is, it still affords her the opportunity to be so much more than a lawyer.
"At the firm, all I did was law," she says. "I'd be litigating before FERC, reviewing a contract's legalities, researching the law on some topic. Now I'm doing so much more and advising the business on how we can move forward and support decarbonization."
View this feature in the Vanguard Summer III 2022 Edition here.
Showcase your feature on your website with a custom "As Featured in Vanguard" badge that links directly to your article!
Copy and paste this script into your page coding (ideally right before the closing