Michael Kessler – MISO
Still energized after all these years
From his office in Carmel, Indiana, Michael Kessler is around halfway from the Gulf Coast of Mississippi and Louisiana to the plains of Manitoba. There's not much in common between these regions, which include 13 U.S. states and a southern portion of Canada, except the need for electricity.
Kessler has a hand in energizing these jurisdictions, though it often means juggling competing interests. Utilities, power plant owners, regulators, climate activists and industrial, commercial and residential consumers—they all have their thoughts on how the grid should be operated. So does Kessler, who works for the Midcontinent Independent System Operator, a somewhat obscure but important entity.
"If, at the end of the day, everybody's equally unhappy, we've achieved the best result," he says with a good-natured chuckle.
As managing assistant general counsel of MISO, his intent is to sustain and monitor the open-access transmission and electricity market services that keep a swarth of the United States, from Canada to the Gulf of Mexico, provided with reliable electric service. Whereas the act of electrical generation and transmission has been changing since long before Kessler's time, he's never known it to be so transformational. There's the phasing out of fossil fuels, growth of small energy producers, emphasis on sustainable energy and more.
"The big question is how to maintain a reliable electrical grid operation in a time of fundamental rapid change," he tells Vanguard in September. "This is literally the most dynamic, exciting and challenging time the electricity industry has faced since the inception of the power plant by Edison in New Jersey."
MISO the ISO
MISO's is one of seven nonprofit U.S. independent system operators. Though an ISO neither produces nor transmits power, it's certified by the Federal Energy Regulatory Commission to set regional policy. It's also able to operate a marketplace for utilities to buy and sell electricity over an open-access transmission system. MISO's electricity markets clear approximately $30 billion in such transactions annually.
As recently as the 1990s, MISO members generated about 80 percent of power from coal-fired plants. Coal's since declined to about 35 percent with natural gas ascending to 30 percent. Renewables are also growing, and in the not-to-distant future, their participation in the grid will create new challenges. Solar and wind farms, Kessler explains, necessitate much acreage that's often far removed from existing transmission lines. They also currently lack adequate storage capability and are dependent on the weather.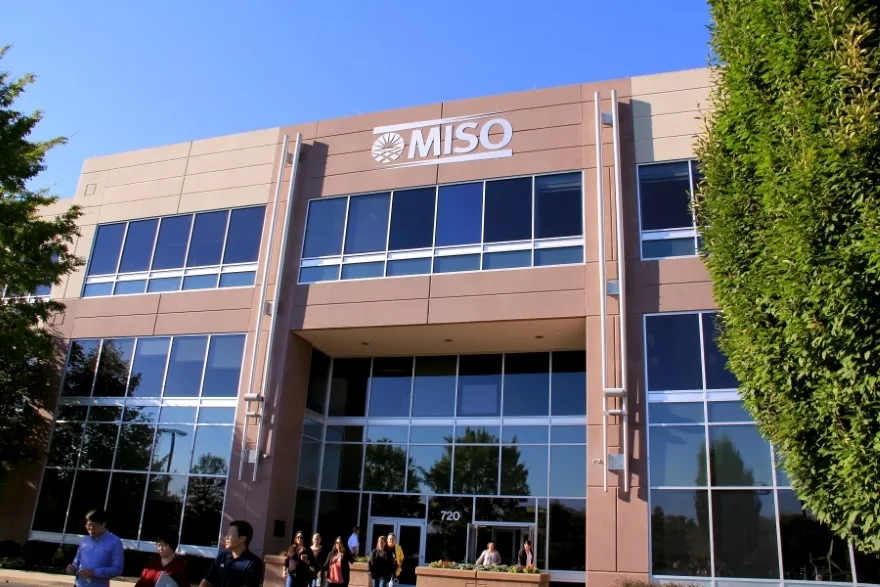 To help address these issues in part, MISO's board approved a $10.3 billion set of 18 high-voltage transmission lines that'll allow an additional 53 gigawatts of renewable energy to enter the grid. Expected to come online in 2028, it'll help compensate for power lost through shutdowns of coal-fired plants. Climate advocates hail it as a national model.
Reliability imperative
The planned transmission lines and other changes to its electricity markets stem from Kessler's role in what MISO calls its reliability imperative.
First, there's the need to ensure grid service through such uncertainties as weather extremes and international strife affecting fuel supply. He reminds how in recent years the Gulf Coast states have had power lines downed by everything from hurricanes to cold snaps. Meanwhile the Western states have become increasingly prone to summer wildfires. Kessler emphasizes the need to keep electricity flowing whatever the circumstance.
That ties into another category: resource models and capabilities. With more means for generating electricity, Kessler says MISO must understand the developing technologies, including renewables.
Then there's what MISO calls "identifying locational needs." Every region may face its own grid challenges and states may regulate their own utilities, but outages respect no borders. The better outages are assessed and predicted, the better MISO can avoid them and overloads, Kessler says.
Lastly, Kessler makes a pitch for better coordinated decision-making, progress tracking and risk mitigation. While he says none of this is new to MISO, which plays a big role in empowering a region of 42 million people, so many of its customers take the service for granted.
"Very few people ever think about how they're able to flip a switch and turn on their air conditioner or TV," he muses. "It's almost like modern-day magic, and I've had the pleasure of being involved in many different aspects of this industry and seeing it change over the course of 42 years."
Wired from the start
The industry's been his passion since graduating Vermont Law and Graduate School in 1980. How well he recalls the dynamics of that era, an energy crisis leading to long lines at filling stations and increases in electricity prices. He remembers President Jimmy Carter donning a sweater and giving his famous malaise speech; and Congress requiring utilities to buy from independent energy operators. Blessings and curses ensued, the latter including Enron.
In the ensuing four decades-plus, Kessler's been partner at five law firms, all with utility clientele. He worked for a startup, helped develop projects in Pakistan and the Philippines, counseled with FERC in the nation's capital, served MISO as outside counsel and finally joined the nonprofit as a full-timer in June 2012.
Along the way he's been reminded that he can't be just another in-house lawyer. Seems an early assignment was assessing high-voltage transmission service.
"I was told, 'This is a legal memo. Your responsibility is to look at policy and strategic issues. Afterward the attorneys can weigh in.'"
And that's been fine with Kessler, who relishes his role in policy, most of which concerns energy market design initiatives which, again, won't please everyone but will keep a large region wired. He also speaks excitedly of MISO's infrastructural upgrades that include $150 million for its computer systems and exploring artificial intelligence.
It's all too exciting for him to be thinking of retirement as his 69th birthday nears. After all these decades Kessler's still energized and so is his wife, Lily, whom he describes as empowering in her own way.
She owns and runs Nourished Heart Yoga & Training, which isn't any run-of-the-mill studio. She's written a textbook, teaches yoga while focusing as much on its history and philosophy as the physical aspect, and leads retreats to such far-flung destinations as Costa Rica, Peru and Spain.
"One of the tools for students is a glass prism that's a reminder of the many facets to every issue, depending on what lenses you look through," Kessler says. "It's equally true in life as it is in law and the energy industry. You've got to gather different perspectives from your colleagues and communities of interest and create a meaningful collage."
View this feature in the Vanguard Winter I 2023 Edition here.
Showcase your feature on your website with a custom "As Featured in Vanguard" badge that links directly to your article!
Copy and paste this script into your page coding (ideally right before the closing