Casey Schwab – NFL Players Inc.
His game face ever on
To borrow a football term, this past spring the U.S. Supreme Court sacked the so-called Professional and Amateur Sports Protection Act of 1992 that limited sports wagering—well, at least the legal kind—to Nevada, Delaware, Oregon and Montana.
But at NFL Players Inc., the ruling caught no one by surprise; least of all Casey Schwab who, last summer, became vice president of business and legal affairs for NFL Players Inc., the for-profit $175 million arm of the NFL Players Association that represents the 2,000-plus active players.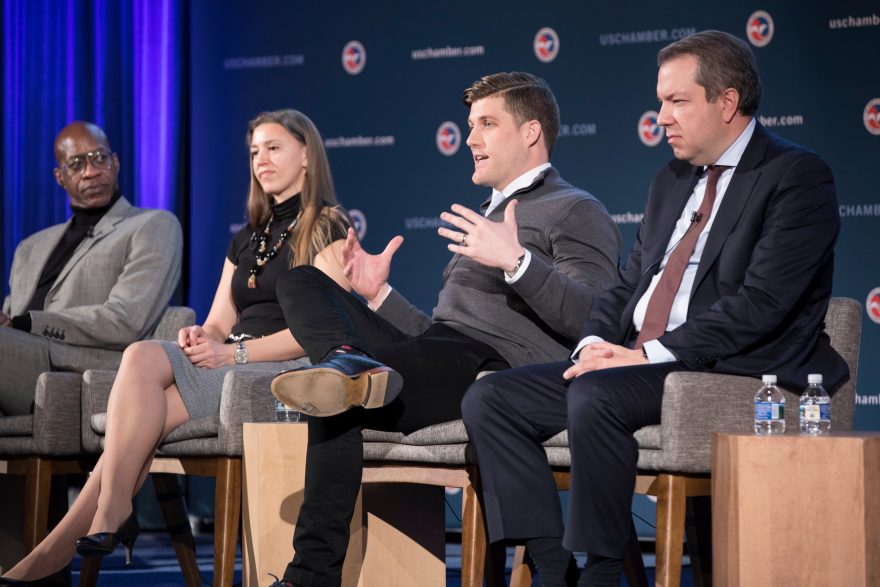 "We've stayed well ahead of any breaking news and have been planning for both the consequences and opportunities associated with widely legalized sports gambling," the University of Southern California law grad tells Vanguard from his Washington, D.C., office shortly after the ruling. "This is a game-changer."
Schwab couldn't talk for long, however, as he had a lot on his plate, and that included prepping to give the keynote address at a July gathering in Cleveland of the National Council of Legislators from Gaming States that, until recently, was primarily focused on casinos, lotteries and pari-mutuels.
That group, whose general membership comprises all 50 states plus the nation's capital, is educating itself on a critical matter, says Schwab, who's eager to advise how the players must be included in any decision-making.
Game on
States are already game-planning their own drives to pay dirt, with possibilities that include "integrity fees"—levies on what's wagered, with proceeds supposedly going toward ensuring a level playing field, as sports betting expands exponentially beyond last year's very unreliable $150 billion estimate.
Schwab remains neutral on integrity fees, but reminds there are a few matters that lawmakers and gaming regulators may not have yet given due diligence. Matters that directly affect professional football players as well as their colleagues in the other sports: just what implications legalized gambling may have on player safety; the integrity of the game itself; and the players' commercial rights related to their performance and biometric data.
On the safety note, soccer came to Schwab's mind with the World Cup underway and FIFA's recent announcement that the 2026 matches will be played in 16 cities in the United States, Canada and Mexico. So seriously is soccer taken in South America that during the 1994 World Cup, Colombian player Andres Escobar was slain for accidentally knocking the ball into his own net—the decisive goal in a 2-1 loss to the United States.
In sports-mad cities like Boston and New York, once-popular athletes have become outcasts for botching a play in a crucial game. Might they be at risk for more than just jeers if there's money as well as emotion on the line?
"That might sound outlandish, but considering the vitriol from upset fans we have seen on social media related to fantasy sports, as fiduciaries of athletes we must be vigilant in ensuring the safety of our athlete-members," Schwab warns. "Then there's the less dramatic scenario of a player being blackmailed into throwing the game or shaving points. Given what's at stake, we are anticipating any and all possibilities for the players' own safety, and we must have legislative protections in place."
And, of course, for the integrity of the game itself. Every major sports league has endured some kind of gambling scandal, some not-too-long-ago examples being an NBA referee who admitted to fixing point spreads and Pete Rose betting on baseball games while managing the Cincinnati Reds.
Schwab stresses that it's not just players, coaches and game officials who could be targeted by unsavory types. Ever heard of an equipment manager possibly underinflating footballs for a playoff game?
When Schwab talks of how legalized gambling puts the onus on the NFL brass to step up its protection of player performance and biometric data, as well as overall privacy, he's reminded of the 1995 movie "Casino." That's where Robert De Niro's character—based on the late Frank Rosenthal—starts off as a handicapper who nurtures NFL contacts to learn which player is hobbled by undisclosed injuries or addled by off-field issues like drugs or a pregnant girlfriend. If Rosenthal were alive, Schwab assures he'd also be scheming for players' biometric data such as pulse and heartbeat readings, body temperature the week of games, sleeping and dietary habits and whatever else could affect a game's outcome.
"The most sophisticated gamblers are aware of its importance and will try to get it," he says. "It's got to be protected."
Playing for keeps
Needless to say, overseeing the legal rights and commercial interests of NFL players is not all fun and games.
"By and large, despite much of the focus of the media, NFL players are incredibly thoughtful and have unique experiences to share," he says. "And all those unique experiences lead to success off the field in business and beyond."
Which doesn't mean they can't use some coaching unrelated to the Xs and Os. Pro football is essentially a year-round occupation, with training camp beginning in July, a season that can last into February and rigid offseason fitness routines that don't always allow one to focus on other pursuits.
Hence the need for NFL Players Inc. to safeguard their interests and expand their off-field earning potential. Schwab's role enables him to oversee the unit's business affairs including staples that have gone from jerseys, video games and trading cards into investments in innovative companies centered on crypto collectibles and wearable technologies.
While Schwab is part of an organization comprised of many attorneys, from business to labor, he often calls upon the D.C.-based Groom Law Group, noted for expertise in corporate governance and tax issues. Groom partner Steve Saxon sits on the NFL Players Inc. board, and Schwab credits him and another partner, Jeffrey Kroh, as worthy teammates. The D.C. firm Winston & Strawn also assists in matters related to collective bargaining.
There was a time when Schwab would have liked to play the game, he being a four-letter high school athlete in Wisconsin, as well as a Green Bay Packers fan. He completed his undergrad degree at the University of Wisconsin-Madison, and was drawn to sports law at USC, even though he had heard that jobs would be few and far between, especially for young lawyers.
But it's been a rapid ascent since Schwab took a humble job "herding cats" with the NFL in 2013. Actually, his duties in Culver City, California, included writing contracts, doing talent deals, and managing the risk and even getting PETA's approval for bringing live animals on set for live television. Only not cats; the critters included a turkey at a Thanksgiving Day game and a ram when the Rams returned to Los Angeles in 2016.
Three years later, Schwab became director of business affairs for FOX Sports, also in the Los Angeles area, and likely would still be there had the NFLPA not come calling last June. It was hard leaving FOX, he says, but the opportunity to work directly with players and move East with his wife Emilie was just too much to resist.
Call it the legal equivalent of a quarterback sneak.
Showcase your feature on your website with a custom "As Featured in Vanguard" badge that links directly to your article!
Copy and paste this script into your page coding (ideally right before the closing