Rodrigo Cárdenas Valenzuela – Laureate International Universities
One legal director's continuing education
Once completed in early 2019, the 37,000-square-meter Universidad Latina de Costa Rica (ULCR) will be nothing short of commanding. Located in Heredia, just north of the country's San Jose capital, the sprawling three-story complex will feature stately palm trees and a vertical wall of living grass.
But it's the flags lining the main entrance of the campus in San Pedro—denoting the dozen-plus countries in which Laureate International Universities (LIU) has a presence—that best capture the campus' grand ambitions.
"The flags are meant to symbolize the country being part of a globalized world," says Rodrigo Cárdenas, legal director for LIU's Central American operation. "We're not just preparing students to be citizens in one country anymore."
At an estimated cost of $35 million, ULCR will eventually include 100 individual teaching spaces, 60 laboratories and state-of-the-art technologies.
For Cárdenas, crossing the finish line will be a sweet achievement indeed—particularly given all the hurdles he had to scale.
Machine learning
When parsing the particulars of the ULCR project, Cárdenas breaks down his role into two categories: issues pertaining to legal matters, and those pertaining to regulatory and compliance.
On the legal side, he oversaw the drafting of many contracts, governing everything from contractors and materials suppliers to the project's principal developers. Thanks to a new contract-management system—spearheaded by Cárdenas—the department was able to handle the deluge efficiently.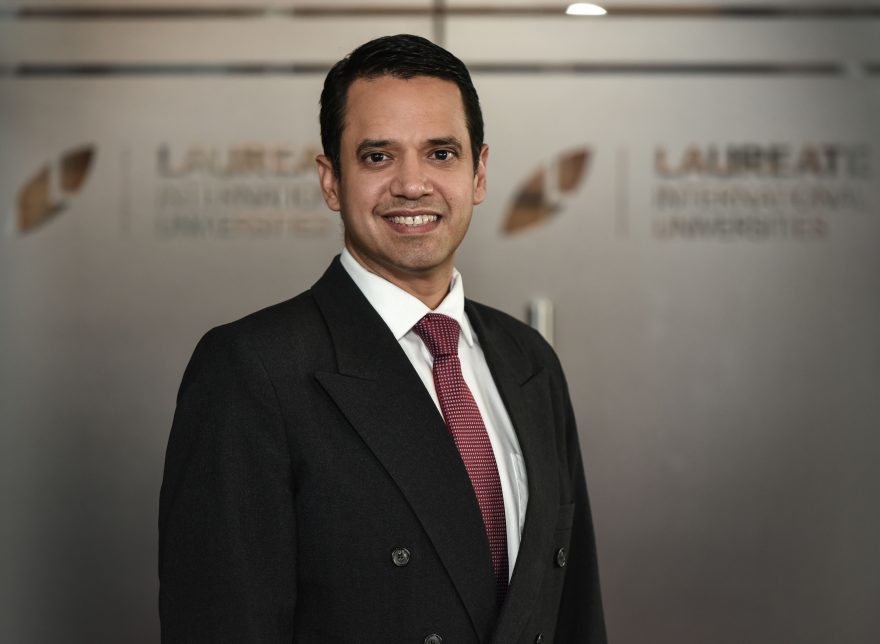 He also worked to ensure that benchmarks having to do with the campus's construction were properly documented.
"We obviously work very hard to make sure things are done correctly, but it's also important that things are done on time," Cárdenas explains. "The legal department plays an important role in assuring proper procedures were being followed."
On the regulatory front, Cárdenas had to navigate both a litany of local guidelines and one of strictest bureaucracies in the region.
As LIU draws closer to completing one of its largest project to date in Central America, plenty of regulatory hurdles remain. But given the organization's size and reach, managing a wide legal scope is nothing Cárdenas isn't used to.
Different departments
Until recently, for-profit education occupied a murky legal landscape. Owing to an industry boom, the number of regulations Cárdenas must account for—from real estate to corporate governance, education to finance—is practically a job unto itself.
"I find education to be incredibly interesting and very rewarding," Cárdenas says. "But you have to make sure your relationships with regulators are positive, because the landscape is always changing."
At the same time, the department must take the health of the business into account, weighing the long-term costs and benefits of any new initiative.
An ethics and compliance initiative (ECI), nearly five years in the making, binds together these many elements. With the construction of ULCR, for example, all contractors and suppliers were provided detailed documents outlining the company's anti-fraud and corruption policies as part of the ECI.
"By creating a culture of compliance, we're making sure the business remains healthy and able to pursue projects to help it grow," Cárdenas says.
Learning the ropes
What fascinated Cárdenas about the world of law, during his student days at Universidad de Costa Rica, were the endless possibilities—the idea that he could go anywhere and learn anything. So far, it's a notion he's more than confirmed.
After graduating in 1999, Cárdenas' first job was with the Costa Rican arm of KPMG, one of the "Big Four" global auditors. While there, he became particularly astute in matters relating to corporate restructuring and commercial real estate, as well as learning the ropes of a later focus: due diligence.
In 2004, eager to bolster his academic credentials, Cárdenas enrolled in an intensive, one-year masters of law program at the University of Geneva. Accompanied by a transactional law degree from Duke University, the program gave Valenzuela the international experience he needed, all while crystalizing his career trajectory.
"I knew by that point that I wanted to be an in-house lawyer, Cárdenas recalls. "The idea of operating in a number of different areas while helping grow the business—that idea was very exciting to me."
He soon parlayed his new degree into a position as legal and compliance manager in the agribusiness division of Wal-Mart, where Cárdenas remained for four years. Following a brief stint at Grupo Roble, a real-estate development company, Cárdenas returned to KPMG in 2010, this time as the company's international legal manager.
Since joining LIU in 2013, Cárdenas has brought a value-added approach to managing the company's legal docket. A self-described problem solver, he sees in his latest role a delicate balance of the pragmatic and the poignant—to do well by doing good, you could say.
"Our goal as a company is to give students the kind of state-of-the-art infrastructure and resources they need to succeed in a global economy," Cárdenas says. "That's something I'm proud to be a part of."
Though invisible among ULCR's massive masts, it's a flag that stands no less tall.
Showcase your feature on your website with a custom "As Featured in Vanguard" badge that links directly to your article!
Copy and paste this script into your page coding (ideally right before the closing