Colby Conforti – Mia Aesthetics
Mia Aesthetics' legal leader's guidance is more than cosmetic
It was a fantastic opportunity for Mia Aesthetics and its charitable foundation to give back to the community after six years of steady growth. In September, a team of two plastic surgeons and 10 staff journeyed to Ciudad Juarez, Mexico. There, they spent several days performing pro bono reconstructive breast surgeries for 10 women who had survived breast cancer.
The team also consulted people needing reconstructive plastic surgery, including a child who suffered facial injuries from a dog bite.
"We were helping them feel confident in their bodies again. We truly made a difference in their lives," says Colby Conforti, the company's general counsel.
Though the initiative is also a springboard for future pro bono efforts, perhaps on a quarterly or semi-annual basis, the legal details and questions surrounding arranging and scheduling the trip also presented significant and unique legal challenges for Conforti.
Determining what supplies were needed—and what medications and equipment could be taken across the U.S. border from El Paso, Texas, was just the beginning. Conforti says she and Mia Aesthetics leaders, including Tanya Rodriguez, the senior vice president for HR, also needed to appropriately fund and donate resources to the effort, identify an appropriate surgical site, ensure the safe transportation for staff members, and create all necessary legal documents to minimize exposure to the company.
But helping resolve those knotty details is what Conforti enjoys about her role—as well as being such an integral part of the planning process.
"I'm a problem solver," Conforti says. "It doesn't matter what's thrown at me, I'm going to educate myself, figure out the details I need and how quickly I can navigate a solution."
Care for all
Mia Aesthetics was founded in 2017 to make plastic surgery procedures such as tummy tucks, liposuction, breast augmentation and its top seller, the Brazilian butt lift, accessible and affordable.
"When people think of plastic surgery, they think of the expense and that it's for the rich and famous. But your average person wants this, too," Conforti says.
The procedures offered don't just help patients improve their self-confidence and enjoy a new look; they can also help people who have suffered illnesses, diseases, or injuries recover, too.
The company operates in 10 major cities—its flagship New York City practice opened this summer—and there are clinics in Las Vegas, Houston, Dallas, and Austin, Texas, as well as in Chicago, Atlanta, Baltimore and Miami.
Mia Aesthetics, which employs only plastic surgeons, has served more than 70,000 patients since it was founded. It's a crucial point because the education, training and residencies needed are more rigorous for plastic surgeons than physicians who are cosmetic surgeons, Conforti says.
She manages many legal matters that affect every business division in the company, including patient care, accounting, compliance and HR. Her legal leadership includes almost daily interactions with CEO Dr. Sergio Alvarez and Chief Operating Officer Christian Alvarez. Invoices, contracts, vendor agreements, and purchase orders require her review and approval. Conforti also supports and advises on personnel matters, business and growth strategy decisions, and all policies and procedures.
"Alongside our CEO, COO, and CFO, I enjoy being one of the few essential voices when business decisions are evaluated and implemented from the top down," she says.
Guiding growth
Conforti is also playing a guiding role in the company's continued expansion. She says Mia Aesthetics would like to open four new locations by the end of 2024.
Her work on that front follows the same guidance, due diligence and outreach needed to open the clinic in New York City in August.
"The starting point is what's required for the capital investment," she says.
Conforti already makes it a point to introduce herself and work closely with regulators where the company operates, and she's going to meet more of them as she learns about the state and local regulations, licensing and certifications required to open in new locations.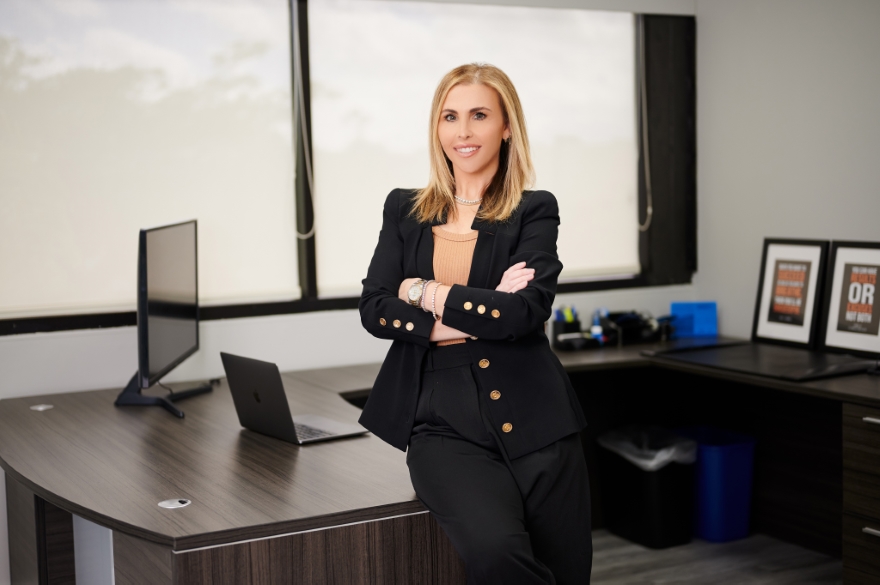 She and Rodriguez will also discuss the labor and employment regulations in a state as they consider new locations—what might be required, is it feasible, and what company policies may need updating.
When a location is chosen, Conforti manages all legal details to open the clinic. For instance, should Mia Aesthetics lease a location or, perhaps, build one? As she handles the real estate negotiations and transactions, she'll also consider what's required of an office-based surgery medical office regarding certifications, licensure and building code requirements and perhaps appear in front of local planning or zoning boards to get needed approvals and permits.
"I always want to give regulators and authorities insight into our company," Conforti says. "I want to show them how we're consumer-centric and want to work with and align with them."
A legal and business skillset
Conforti attributes some of her legal drive to her grandfather, who had a legal practice and used to tell her about cases and law as she grew up in South Florida. She also credits him for advising her to have a business background to strengthen her skillset, but she's always been good at advocating, too.
"If I wanted something, I would present my case and very rarely would back down," she says.
Conforti earned her bachelor's degree in business administration from the University of Miami Herbert Business School and her J.D. from Nova Southeastern University Shepard Broad College of Law.
After graduating in 2014, she joined a civil litigation firm in Miami, where her work included representing a big box retailer in commercial real estate transactions, including researching the zoning regulations and other ordinances in place so the retailer could open a store. She also helped the client open in its desired location.
In August 2017, she joined Zarco Einhorn & Salkowski, where she litigated commercial matters and counseled businesses in their daily challenges. She also handled various transactional matters, including licensing, trademark, franchise and vendor agreements, franchise disclosure documents, shareholder-partnership agreements, and M&A agreements.
Away from the office, Conforti stays busy with family-centric activities as she raises two children. At Mia Aesthetics, which she joined in January 2022, she says she can balance the abundant demands of her role with a family-type workplace.
"We're a young company, and seriousness is not our main ingredient," Conforti says. "My hand is in everything, but I laugh daily. We flourish  working together and keeping things light while staying on task."
Showcase your feature on your website with a custom "As Featured in Vanguard" badge that links directly to your article!
Copy and paste this script into your page coding (ideally right before the closing