Lois Elizabeth Bingham – Libbey
SVP, GC hits her stride collaborating to shape Libbey's future
Not long after Lois Elizabeth Bingham joined Libbey, a 205-year-old glass and tableware company based in Toledo, Ohio, she found herself on a Habitat for Humanity service project alongside some of her new colleagues. They were designing, building and painting a Baby Shark-themed playhouse with a working periscope for local children.
"That was just an amazing opportunity to give back to the community and build camaraderie," Bingham says. "As a relatively new employee, it was a great chance for me to appreciate the commitment to community that our company and employees share."
It was also a fitting introduction in another way: It required teamwork. Today, Bingham—who is senior vice president, general counsel and corporate secretary at Libbey—says everything she's accomplished in her nearly two years with the company has been a team effort.
"Legal is not leading these initiatives; legal enables their success," Bingham says of her company's recent projects. And she is quick to credit her colleagues, from the C-suite to the people on the plant floor who make Libbey's glassware, "artists in their own right."
"We're focused on learning the business from the manufacturing perspective, from how we source our raw materials, how we sell our products in the various channels in which we operate—we need to know that so that when we give advice, it's from a holistic perspective," Bingham says of her team.
One company, one brand
Nine months before she joined Libbey, it had just emerged from bankruptcy, but today, the company is entering a period of growth. That's thanks in part to two strategic initiatives that consumed roughly 90 percent of Bingham's time in her first year: a divestment of Libbey's European operations and a refinancing of the company's debt.
As she finished up those efforts, Bingham began working on Libbey's five-year strategy, which came out last July, with members of Libbey's executive and senior leadership teams. That included meetings with her own team and with others in the organization to ensure everyone understands the plan and knows how to ensure its success.
In year one, the strategy involves optimizing Libbey's distribution channel—the company has opened a new distribution center in Texas and new product showrooms—and a rebranding. The latter focused on securing wider recognition of Libbey's tabletop products in addition to its glassware.
"Libbey has sold products under three different brands," Bingham says. "And we recognized that Libbey has the 205-year history, that people know that name, and that it just makes sense for all of the products that we manufacture and source to be under the name Libbey."
Using her voice
Another part of that strategy is the company's ESG push, which remains a priority even though Libbey is now private. Bingham is co-executive lead for ESG as well as enterprise risk management initiatives at the company.
"It is something that investors, customers, future employees—they all want to know, how does your company show itself as a community partner and steward?" she says of ESG.
Among Libbey's ESG initiatives are its sustainability and diversity, equity and inclusion efforts. For instance, Libbey recycles and reuses glass cullets (crushed glass pieces that are byproducts of the manufacturing process) and is seeking to expand its use of more environmentally friendly glass melting technologies, such as oxy fuel furnaces.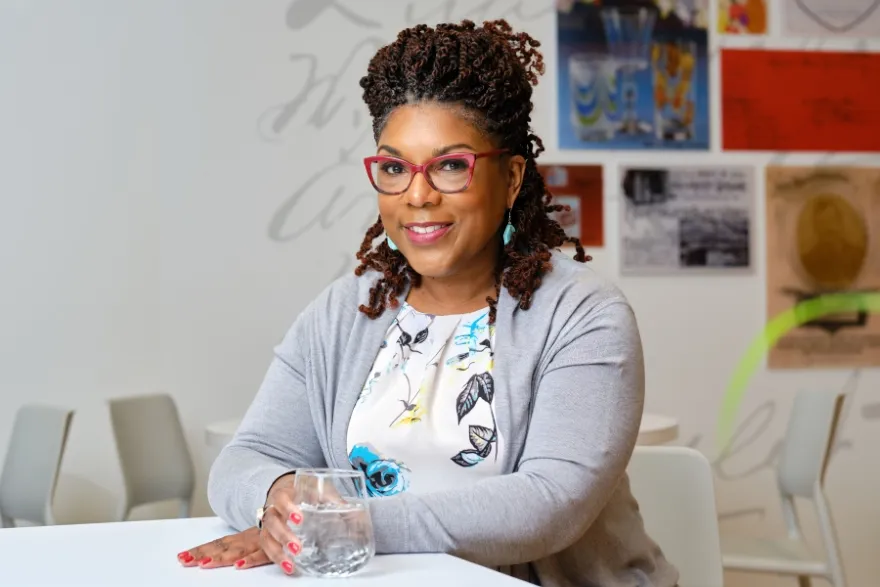 On the DEI front, Bingham is a member of the company's new global diversity, equity, inclusion, access and belonging committee, which seeks to promote a work environment that values the varying contributions, life experiences and perspectives of a diverse workforce.
And she supports community service activities sponsored by the company, most recently leveraging her experience as a football mom to run a concession stand for the Toledo Mudhens in support of a local domestic violence shelter.
As general counsel, it was also important to Bingham that she be part of the decision-making process from the beginning. A member of the executive leadership team, she participates in the business reviews and the strategic planning—which adds up to a lot of meetings, but she says she'll take a packed schedule any day.
"Earlier in my career, I used to joke about needing to have a glass up against the wall to find out what was going on," Bingham laughs. "Because in some environments, you're just grinding out the contracts, but you don't get the whole picture. You're not able to give the organization your best as a counselor to the business, because you don't know enough."
Now at a point where she understands the importance of using her voice, Bingham says access to information was a key factor in her decision to join Libbey. Today, she has it, and says the company has been "a wonderful environment to thrive in."
Climbing the ladder and giving back
A graduate of the University of Pennsylvania, where she received her B.A. in 1989, and Temple University, where she earned her J.D. in 1992, Bingham also has a certification from the U.S. Institute of Diplomacy and Human Rights in human trafficking prevention training and a DEI in the workplace certificate from the University of South Florida.
She started her career as an associate at Butzel Long in 1992 before going in-house in 1998 at R. L. Polk, where she was assistant general counsel and became the company's first African American vice president in its 100-plus year history. In 2006, she joined Yazaki North America, becoming vice president, general counsel and secretary in four years, and chief compliance officer two years later.
In 2019, Bingham made the leap into full-time nonprofit work when she became executive director of Delta Sigma Theta Sorority—a national nonprofit committed to service with a focus on the Black community—of which she had long been a member, overseeing 1,000 chapters across the U.S. and world. In 2021, she joined Libbey.
Beyond her full-time jobs, Bingham has often done pro bono work for community groups, helping them get tax-exempt status or doing board training. She has also served on boards, many of them nonprofits focused on women and youth. She did so much nonprofit board work, in fact, that she was tapped to serve on the board of USA Gymnastics.
Bingham says helping to lead that organization out of the Larry Nasser scandal so it could provide opportunities to young gymnasts was a proud moment.
"I felt that it was an organization worth saving and that I could lend my skills to do so," she says. "And I guess in a way, my niche has been working with organizations in crises."
Bingham spent several years overseeing antitrust investigations and litigation in multiple countries, and then joined Libbey when it had just emerged from bankruptcy. While the immediate crisis seemed past, Libbey was still dealing with COVID and its impact on the business, as well as with supply chain nightmares. Bingham has helped steer the company through those challenges.
"I am committed to digging in and helping the organization continue to positively emerge in a way that will allow it to be around another 100 years," she says.
View this feature in the Vanguard Summer II 2023 Edition here.
Showcase your feature on your website with a custom "As Featured in Vanguard" badge that links directly to your article!
Copy and paste this script into your page coding (ideally right before the closing