David Gohlke – Air Liquide
Wind in his sails while counseling
So what differentiates David Gohlke from the 1.3 million or so other lawyers in the Land of the Free?
While it could be his ability to grasp industrial project construction and advanced air separation technologies for a producer of industrial gases, Gohlke is often asked about something more esoteric. Such as: "So you're that Skadden lawyer who worked while living on a sailboat?"
To which Gohlke answers affirmatively, relating how for six years he advised big-ticket clients while sailing his 41-foot Morgan ketch "Liberty" throughout the Bahamas and Caribbean and the East Coast as far north as Boston Harbor.
It wasn't an issue, he says, for the Houston affiliate of Skadden, Arps, Slate, Meagher & Flom, where Gohlke served as an associate from 1999 to 2015 before going in-house with the North American division of the French multinational Air Liquide.
"I was able to get my work for clients done, largely by Wi-Fi, satellite phone and jumping on the occasional airplane. During that time, I memorized most of Jimmy Buffett's lyrics," he quips during a January interview with Vanguard.  (At least one must have had him laughing: "So I cruise along always searching for songs. Not a lawyer, a thief or a banker.")
Since then, Gohlke has stayed mostly on the mainland though not necessarily at headquarters. Working remotely even before it was fashionable, he was in Colorado for several weeks last winter, staying in a camper he built in the back of his pickup truck to facilitate skiing during his downtime throughout the COVID-19 pandemic.
He's logged the past eight years on the regional legal team of Air Liquide, the last couple as associate general counsel for its U.S. departments of advanced technologies and capital implementation.
Work's a gas
Gohlke advises on construction matters for new air separation membrane and biomethane production plants, including one of the biggest biomethane plants in the country that's planned for Rockford, Illinois. This one will produce renewable natural gas also known as biomethane, pulling it from the biogas that is generated at a solid waste treatment plant with the result fit for the utility grid.
He negotiated the construction and gas sales contracts, advised on permitting, satisfied local concerns and wrapped up what might have been the most complicated step: connecting with the local gas company's pipeline. Although an interconnection agreement is typically straightforward, he says the changing regulatory environment necessitated a couple years to seal a mutually beneficial deal.
"Practically speaking, the gas molecules that come from waste will be burned in the stoves of Illinois," he says, noting the solid waste gas plant's anticipated production capacity of 380 gigawatt hours. Its role also will complement those of other plants that Gohlke helped assemble.
Among them is the company's largest liquid hydrogen production and logistics infrastructure facility that opened last year in North Las Vegas. Hydrogen, Gohlke explains, will be essential in the energy transition from fossil fuels. Producing 30 tons of liquid hydrogen daily, this new plant has the flexibility to provide a range of renewable options, including an optimized low-carbon offering to the burgeoning California market.
Same goes for other Air Liquide projects, mostly in Europe where the company advances technologies to remove carbon from exhaust gases and inject it underground. As carbon capture and storage technologies grow in the U.S., Gohlke's says he's sure to be involved in assembling infrastructure.
He also means business
When Gohlke's not immersed in the legal aspects of construction projects, he's likely advising the business unit of Air Liquide Advanced Technologies U.S., its primary product being membrane-based means to separate gases for uses in practically any heavy industry.
Pull nitrogen molecules out of the air, and there are applications for aerospace. Pluck helium from natural gas and other underground gas deposits, and it can be used in healthcare applications as well as space. Separate carbon dioxide from waste-produced biogas, and the renewable natural gas becomes pipeline ready.
But much as Gohlke can speak the language, he won't infringe on the engineer's role. "I'm not one of them by trade," he says. "All the engineering and science I know comes from my colleagues. I just picked it up along the way."
And he's come a long way from his undergrad years at Washington University in St. Louis where Gohlke graduated in 1985 with a degree in political science before starting his first career as an Air Force security police officer.
He earned a master's in criminal justice administration from Central Missouri State University in 1988 while stationed at Whiteman AFB in Missouri, and then stints in Germany and Italy before leaving the Air Force after nearly eight years. Back in Texas as a civilian, he earned a law degree and MBA from the University of Houston.
Making moves in-house
"In law firm interviews I could say that I made my young man's mistakes on the government's nickel, and they also paid for my education and let me live in Europe for five years," he says with a hearty laugh. "That also inspired my love of travel."
He honed his skills in private practice, first for two years with Andrews Kurth in Dallas, where Gohlke did asset securitization and general corporate work, and then his 16 years with Skadden in energy project finance and a specialization in engineering, procurement and construction contracts. Gohlke now a double-threat, he was just the candidate Air Liquide needed.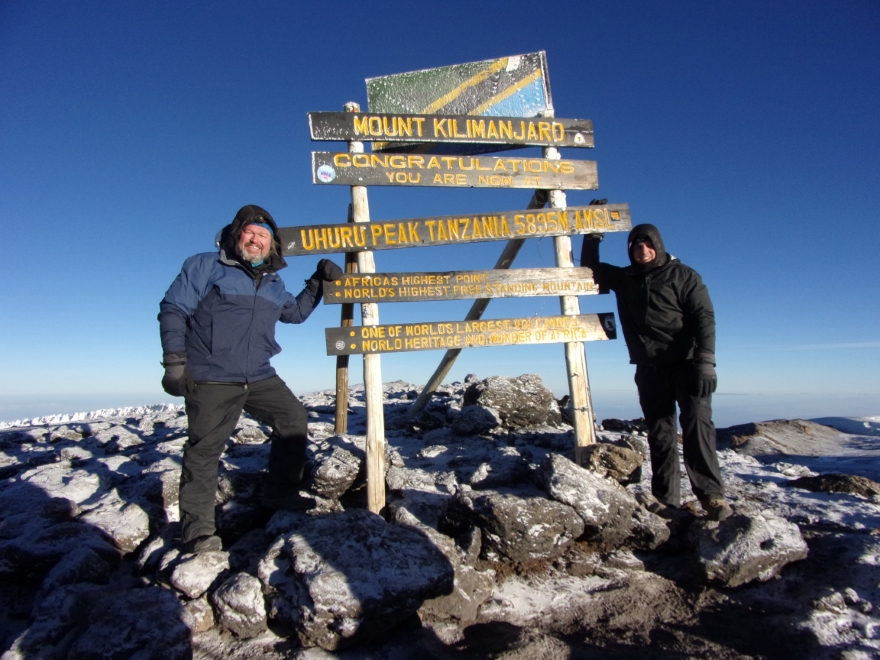 Demanding as his workload may be, he—like Jimmy Buffett—is a stickler for an agreeable work-life balance. The day after his Vanguard interview, Gohlke was doing a conference call from one of the ski resorts on his Epic pass during the Christmas break. During his years sailing, he often worked from the closest Caribbean bar with a good—or not so good—Wi-Fi signal.
Although when scaling 19,000-foot Mount Kilimanjaro with his younger son a year and a half ago, he didn't do any lawyering during the eight-day trek. That was when one of Gohlke's pearls of wisdom just had to be taken even more literally than when sailing: "Always keep your eyes on the horizon."
View this feature in the Vanguard Spring I 2023 Edition here.
Showcase your feature on your website with a custom "As Featured in Vanguard" badge that links directly to your article!
Copy and paste this script into your page coding (ideally right before the closing