Heather Stern – Whole Foods Market
Just load the chaos into Stern's cart
Nowadays there doesn't seem much chaos at Whole Foods Market. The 2017 sale to Amazon is yesterday's news and the worst of COVID-19, at least hopefully, is in the rear-view.
So what's there to excite Heather Stern? She, after all, is the legal boss who says the best advice she ever heard was "run toward the chaos."
"Oh, there's always something," the Stern tells Vanguard in December from Austin, Texas, headquarters. "Employment law, food safety, liquor licensing and permitting, litigation, compliance training, privacy law as it keeps changing here and in the United Kingdom."
Critical areas to be sure. Only maybe not as adrenaline provoking as what landed in Stern's cart upon her arrival in April 2017.
At the time, there was an activist investor buying a substantial share of Whole Foods Market stock and knocking over some dominoes. Five new board members soon were onboarded, and Amazon committed $13.7 billion to buy the 40-year-old chain that had revolutionized grocery shopping with its organic meats and produce, and its buffet selections for on-premises or take-home dining.
"It sure has been a whirlwind," Stern acknowledges. "I can't believe it's been almost six years."
Storm worthy
Stern had helped her former employer, Office Depot, acquire and integrate OfficeMax in an all-stock transaction in 2013, but she wasn't general counsel. Now everyone was looking to her for leadership with so much in the air.
Six years later, she can say both sides benefited.
Amazon entered the brick-and-mortar grocery business with the potential to introduce online ordering and delivery—and to cross-market its other offerings. Whole Foods Market saved itself from the threat of a hostile takeover and remains a subsidiary of Amazon with, as of last September, a new CEO in Jason Buechel, and an executive team that includes Stern.
Sealing the deal still took much doing with Stern scrambling to acquaint herself with the Whole Foods Market C-suite. She credits the legal team she inherited as well as the Amazon counterparts with smoothing out the process that was consummated on Aug. 28, 2017—just four months and a few days after her arrival.
"I can't really speak for Amazon, but I can say that I have learned much from our new partner," Stern says. "We've been able to implement so many ideas from such a powerhouse company. We can serve our customers so much better while maintaining our quality standards and culture."
Last April, for example, the Whole Foods Market in Austin began allowing customers to purchase by scanning their palms or phones through the Amazon One system that connects to a debit or credit card.
Shopping trends changing
While COVID-19 may have boosted Whole Foods Market's online potential, just enduring the pandemic was chaotic—which, of course, had Stern rushing in. "Aside from the Amazon acquisition, the legal work related to COVID was the most interesting and challenging work I've done as an attorney," she says. "A close second."
At last count, there were more than 500 Whole Foods Markets in 44 states as well as 13 in Canada and seven in the United Kingdom, with foreign outposts entrusted with outside counsel who report to Stern.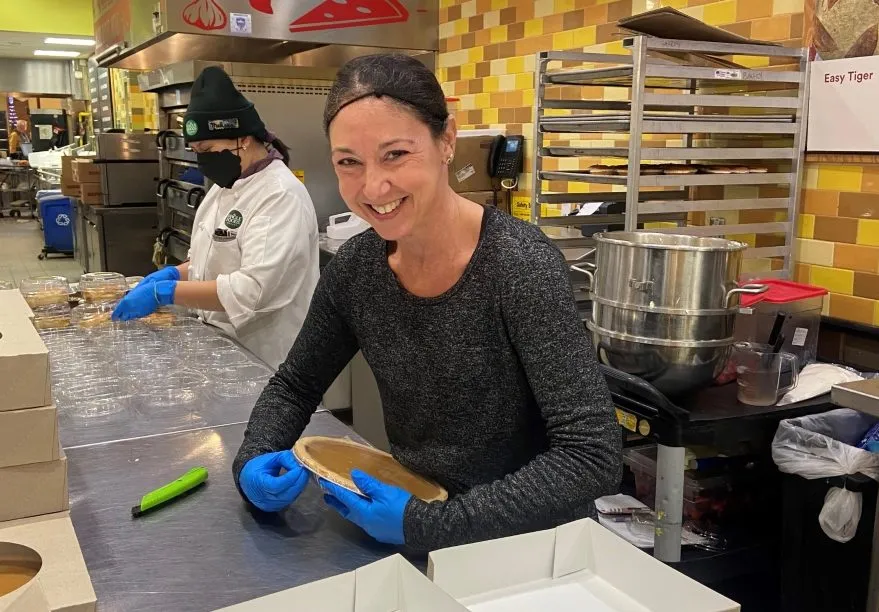 Each day would find Stern or other company lawyers recording which jurisdiction was requiring masks, temperature checks, vaccinations, floor markings, plexiglass barriers at checkout, restrictions on numbers of customers and what-not.
"We pulled together thanks to our dedicated team members and wonderful suppliers," says Stern.
Being an adept communicator helped the cause, and Stern honed those skills for the seven years she edited magazines following her 1992 graduation from Purdue University. Then at a friend's law school reunion in the late 1990s she discussed becoming a lawyer with a dean and was encouraged to do so.
Rising the ranks
In the fall of 1999, the 29-year-old Stern enrolled at the University of Georgia School of Law, graduating in 2002, clerking for a year in Atlanta's 11th Circuit Court of Appeals and serving as an associate with Kilpatrick Townsend & Stockton from 2003-04.
Private practice not in her long-term plan, she moved from Atlanta to Florida in 2005 for a nearly 12-year stretch at Office Depot headquarters in Boca Raton and immersing herself in employment law, litigation, real estate, and mergers and acquisitions—the very areas that made her an attractive candidate to be general counsel and a senior vice president when Whole Foods Market was on the cusp of a sea change.
Stern's children have taken well to life in Austin, with her daughter in high school and a son in middle school. It's back to business as usual at Whole Foods Market, but these are changing times for the grocery industry in general.
For e-commerce to work with perishable items, the source must be close to the customer. Another grocery giant, Walmart, also is in the game. As a whole, grocery profit margins are low, with much of the reason being competition. Chaos seems the outlook, but at least at Whole Foods Market, there's someone who thrives on it.
"When something gets scary, I run toward it," Stern says.
View this feature in the Vanguard Spring I 2023 Edition here.
Showcase your feature on your website with a custom "As Featured in Vanguard" badge that links directly to your article!
Copy and paste this script into your page coding (ideally right before the closing