Francesco Tallarico – Flowr
An industry in full bloom
When Francesco Tallarico decided to wind down his role at Concordia International Corp., the idea was to take a year off before making any life-changing decisions. Travel with his wife. Dive into Toronto's blossoming restaurant scene.
But as the adage goes, even the best-laid plans can go awry. In Tallarico's case, however, the disrupting force was more intriguing than impeding: a chance to run legal point for an emerging leader in Canada's nascent cannabis industry.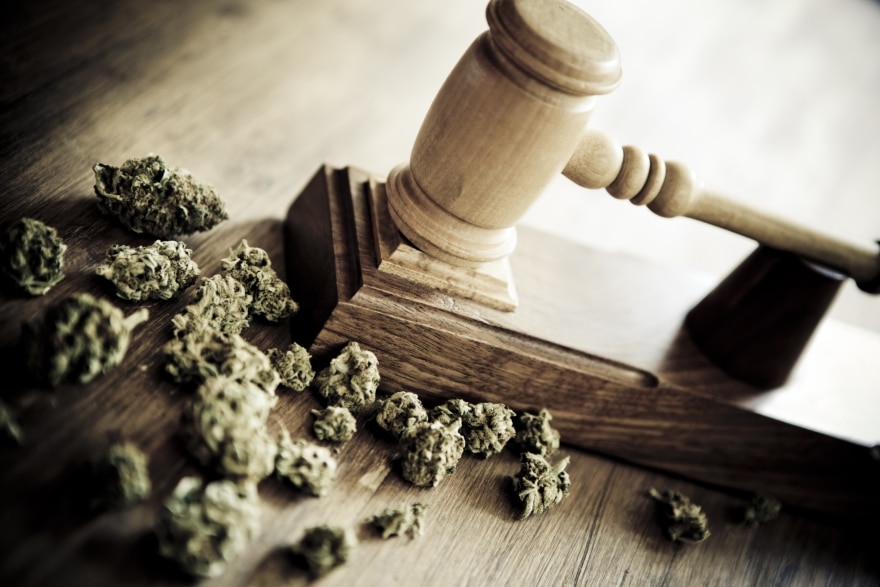 Less than a year into his role as general counsel and corporate secretary for the Toronto- and Kelowna-based Flowr, Tallarico has quickly found his stride, helping lay the legal groundwork for the company's global ambitions.
"What I find most exciting about coming into work every day is there's always something new popping up," Tallarico says during his interview with Vanguard this May. "In private practice, and in a lot of corporate settings, you kind of knew what was going to happen. Here, you really get to roll up your sleeves and learn on the go—evolve on the go."
Growing big
Topping Tallarico's 2019 docket is a much-anticipated expansion into Portugal and Australia, thanks to a recent deal in which Flowr has agreed to acquire a 19.8 percent interest in Holigen, another producer with a strong presence in the two cannabis-friendly countries.
According to Tallarico, the deal combines Flowr's unrivaled cultivation and development capabilities with Holigen's global presence—an alliance that could potentially yield hundreds of thousands of kilograms of product a year.
It's a deal in which Tallarico was deeply involved, from overseeing due diligence of Holigen's finances and operations to all manner of contracting.
"It was a pretty good crash course, that's for sure," Tallarico says with a laugh. "You're still learning the nuances of your own company, and at the same time you have to make sure the entity you're acquiring fits the way you think. It's a transformative deal for our company."
Fertile terrain
The Holigen acquisition isn't the only deal Tallarico has consummated. In 2018, Flowr entered into a formal partnership with Hawthorne Gardening, a subsidiary of Scott's Miracle-Gro and one of Canada's largest horticulture companies—"the picks and shovels of the country's cannabis industry," in Tallarico's words.
Because Scott's isn't able to test its fertilizers on cannabis in the U.S., where it remains federally banned, uniting with Flowr was seen as a win-win for both companies: Hawthorne gets access to industry leading growers and clean-plant genetics for testing a new breed of soil-enhancers, while Flowr gets access to Scott's formidable research and development arm.
Once again, Tallarico ensured the deal was ironclad, specifically providing due diligence and negotiating contract language.
"The goal is to gain more insights into what growing conditions and products are conducive to particular cannabis strains," Tallarico says. "In the past our main focus was on harvesting—on the bottom line. But this allows us to focus more on the R&D side, and how things like irrigation and lighting impact that yield."
Churn and burn
At the crux of the partnership is a pair of state-of-the-art facilities in the central British Columbia city of Kelowna. The first, which Flowr hopes to complete by the end of the third quarter of 2019, is an 84,000-square-foot purpose-built growing operation that will give Flowr 10,000 kilos in annual capacity.
Right around the time the first facility is brought online, the company plans to break ground on a second, even larger operation right next door. Once completed in 2021, the facility will become Flowr's largest to date: over 300,000 square feet, with an annual kilo capacity north of 40,000.
While most of the legwork is being conducted by Flowr's construction and permitting teams, Tallarico remains heavily involved, handling everything from service contracts and leases to construction agreements.
"The company's operations team has put 17 facilities online to date, many of them under different regulatory regimes, so we're a well-oiled machine in that regard," Tallarico says. "That said, there are always issues that pop up, so it's important that we remain prepared."
In good taste
The same goes for what's coming down the pike. As Canada prepares to allow the production and distribution of consumable cannabis products, Tallarico and his colleagues are working to ensure Flowr is ready to capitalize with wares befitting Flowr's reputation for premium cannabis: cookies, gummies, beverages—possibilities abound.
The new facilities are crucial to that pivot, owing to a combination of capacity and cutting-edge research and development. According to Tallarico, one of Flowr's objectives is to cultivate cannabis strands free of irradiation, used as a kill-step to remove pesticides and mold from cannabis product. This irradiation process is known to have significant impacts on terpenes, which are the aromatic characteristics of a strain that give cannabis its distinctive smell and taste.
"We think we can become a premium supplier in that market, given our focus on premium non-irradiated, clean product," Tallarico insists. "Once consumables are legally allowed, the industry is going to explode."
The goal, he says, is to make Flowr a leader in both the medicinal and recreational markets, not just in Canada, but globally.
Suffice it to say, the resulting legal barriers are hardly trivial: ensuring Flowr's marketing and promo materials pass muster with Health Canada, protecting the company's IP portfolio, and compliance with safety and health regulations—the list goes on.
Then again, when the cause is a just one, even the most difficult trials are worth enduring.
"We're just starting to scratch the surface in terms of the benefits that cannabis provides," Tallarico says. "Whether it's epilepsy in children or treating depression, there's a lot of promise there. It's an exciting industry, and one I'm proud to be a part of."
Showcase your feature on your website with a custom "As Featured in Vanguard" badge that links directly to your article!
Copy and paste this script into your page coding (ideally right before the closing