Brodie Swartz – OMERS
Pension promises to keep in Ontario
His 20-year legal career almost evenly divided between the first half in private practice and the rest with OMERS, the pension plan for Ontario municipal employees, Brodie Swartz describes why he finds the latter responsibility more compelling.
"It may sound trite to say, but each day you get up to work for over 500,000 people depending on you for their financial future," he tells Vanguard in October from Toronto headquarters. "In 10 years at firms, I had purpose and provided value, but never to so many people."
And while most of those half-million Ontarians he'll never get to know, Swartz is quite familiar with some of them. His mother, a retired nurse, is a pension plan member, as are several of his closest friends. Likewise, Swartz, having served multiple roles with OMERS since 2011, the past year as senior vice president, legal and corporate secretary of OMERS Administration Corporation, is also a plan member.
So, they're all in this approximately $114 billion international portfolio together, with Swartz helping to ensure the pension promise is kept. In his role, Swartz is the management lead for the Governance and Risk Committee of the board of OAC and has been working with the board and committee chairs to update mandates. Among the priorities is ensuring that ESG—environmental, social, governance—factors continue to be incorporated into OMERS investment decisions.
Swartz recently fronted a team that worked on OMERS board and committee mandates and more for over six months to get them approved, soliciting and reflecting input and feedback from directors and management alike.
"It's an opportunity to examine all processes at board and committee meetings," he says. "It's looking at mandates and ensuring they're up to date and reflect OMERS' current objectives."
Globally, he says, investors are increasingly likely to consider factors like social responsibility and response to climate change when deciding where to place their money and OMERS also must anticipate what industries might be targeted by legislation and regulatory oversight in order to manage both physical and transition risk.
"We consider ESG factors deeply in the context of investment processes and due diligence," he says. "Entities that we invest in that consider ESG matters are highly likely to perform better in the long term."
Focus on governance
In his prior roles at OMERS, Swartz conducted diligence and legal oversight of investment transactions. In the context of OMERS global portfolio, he regarded this as deeply satisfying, building a foundation to support the pension plan. While he now works less with the investment transaction teams, he says he equally enjoys focusing on governance matters and the corporate side of the organization.
In his legal role, Swartz advises on banking, finance, corporate, human resources, risk and legal operations matters, ensuring, among other things, that the OMERS legal team efficiently manages invoices, vendor relations, data bases, procurement matters and policy advice.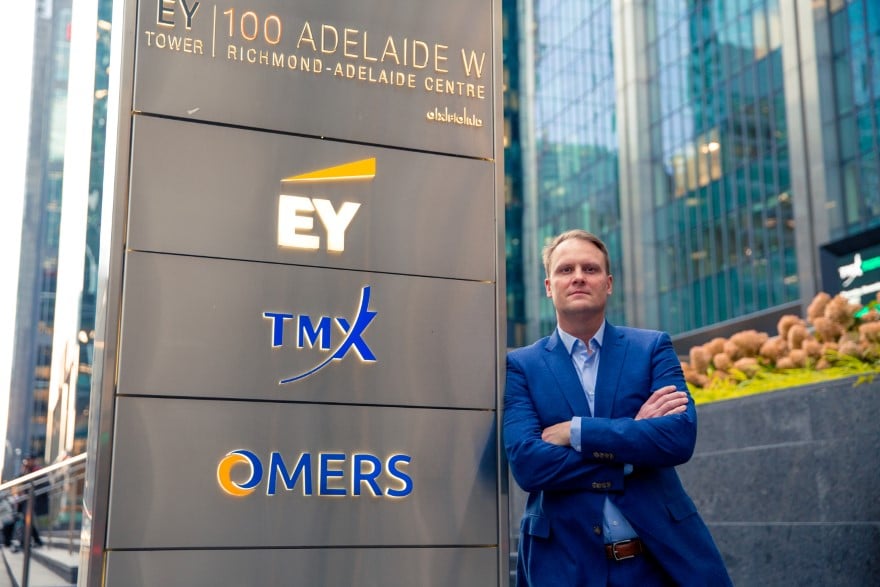 In his corporate secretary role, he provides support to the OAC board chair, committee chairs, directors and management in ensuring effective corporate governance. While he's only officially been corporate secretary since January 2021, for all practical purposes Swartz's work in this area had been steadily increasing for nearly two years and he welcomes the new role.
Swartz explains that between his legal and governance functions at OMERS, he has the opportunity to work not only with the OAC board and corporate teams but also with diverse teams at each of OMERS business units, including OMERS Capital Markets, OMERS Infrastructure, Oxford Properties and OMERS Private Equity.
"I've a unique spot in seeing the operation as a whole," he says. "It's one of the many things that I really like about my role."
Working class values
Though Swartz says he never envisioned supporting pension plans, he feels it's a role that was much in the cards. He saw early the need for reliable pensions, having been raised in Iroquois Falls, Ontario, a seven-hour drive north of Toronto. The economy at that time was based on a pulp and paper mill, and while it could be a hardscrabble existence for many, it taught him the values of hard work, perseverance and community. It still feels like home for Swartz.
"It's the foundation for what drives me," he says. "Nobody was super rich or very poor, most working class. The benefits at the mill included a good wage and pension, which my family relied upon."
Hockey also drove the young Swartz, as it does many kids in a land where lakes and ponds freeze for months. Though good enough to skate for the Junior B London Nationals in southwest Ontario, he knew his future wouldn't be in the NHL.
Education drove him further, Swartz graduating from Western University, also in London, and then earning his Bachelor of Laws from the University of British Columbia in 2002. The obligatory skill-honing followed at the firms, Swartz serving a few years each at McCarthy Tétrault in Toronto, Clifford Chance in the United Kingdom, and Osler, Hoskin & Harcourt back in Toronto.
Well-versed in banking and finance law, Swartz joined OMERS in 2011, the role being aligned with the values he and his wife Lisa look to instill in their family that now includes 11-year-old Lincoln and 9-year-old Ellie. A return to the rink also may beckon, Swartz still having enough skill to skate in one of Toronto's recreational leagues.
Besides, he says, sport helped shape his character.
"Hockey or sports in general can be a microcosm of the work environment," he says. "It's different people of different skills all coming together to achieve one or multiple goals."
And the goal at OMERS is the most far-reaching.
"Over 500,000 people depend on this plan to provide them with stability in retirement. All pension plans face challenges with respect to demographics, sustainability and investment returns, but every employee is focused on our mission," he says. "OMERS has an excellent management team and board with the governance structure and talent to ensure we continue to meet the pension promise."
View this feature in the Vanguard Winter I 2022 Edition here.
Showcase your feature on your website with a custom "As Featured in Vanguard" badge that links directly to your article!
Copy and paste this script into your page coding (ideally right before the closing