Mark Falkowski — Columbia College
The laws of learning
They came to play at Columbia College in Columbia, Missouri, in spring 2019, student athletes who could be all thumbs and proud of it.
With names like MistyStumpey or BugZach, the Columbia College Cougars took to the keyboards and controllers as the school's esports pioneers, finding glory in virtual arenas instead of on the field or court. The Cougars were good enough to go to Los Angeles to compete for the collegiate national championship; at times thousands watched them.
"It's weird to say this, but it actually compares to me in my tennis years … it's the same adrenaline I feel in the League of Legends," says Jonathan Song, a former member of the Columbia College esports team.
The team is a vibrant new way for students to excel, one embraced by school President Scott Dalrymple and Vice President and General Counsel Mark Falkowski. The team competes in what was the soccer team's locker room, with the latest gaming technology, now making it the Game Hut.
Falkowski curbs his enthusiasm a touch, though.
"It's created a new buzz on campus," he says, "but it gives me a little heartburn because there are not as many concrete rules as a traditional program that has been there for decades."
New ways at an old school
Innovation is the essence of Falkowski's work, with more than a dash of compliance and due diligence mixed in. He encourages students to embrace esports because it engages them in new ways; Columbia students competed against student-athletes from larger schools (like Ohio State) in a way the more traditional sports teams never could have, for instance.
The only hitch is they compete without the kind of regulating structure Falkowski works with in nearly every other area of higher education.
Rules for college athletics—eligibility, funding, recruitment, scholarships, booster involvement—are created and enforced by larger organizations, most notably the NCAA. Columbia is part of the National Association of Intercollegiate Athletics, or NAIA, which primarily oversees intercollegiate athletics at smaller, private schools.
Neither of the organizations offer much structure for sports played on keyboards—yet, even as schools now offer esports scholarships, travel to tournaments, and develop professional opportunities for amateur athletes.
Esports is just one way Columbia College is a far cry from its founding in 1851, as a Christian College then a two-year school for women. By 1970, the college went coed with four-year degree programs and its new and present name.
Then it got bigger, although on-campus enrollment is still below 2,000.
Over there, and there
"There are 20,000 students not attending college in Columbia itself, many are not traditional students," Falkowski explains. "It's a traditional college with a campus and dorms, but we also have a more diversified portfolio with online, and locations spread throughout country, many on military installations."
Columbia College has more than 30 locations in 13 states, and one at Guantanamo Bay in Cuba and also offers online classes.
The expanse of offerings brings an abundance of state and federal regulations, and specializing in courses for active military personnel and veterans adds layers going beyond the U.S. Department of Education to the U.S. Department of Defense.
State and federal policies and documents are stored in a database at the college that Falkowski keeps accessible to staff at all of the school's locations, even as it seems ever changing.
"We try to make everyone feel like they're part of the same school even if they're far away," he says. "You have to stay aware of state laws, particularly in employment laws," he says. "It's a continual job, and your work in compliance is never done."
This summer, he was awaiting changes to the federal Title IX rules created to prevent gender and sex discrimination on college campuses. The rules cover athletic programs, sexual harassment, gender bias, admissions and financial aid.
"I serve the college itself, what can and can't be done," he says. "I have to help people working directly with students and many challenging situations, and also work with faculty who may have dedicated their entire lives to a passion, because they still need to be onboard. It's about bringing people together and working toward a common goal."
Finding the true cost
Onboard can still lead to new currents, such as Columbia College implementing a Truition policy that slices through the thickets of finances and billing to show every student what they will pay for each semester.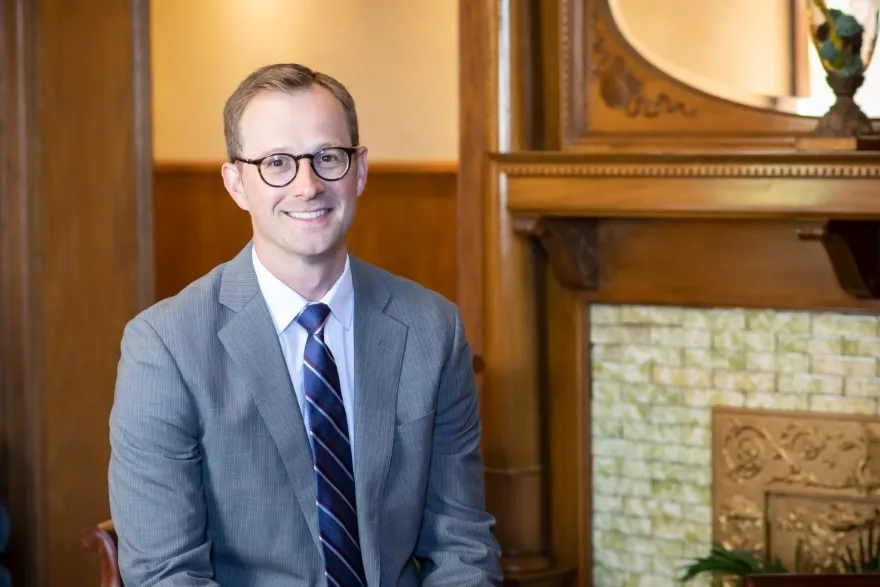 The college's website walks students through the process, the cost of credit hours depending on whether courses are undergraduate or post-graduate, online or in-seat, and military or civilian status. Best of all, once a student calculates the per credit hour cost, there are no more surprises—Truition is so complete it includes the costs of books and fees Falkowski says.
"With so many nontraditional students, we wanted to keep them fully informed," Falkowski says.  "We did not want to load up all the fees after the basics. With Truition you can make a fully informed decision of the true cost and budget for what you are going to spend."
Hearing the call
While admitting he did not know much about Columbia College before joining the team in 2016, Falkowski was no stranger to the law and higher education. As an attorney at Husch Blackwell in St. Louis, he represented schools and institutions nationwide, helping them comply with the regulations they adhere to.
A graduate of the University of Minnesota, Falkowski got his Juris Doctor from the Saint Louis University School of Law, and saw working in higher education as a calling. He stays involved with campus life beyond his office, emceeing the annual employee lunch and serving midnight breakfasts to students during finals.
"I don't think people by and large accidentally end up in higher education," Falkowski says. "It is something you seek out. Besides, who wouldn't love coming to work and walking across the beautiful campus to your office?"
Or even by popping into the Game Hut to see the Cougars launch a crushing comeback against an esports opponent in the League of Legends.
Showcase your feature on your website with a custom "As Featured in Vanguard" badge that links directly to your article!
Copy and paste this script into your page coding (ideally right before the closing