Gabriel Hoyos – Under Armour
Sustaining a winning streak to the south
Like the sports teams that wear its high-performance apparel and footwear, Under Armour can experience streaks hot and cold. Often, to borrow from sports jargon, it must change on the fly, make a halftime adjustment or shuffle the lineup.
Which is what its Latin American division has been doing—putting more emphasis on its products for general training rather than for specific sports and doubling up on its Mexican operations while pulling off a creative restructure in Brazil.
Only, such shifts aren't quite as instantaneous as players responding to a coach's orders. Lots of legwork and legalities go into such moves, especially when international borders are crossed, says the young man helping write the game plan for a most competitive Latin American market, one where Nike, Adidas and Puma are also major players.
"It all starts by being 100 percent business-oriented," says Gabriel Hoyos, senior regional counsel of Under Armour Latin America since 2017 and a member of the legal team for the two preceding years. "You've got to understand the company and the industry in which it works. Only then are you in a position to be valuable."
Game face on
Athletically minded himself, Hoyos might have a leg up—literally—when it comes to parlaying his mix of legal and business sense to Under Armour's regional growth, he too clad in its gear when mountain biking or playing soccer and paddle tennis.
It always helps to know the product inside out, he tells Vanguard in August, though since he's been on the job there's been a lot that's cut into his recreational time—sponsorship contracts, services, acquisitions, labor, commercial and foreign trade aspects among his responsibilities.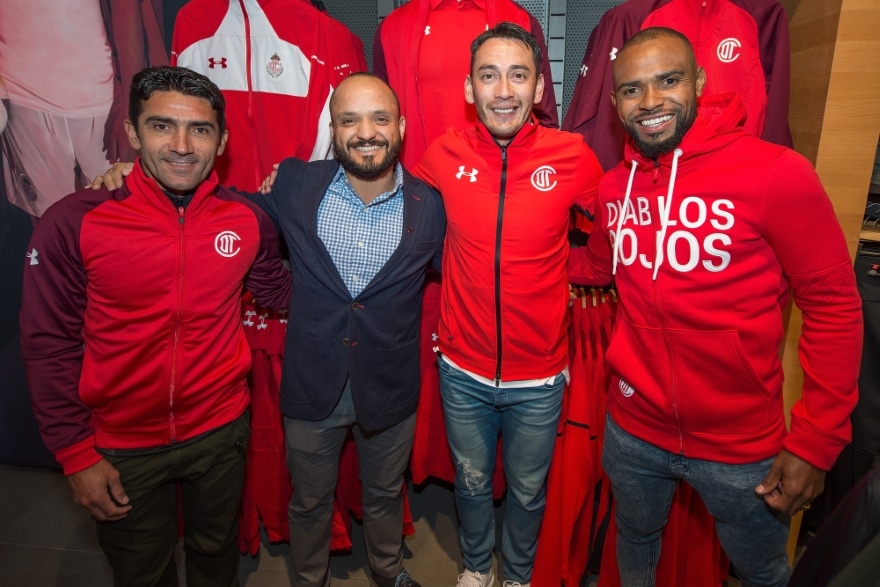 Prior to Hoyos' arrival, Under Armour had partnered with a subsidiary to operate around 10 of its Mexican stores, but as time passed, the company decided it wanted more control over all its outlets. With Hoyos working with the prestigious Mexico City law firm Garcia Mingo & Tejedo, Under Armour was able to regain control of the previously franchised stores, bringing its Mexican holdings to 35 and anticipating that profitability of said operations would increase 30 percent.
"We bought the company that operated the stores instead of making an asset purchase so that the customer's operation would not be affected," Hoyos explains. "We have seen that we know how to be retailers. We are efficient in operations management, inventory management and human resources."
The previous year had him taking a different approach toward Under Armour's Brazilian business that had seemed so promising around the time of the 2014 FIFA World Cup and the 2016 Summer Olympics. But situations can change markedly in just a few years, and with the industry-backed Brazilian footwear program ensuring local producers in local markets, Under Armour's operation had become economically unsustainable, he says.
With Hoyos in a leading role, members of Under Armour's legal team were dispatched to Brazil for lengthy periods, enabling the company to retrench, sell to a local producer and put in place a master franchise and manufacturing agreement last October that will remain in effect for the next 10 years.
"This was a complex process because we had to do the disinvestment of a giant investment with stores that operated throughout the country," Hoyos says. "Carrying out the sale and transfer to the licensee without stopping the operation or closing the stores to the public was a great challenge, but things have been going very well ever since."
Knows how to network
A graduate of Universidad Iberoamericana, Ciudad de México with credentials in corporate, finance and securities law, Hoyos furthered his legal education with master's degree from Chicago's Northwestern University School of Law in 2007. He'd garner contacts along the way who would play a part in his decision to join Under Armour as senior counsel in Mexico and Panama in 2015, becoming the company's first lawyer outside the United States.
He also represents Under Armour at the World Federation of the Sporting Goods Industry's trade committee, joining his counterparts from Nike, Adidas Group, New Balance and other companies in advocating global commerce agreements that benefit the industry as a whole.
Hoyos will credit a couple of role models—his two older brothers, both lawyers—with steering him toward the legal profession. Unlike them, however, he'd rather practice in the corporate end, where he can see a project to fruition.
Prior to Under Armour, Hoyos held a series of in-house positions in Europe and Latin America, including as legal manager for contracting with the Mexico City office of the multinational professional services company Accenture. When a headhunter reached out to him about Under Armour, he jumped at the opportunity.
And why not?
"I work out almost every day and use its training gear," Hoyos says. "The shorts, leggings, socks—I'm a big fan of the brand and try to wear as many of the products as I can."
He also applauds Under Armour opting for a more basic marketing pitch. Time was when the company might have over-emphasized soccer in Latin America—the sport being as much a way of life there as hockey is in Canada.
But, as Hoyos reminds, not everyone plays soccer, and there's a common denominator to athletes, be they professional or just avid recreationists like him.
"Whether it's in the gym or outside, all athletes train and that's become our main focus," he says. "We want to be the premium brand when it comes to providing the sportswear and shoes necessary for a rigorous workout. Soccer, tennis, track and field—they're all positive activities, and require training, so that's where we've defined our focus."
Showcase your feature on your website with a custom "As Featured in Vanguard" badge that links directly to your article!
Copy and paste this script into your page coding (ideally right before the closing