Dick Garlish – Peak Reliability
Wired for the next challenge
He'll likely be the man who essentially turns out the lights when the energy company that's employed him since April 2017 goes dark for good.
His job is due to be extinguished in the process, making this one of the least pleasant tasks that Dick Garlish has had to execute as an in-house lawyer at various western utilities. But business is business.
"It's weird to have to close down what's still an operationally sound and financially solvent company," he tells Vanguard in early September from Peak Reliability's soon-to-be-shuttered offices in Vancouver, Washington. "But we are working hard to dissolve the entity in a way that appropriately balances the interests of members, employees and future service providers."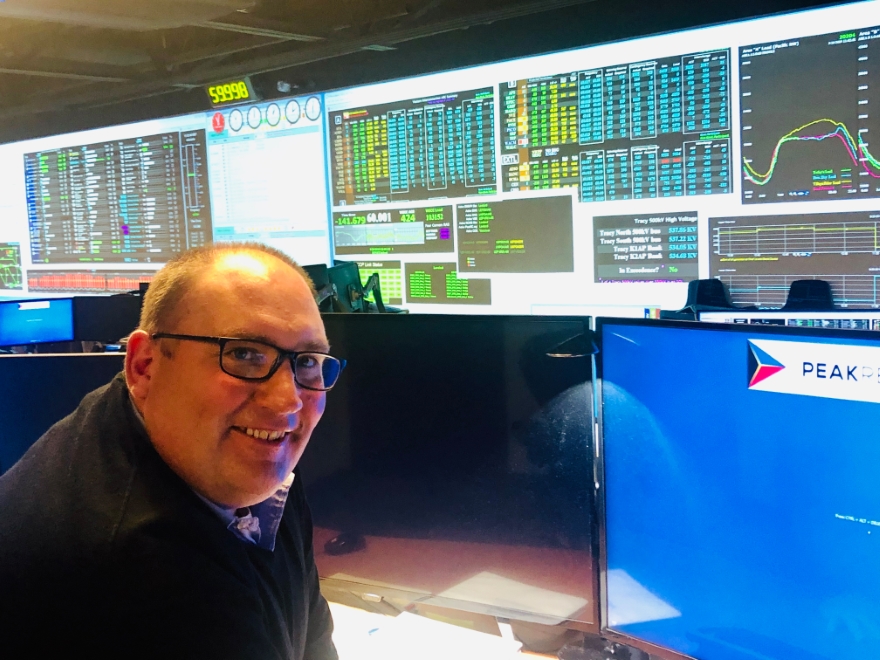 A long-term solution to sustain this nonprofit energy company just didn't seem in the cards. What's known as a reliability coordinator—that's RC in utility lingo—Peak Reliability's operations have long spanned 14 states, British Columbia and the northern portion of Baja, California, and Mexico, in what's referred to as the Western Interconnection power grid.
But when Peak's funding members began opting for other RCs, Garlish says it just made sense to start winding down the entity. Peak's business model for providing RC services didn't allow it to be competitive with other capable providers.
"What's on my plate?" he asks rhetorically. "How to structure severance packages, engaging with the regulatory bodies, managing corporate governance issues, compliance matters, resolving claims, existing contracts and benefits programs all without increasing Peak's liability exposure."
And as this door closes, Garlish anticipates a window opening to another professional opportunity. Maybe it'll be another in-house position at a utility. Maybe in another industry or at a law firm.
If indeed there's a bright side to any scenario, it would seem the current situation affords him the opportunity to put his mix of legal and business skills on very prominent display while striving to pull the Peak Reliability plug as painlessly as practically possible.
His skills well utilized
"I love the natural gas and electricity sector and working on the diverse legal issues associated with regulated utilities, but I've got skills that are readily transferrable and am very open to opportunities outside the energy space," Garlish explains. "Human resources, governance, labor relations, a well-informed sense of balance between legal counsel and the needs of an organization—I've touched on all those matters here."
Peak Reliability was looking for such versatility when it recruited Garlish from another utility, Idaho Power Co. which, seven years earlier, had lured him from NorthWestern Energy, an outfit he helped put on the rebound in Butte, Montana. Utilities law being very specialized, his reputation spread.
Originally in charge of transmission initiatives as director of regulatory compliance and senior counsel, Garlish would go on to restructure Idaho Power's commercial relationship with Portland, Oregon-based PacifiCorp, with whom it held joint ownership of a Wyoming power plant and worked with in pursuit of cleaner energy generation. He'd have a strong hand in renegotiating nearly a half-century's worth of contracts, with a $56 million asset swap that would benefit both utilities.
In 2015 Garlish was promoted to general manager of compliance risk and security, managing a $20 million budget and a diverse staff of 40. He'd implement federal and state compliance programs in risky environmental and reliability areas, investigate and resolve alleged non-compliance, manage cybersecurity and take on an increased role on the business front working on enterprise strategic initiatives and risk management.
"To be an effective in-house counsel, you have to understand that your advice and counsel has to be informed by the organization's business objectives and risk appetite. It's about lawyering with a "yes and" and not a "no and you better not" attitude," Garlish says. "I'm always mindful to seek the right balance between meeting business objectives and managing risk."
Finding his direction
Those business and legal skills sometimes called for even more at NorthWestern Energy, which was just emerging from bankruptcy court around the time Garlish began a five-year stretch as corporate counsel in 2005.
"The legal department was just a couple of us, and I worked for three general counsels," he recalls. "I've lost track of how many vice presidents the company went through. In that environment I probably got 12 years of experience in just those five years."
In retrospect, the NorthWestern stretch was even more rewarding, Garlish has come to believe, because it gave him skills he's been able to leverage at the two subsequent utilities. The position also came just one year after Garlish's graduation from the University of Montana School of Law, and such prominent in-house opportunities can be few and far between for any budding lawyer.
But Garlish says he had been preparing for such a workload, even if he wasn't so aware of it while he was holding a low-level, part-time job in Washington State's Supreme Court following his 1998 graduation from The Evergreen State College.
"I had been tending bar and working at a golf course, and this 16-hour job seemed a step up," he says. "Well, in three years I worked my way up to research assistant. I was Google before there was Google."
The young Google would open mail, answer inquiries from prisoners, prosecutors, defense attorneys, Washington Supreme Court justices, and law clerks, and aid the legal process in any number of ways. The experience inspired him to go to law school, and when he scored an internship with the U.S. Supreme Court during the summer of 2003, he could still be bogged down by routine chores for higher-ups.
"Only they might be Justice [Antonin] Scalia or [Anthony] Kennedy," Garlish says with a hearty laugh. "I covered a lot of ground between tending bar and working in Washington, D.C. in a pretty short period of time."
A Horatio Alger story it would seem, and one that would continue with Garlish clerking for U.S. District Judge Sam E. Haddon for a year in Montana, which would prove another learning experience, the Big Sky Country sharing a border with Canada and the caseload ranging from matters involving Native American reservations to cross-border smuggling to high-level embezzlements and all kinds of civil litigation.
And the last chapter in Garlish's professional life is a long way from being written, being just 45 and open-minded about the future.
Ideally, it'll be the West—"Montana runs deep in my DNA," he says. But geography won't be the sole factor.
"It's all about the next challenge," he says. "Any time you're exposed to a challenge, personal growth results. Your technical skills improve, you're exposed to more people, your perspective becomes more far-reaching. You become a better practitioner and a better leader."
Showcase your feature on your website with a custom "As Featured in Vanguard" badge that links directly to your article!
Copy and paste this script into your page coding (ideally right before the closing