Gabriela Bogantes – Pfizer
A cure for the common career
Even for a kindergartner, the task was whimsical: use the boxes of costumes to dress up for your future job. While her classmates reluctantly rummaged through the various wares, blending careers like watercolor paints, Gabriela Bogantes went straight for the briefcase and necktie.
Her teacher didn't even bother to ask.
"I always knew I wanted to be a lawyer," Bogantes says. "But I never could have predicted the path I would take to get there."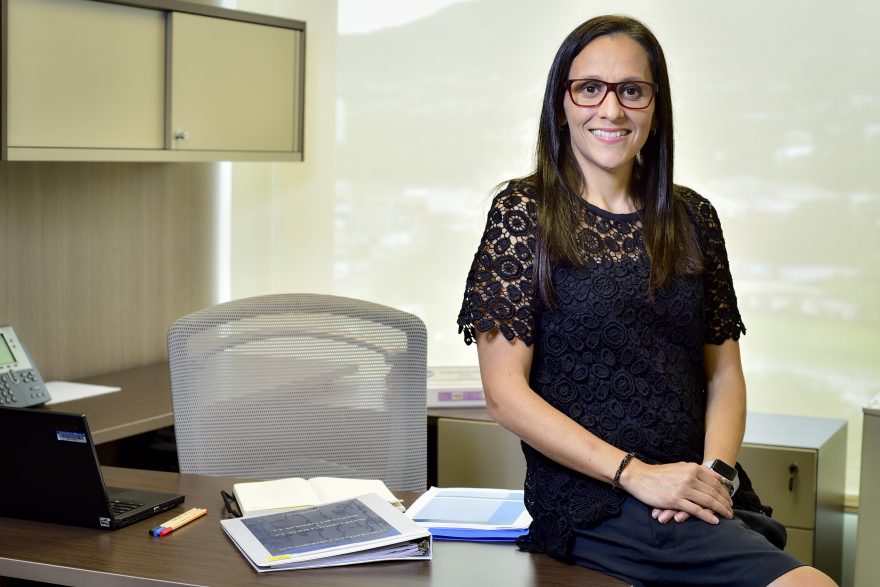 As legal director for Pfizer Central America & Caribbean (CAC), Bogantes knows the days of easy assignments are long gone. But for as much as her classroom has changed—from four hours of fun and games to the nonstop grind of global pharmaceuticals—what hasn't wavered is the passion for learning and honing that craft.
Building blocks
Challenges abound, of course. When she first joined Pfizer in 2010, after representing the company as outside counsel for more than three years, Bogantes was tasked with building the company's legal department from scratch.
To start, the company's regional directors asked Bogantes to take over budgeting for the CAC region. In response, Bogantes streamlined everything from hiring practices to strategies for utilizing outside counsel. The aim: to create a more strategic department that could be a trusted partner of the leadership team.
"People already knew me from my work in private practice, so there was an element of trust there from the beginning," Bogantes recalls. "My first goal in terms of efficiency, was to reduce redundancies in communication by making myself the main point of contact for other departments."
With the new protocols in place, Bogantes sought to foster a closer relationship with management, becoming the first legal counsel to attend the division's leadership meetings. She also began meeting weekly with both the finance and human resource arms—what Bogantes calls "the right and left hand for what I do"—in an effort to clarify and codify the departments' roles and responsibilities.
The aim, Bogantes says, was to posit her department as a true value-add: an entity capable of not merely putting out fires, but building long-term strategies.
"It's become part of Pfizer's DNA to have legal on board for any big initiative," Bogantes says. "We're no longer so quick to chase outside counsel for issues that can be solved internally, which saves us money and creates more collaboration."
Regional dialects
Outside counsels haven't been completely eschewed, however. Overseeing 12 countries and 32 regional territories throughout CAC, Bogantes' department depends on having trusted boots on the ground, particularly when it comes to regulatory matters.
Once the company identifies a legislative issue as important—say, an overhaul to a country's health care system—Bogantes might request biweekly updates from the embedded outside counsel. In some cases, she'll even visit the country herself, as she did when Guatemala made substantive changes to its public contractor laws.
As its internal processes have become more streamlined, the Costa Rica-based operation has emerged as one of Pfizer's fastest-growing. Established with a financial transactions center in 2015, to bolster the company's process standardization, the operation has since added regional hubs for everything from logistics and supply chain to compliance. All of which Bogantes will have a hand in stewarding.
"My job is to provide clarification, support and feedback wherever necessary to any of the departments within the organization," she says. "From an operational perspective, it's important for me to understand all the departments, their roles and responsibilities, their scope, from providing training to colleagues to the details of any specific topic. So that's something I'm keeping my eye on for all the areas I support."
Calling it a full docket would be an understatement. But for Bogantes, even the most demanding days can't make her lose sight of where she is—and how she got there.
Sowing the seeds
Bogantes never had a chance to see her grandfather practice law; he retired in 1980, two years before Gabriela's birth, following a lengthy stint as a justice on Costa Rica's Supreme Court. Still, his influence and that of his wife, Gabriela's grandmother—from daytime babysitting to early reading lessons—was palpable.
"My grandfather was always reading, and they had this amazing library that just fascinated me," recalls Bogantes, whose mother and father worked as a microbiologist and engineer, respectively. "I don't know how old I was when I first made that connection to my grandfather's career, but the inspiration was there."
By the time Bogantes enrolled at the University of Costa Rica in 2000, her path—indeed her passion—had begun to unfurl. After graduating in 2005, she joined Fenzaig, Scharf & van der Putten, a San Jose firm specializing in corporate law.
The following year, Bogantes moved to Gonzalez & Uribe, where she further sharpened her chops as a corporate counsel. While there, she managed several Pfizer matters, helping the company establish new regional processes and business opportunities for both the pharmaceutical and animal health lines.
It didn't take long for company brass to take notice. In 2010, Bogantes was tapped to helm the division's legal department. Less than two years later, she was promoted to legal affairs manager.
Now the legal director, Bogantes—who credits a master's from Northwestern University for propelling her into the new role—can't help but feel surprised at how quickly her career has taken shape.
"Moving in-house definitely opened up new possibilities," Bogantes says. "The diversity of topics I attend to every day has been one of the most positive changes. And the biggest challenge."
Showcase your feature on your website with a custom "As Featured in Vanguard" badge that links directly to your article!
Copy and paste this script into your page coding (ideally right before the closing