Jonathan Paull – Dialyze Direct
Earning stripes, improving lives
He remembers the moment the job chose him. During a whirlwind trip to New York City and a one-day meeting that became Jonathan Paull's de-facto job interview, the company's chairman and founder, Henry Kauftheil, confided in Paull the motivation behind the new venture.
"All of my businesses have to address two questions," Kauftheil said. "And if it doesn't answer the first one correctly, then I don't care about the second. The first question is, 'Will this make the world a better place?' The second is, 'Can it make money?'"
It was a perspective that resonated with Paull, who had worked with the young company on a consultancy basis over the previous six months. After exchanging a few more pleasantries, Paull was offered the position.
"When do you need me by?" he asked, adding a dose of urgency to his acceptance.
"I need you yesterday!" Kauftheil exclaimed.
Two weeks later, together with his wife and newborn son, Paull moved to New York to assume the role of general counsel and chief compliance officer for Dialyze Direct, the company Kauftheil and his business partner, Joshua Rothenberg, had founded less than a year earlier.
Filling a dire need
For years, nursing home residents who required dialysis for end-stage renal disease, would have to be transported to a nearby dialysis facility three times a week. After completing the hours-long treatment, a process that can be both mentally and physically exhausting, another ambulance would escort the patient back to the nursing home.
To make matters worse, these patients—many of them elderly and frail—had medical complications that required specialized dialysis treatment, something these outpatient facilities simply couldn't provide.
Dialyze Direct addresses this issue. Specializing in what's known as staff-assisted home hemodialysis, the company allows patients to receive treatment directly on the nursing home premises. "Dialysis with Dignity," the tagline reads.
"It's not just removing the inconvenience of the transportation from the equation," Paull explains. "Our therapy method is entirely innovative and patient-centric, and it's far gentler and healthier for the patient's body and mind."
Four years after its founding, the company is already operating in six U.S. states, with more on the way. Indeed, with dialysis making up 1 percent of the entire federal budget—for scale, the Department of Education accounts for 2 percent—Dialyze's model has game-changing potential, Paull says.
"It's a service that reduces costs and improves patient outcomes," he adds, "which is what health care should be about."
Creative Writ-ing
Given the company's growth, any time Dialyze opens a new location, Paull makes it a point to establish a working relationship with the associated state government, addressing everything from architectural facility requirements to federal and state licensure laws. However, the gesture is as much about practicality as it is about establishing a positive working relationship.
"Our model is so new that many states have never encountered it," Paull explains. "It's always very important to us that the government feels 100 percent comfortable with what we're doing, and since we are the ones plowing this model forward, we very much see it as our responsibility to reach out and say 'This is who we are, this is what we are looking to do, how can we make sure we are doing this in a way that makes you feel entirely comfortable?'"
According to Paull, the company's tactful approach to government relations stems from a broader effort to "infuse a culture of compliance into the heart of the company that can grow in accordance with the company's size."
The more employees Dialyze hires, the more checks and balances—"touchpoints," Paull calls them—can be applied to a specific decision or protocol or program. For example, adding increasing audit mechanisms to ensure HIPAA compliance for the growing collection of medical records. "Any effective corporate program requires day-to-day maintenance for it to succeed," Paull says. "We have been fortunate to have a great partner in our outside law firm, Polsinelli, P.C., who understands our business inside and out and has helped us grow since day one."
Overseeing the company's compliance program, Paull trains employees in specific "target areas"—HIPAA compliance, medical billing and coding, physician credentialing, and so on—in order to minimize inefficiencies and safeguard against legal pitfalls.
That all might sound like standard general counsel fodder. But for Paull, there's a creative element to it as well: The ability to step back and see the big picture.
"There's a classical way of looking at lawyers, particularly in the corporate world, as the people who just push paper and negotiate agreements," Paull says. "I try to be much more of a partner to the company's practices, to create programs and processes that can be molded to what's going on in the departments around you."
If that sounds like someone who's spent a lot of time pondering the nature of his profession, there's a good reason: where Paull's from, being a lawyer is practically a birthright.
Family pride
Born and raised in St. Louis, Paull's family was filled with civil and criminal litigators. His father, Jeffrey Paull, who ran his own successful practice, did his best to steer Jonathan away from the family trade. Unless, Jeffrey said, you can find your own niche. He wasn't alone in that dissuasion, either.
"I remember my grandmother telling me, 'We have enough lawyers in this family. Why don't you be the doctor instead'" Paull recalls with a laugh. "Maybe there was a seed planted there."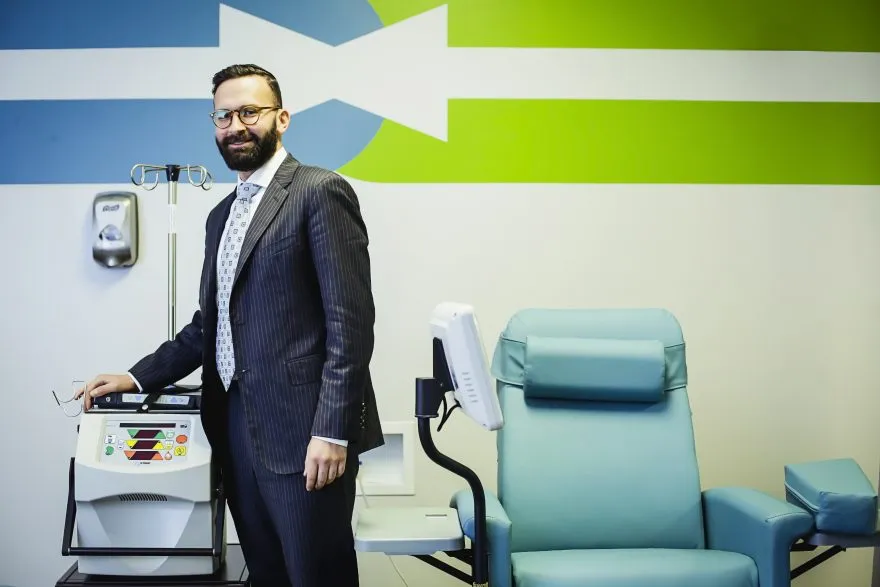 As he neared the end of his four years at the University of Missouri, law school now squarely on his radar, Paull remembers scanning the landscape for that ever-elusive niche. It was 2007, and with the meteoric ascendance of Barack Obama, Paull realized that health care reform was likely to become a growing piece of the national conversation.
"I thought there was a very good chance the system was going to be upended, and you'd have a lot of people trying to make sense of what that change means," Paull recalls. "It was a practical choice, yes, but there was also this desire to be part of something genuinely transformative."
As it happened, St. Louis University touted one of the country's top health care law programs, which combined a J.D. with a master's degree in health administration. Even then, Paull wasn't sure how his path would manifest in the professional world.
After earning his degrees in 2010, Paull began his career working in the medical fraud unit of the Missouri Attorney General's Office. That, in turn, put him on a path that led him to a familiar face: his father, who just so happened to be looking to broaden his own firm's health care focus.
Starting with small physician practices, Paull's portfolio soon caught the attention of bigger companies—including an exciting new startup called Dialyze Direct.
"For my grandmother's sake, while I may not have become the doctor, I at least became part of something that shares a doctor's core values," Paull says. "I definitely feel like I found that niche, and I'm excited to help grow this company and improve as many patients' lives as possible in the process."
Showcase your feature on your website with a custom "As Featured in Vanguard" badge that links directly to your article!
Copy and paste this script into your page coding (ideally right before the closing