Gordon Kushner – ECi Software Solutions
Staying ahead of the game
A product of the western Canadian province of Alberta, Gordon Kushner can't help but think in hockey terms when discussing his role as general counsel, senior vice president and secretary at ECi Software Solutions in Fort Worth, Texas.
"It's like being the corporate world's equivalent of the center iceman," he says in reference to the player who takes faceoffs, sets up plays and generally is in the middle of the action orchestrating his linemates' next moves. "You have to see all of the ice and try to think a few moves ahead. So much of what happens revolves around you."
Got to stay a few moves ahead of everyone else. The great ones—Wayne Gretzky comes readily to Kushner's mind—did just that. Anticipate where the puck is going rather than focus on where it is (or was). Hockey being so ingrained in the Canadian psyche, it's only natural for Kushner, himself a former player, to apply that mindset to one of his major tasks: enabling ECi's growth through mergers and acquisitions.
And if closing a deal is a general counsel's equivalent of a goal, Kushner would rank among the leading scorers in his profession. He's lit the lamp over 30 times in his 15 years as legal boss with this business-to-business cloud-based solutions provider, including five in a five-month stretch late last year on both sides of the U.S.-Canadian border.
"ECi wouldn't be where it is today without his leadership and guidance," says CEO and fellow hockey aficionado Ron Books, who like Kushner graduated from the University of Dayton—Books for business and accounting, and Kushner for law. "He's a deal-maker, not a deal-breaker—an unusual and highly valued trait for an in-house lawyer."
New acquisitions right at home
Books is alluding to in-house legal being dubbed "the department of no," what with lawyers being prone to erring on the cautious side of risk management. But a company has got to risk something if it stands a chance to grow, and Books trusts Kushner to assess prospects on the merger-and-acquisition front.
"Once we find a target, I'll manage the deal from start to finish, from negotiating the letter of intent to running the due diligence process right through negotiating the purchase agreement and closing the transaction," Kushner says, sounding not unlike an NHL scout assessing a possible draft pick or trade. "I'm the focal point—or the centerman—on these deals, and we've done so many that they seem to just blend together, even though no acquisition can be called routine."
Especially when the targeted country is outside U.S. jurisdiction. There were three such deals in that five-in-five-months stretch last year, tech companies from Calgary, Toronto and Vancouver throwing a few variables into the acquisition process since Canadian corporate, labor, IP and tax laws aren't identical to those in the United States.
But such a strong team resulted when the last of those companies, Vancouver-based Lasso Data Systems, was brought aboard for undisclosed terms in December. A leading provider of cloud-based customer relationship management [CRM] software for new home marketing and sales, Lasso is now part of ECi's Residential Home Construction Division.
Quite the ideal linemate too, Kushner says, explaining that ECi's product suite already included MarkSystems, a leading provider of cloud-based ERP systems for custom homebuilders, and LotVue, its integrated 3-D site map software.
Enhanced by Lasso's systems for housing industry lead management, automated engagement and follow-up, email marketing and comprehensive reporting, ECi should be poised to score big. The homebuilding industry is thriving in many places, particularly so in the Dallas-Fort Worth area, where so many major employers are either relocating or expanding.
Lasso also brings to the team a clientele 500-strong of builders, developers and sales agencies throughout the U.S. and Canada. But, as Kushner reminds, it's not quite that simple to tap into the means of a new acquisition.
"Acquisitions rarely succeed in the long term if they are not integrated properly," he warns. "We're getting better at that all the time. It's not just about getting the deal in the door; it's also about integrating all aspects of the acquired business into the ECi way of doing things, everything from contracts to compliance, and privacy and data security policies. Each acquisition brings its own unique challenges."
Challenges that Kushner seems adept at addressing.
He knows business
"While his first responsibility is as the company's legal adviser, Gordon brings a business mind to this key role," Books goes on to say. "He approaches our business from a strategic perspective while recognizing and managing the risks associated with running one of the world's largest privately-held SaaS businesses."
Kushner has been doing so since joining ECi in what was originally presented as a part-time opportunity in 2004, after his employer of the three previous years, the Platform for Media, was acquired by Comcast Digital Media. Then living in the Washington, D.C., area and taking time to mull his next step, he became acquainted with Books, who was one of ECi's original employees and had worked his way up to chief operations officer. Even though they attended the University of Dayton during the same period and lived only two blocks apart, they hadn't met until the two connected at ECi, but the Dayton connection immediately put them together on common ground.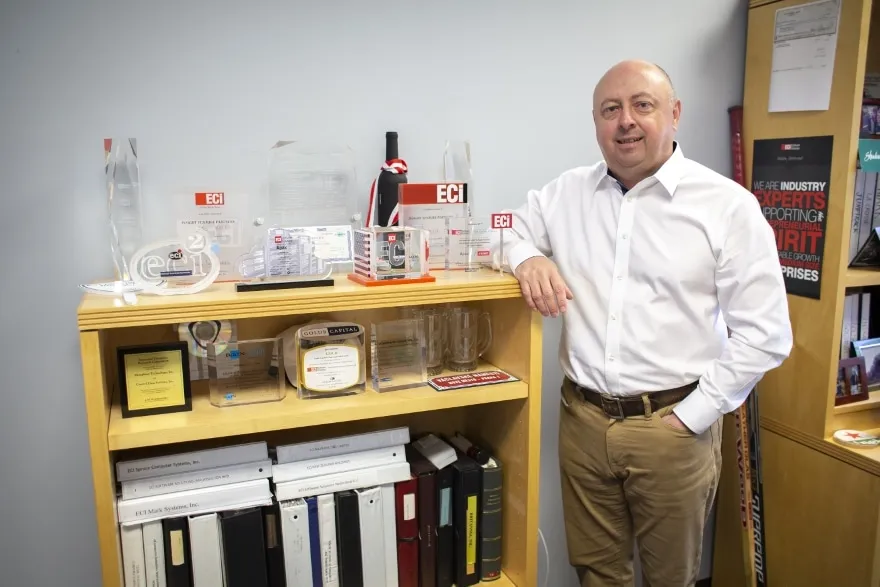 For all practical purposes, Kushner would initially be a three-day-a-week general counsel, working remotely and fronting deals that had ECi on both ends of the M&A process. But never a hostile takeover.
"We've been acquired by some of the largest private equity firms a few times now," says Kushner. "Following the typical private equity model, they typically retain the existing management team to continue running the business successfully. After a five-to-seven year period, we're then put on the market for another buyer and we continue working that way for the new PE firm."
Since 2017, ECi—headquartered in Fort Worth and with offices throughout the U.S., Mexico, Europe and Australia—has been owned by funds associated with the New York and London private equity firm Apax Partners and The Carlyle Group, which maintain the hands-off modus operandi that's proven so effective to the company's organic and inorganic growth.
Growth mode continues with ECi gaining more big-ticket customers in building and construction, distribution, field service and manufacturing. Recent initiatives include the new Making Tax Digital portal for submitting value-added tax returns through Horizon and Progress software systems for its UK business, and the release of MobileTech, a new native mobile app for e-automate software users that simplifies the handling of service calls.
As for the 52-year-old Kushner, he's feeling in the prime of life, having settled in Texas with his wife and relishing his go-to role in helping sustain ECi's success. While not revealing much, he says more acquisitions may be in the company's future, and is quick with praise for his colleagues.
"I attribute a lot of my success to Ron," he says. "We hit it off immediately with our Dayton connection. He rose through the ranks at ECi and has treated me like a teammate from day one."
As true teammates do.
Showcase your feature on your website with a custom "As Featured in Vanguard" badge that links directly to your article!
Copy and paste this script into your page coding (ideally right before the closing