Greg Moss – Kadmon Holdings Inc.
To market, to market, no easy road for pharma GC
Whether used in treating multiple myeloma, non-Hodgkin's lymphoma, Hodgkin lymphoma or leukemia, more than 50,000 stem cell transplants are performed worldwide each year, according to the World Health Organization.
Stem cell transplants can help extend life spans for five years or more. But on some occasions, a transplant can actually attack a recipient's body. It's known as chronic graft-versus-host disease, and can lead to multi-organ inflammation, fibrosis (tissue scarring), fatigue, autoimmune conditions that can limit mobility, and decreased range of motion and tightness in joints, the Cleveland Clinic reports.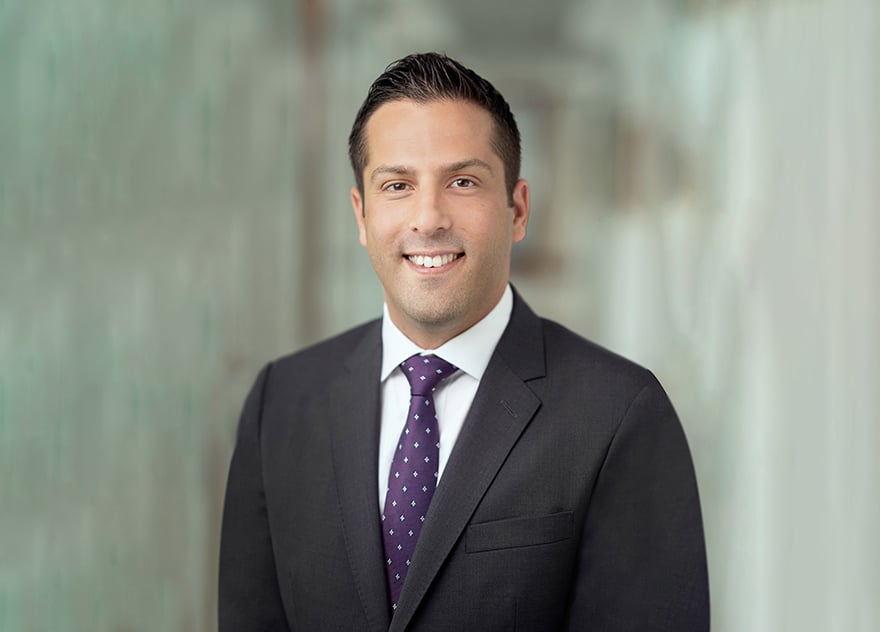 But the fight against cGvHD may soon gain a new ally, says Greg Moss of Kadmon Holdings Inc., as the company hopes its potential new therapy, belumosudil, will be approved and hit the market this spring.
"Kadmon is just beginning its novel drug journey," Moss says. "We're perched on the precipice of getting FDA approval for a potential new drug, and at that point, we move from a company that wants to help patients to one that is helping patients."
The journey to approval
In Moss' roles as executive vice president, general counsel and corporate secretary, and chief compliance officer at Kadmon, he carries a briefcase instead of peering through microscopes or analyzing test data.
But he's no less excited about Kadmon's efforts to develop belumosudil, a Rho-associated kinase, or ROCK2, inhibitor targeting patients with cGVHD who have not had positive results from existing lines of therapy.
"My job is focused on making sure we're put in the position to deliver incredibly important medicines to patients in a compliant way, and to focus on culture as a means of assuring the entire organization is performing in a legal and efficient way, with integrity and ethics at the core of our decision-making," Moss notes.
On Nov. 30, 2020, the U.S. Food and Drug Administration accepted Kadmon's new drug application for belumosudil, setting the stage for a review as part of the Prescription Drug User Fee Act. The FDA has until Aug. 30 to approve or deny the application to bring belumosudil to market, according to a company news release.
Concurrent with the PDUFA review, Kadmon is taking part in Project Orbis, an initiative of the FDA Oncology Center of Excellence, that enables an expedited review of belumosudil by international agencies. The Center has also included the therapy in its pilot Real-Time Oncology Review program. Acceptance for the RTOR is based on a drug being likely "to demonstrate substantial improvements over available therapy," as well as having straightforward study designs with easily interpreted endpoints, according to the FDA.
Getting from hypothesis to approval is a long road—the Kadmon team submitted more than 500,000 pages to the FDA in the approval process—but in some ways Moss' work is just beginning.
As the drug moves toward approval, he is ensuring the company's pre-launch activities and launch preparation efforts will be compliant with FDA marketing regulations.
"There are different considerations when you're in the commercial world versus the R&D world," Moss explains.
The FDA is not the only agency Moss will be working with as Kadmon shifts to a marketing mode. The company is publicly held, so Moss is also responsible for ensuring filings comply with U.S. Securities and Exchange Commission regulations. He advises the company on matters including financial structures, business development transactions and corporate governance as well.
In February, Moss helped guide a convertible notes transaction which brought $240 million in new investment capital. The transaction was conceived on a Friday and over-subscribed by Wednesday night, which he calls a testament to the Kadmon team's efficiency, as well as the value that investors place on the potential of belumosudil and the rest of the company's pipeline assets.
All the while, Moss says he's continuing efforts to innovate and add to company culture, valuing a psychologically safe, creative and empowered workforce, he says.
"It's important to know what you don't know and surround yourself with people who are complementary, either as outside counsel or as part of internal teams," he notes. "I am blessed to work with a great team, internally and externally, and we have a resilience and optimism about us that makes us suited to the biopharma industry."
In-house excitement
While watching legal dramas "Picket Fences" and "The Practice" piqued his interest in a law career, Moss says his father's encouragement to find a profession also evolved into his love for critical thinking.
Born in South Africa, he grew up in Sydney, Australia, earning his law degree from Macquarie University in Sydney in 2007. While at the university, he met his future wife, a New Yorker studying for her master's degree.
With their relationship blooming, he moved to New York after graduating and worked in a boutique law firm and hedge fund. In August 2009, Moss returned to Sydney to become a solicitor at Gadens, specializing in corporate and insurance law.
Preferring the pace of American business, the couple went back to the Big Apple in June 2012 and Moss became the senior director for the office of general counsel at Kadmon. Though he's served on boards of directors for companies around the world, including currently with Houston-based Vitls Inc., Moss has remained in New York, where he also delights in family life, raising two children and Keano, a dog, who traveled with him and his wife from Australia.
In October 2013, he was named vice president of the office of general counsel. In April 2015, he became senior vice president and deputy general counsel.
In August 2019, Moss was named to his current positions of executive vice president, general counsel and corporate secretary, chief compliance officer.
"I feel that we're an underdog but well-positioned, which for me is fantastic, as my journey as part of the executive team is still reasonably young," Moss says. "I still need to work hard to grasp the science of what we do in terms of how our therapies work, but doing something new every day is what I craved when I went from private practice to in-house. The fact that the work we're doing is noble and, if successful, we will hopefully give patients many life years in the future, is what really motivates me."
Showcase your feature on your website with a custom "As Featured in Vanguard" badge that links directly to your article!
Copy and paste this script into your page coding (ideally right before the closing