Jennifer Nelson – Prestige Consumer Healthcare Inc.
Not just a cosmetic approach
Securing intellectual properties can be a challenge under almost any conditions. Even more so when the country where a company seeks to operate has little in the way of laws for trademark protection.
Such was the case when Prestige Consumer Healthcare Inc. identified Myanmar as one of the so-called Asian tigers and a place where its over-the-counter personal care products might be in demand. Only like so many developing countries, the erstwhile Burma had no office for trademark protection or registration, leaving its imports vulnerable to trademark infringement in a region where IP pirates thrive.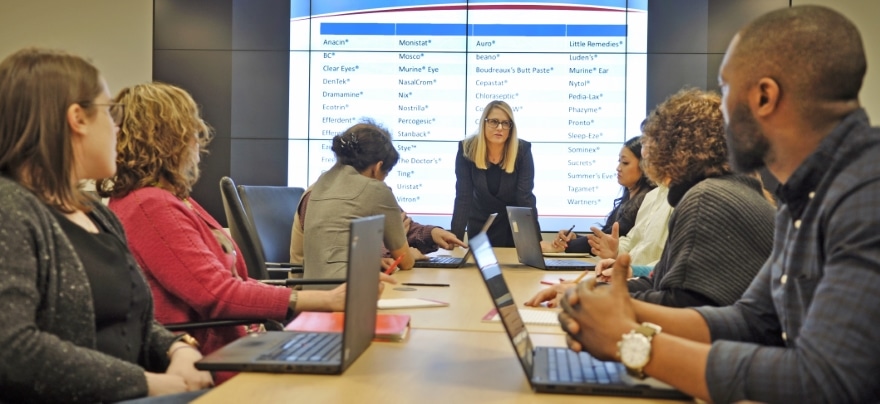 Jennifer Nelson, one of two senior associate general counsels at Prestige's global headquarters in Tarrytown, New York, would need a Plan B. That she would find by partnering with a global law firm that in turn partnered with an Asian firm, which found a legal mechanism to register Prestige's product line.
It falls short of actual trademark registry, but Nelson thinks the move at least puts would-be infringers on notice that Prestige is watching and, in time, could have the means to take aggressive legal action, and not just in Myanmar.
"Anytime you commercialize your products abroad, you want to be cognizant about intellectual properties protection, and Myanmar has been our most recent challenge," Nelson tells Vanguard in January. "So we had to take a creative approach in mitigating the situation."
Other territories pose the same challenges, she goes on to say. Fast-growing Asian economies, including China, can take notice that Prestige is serious about IP protection.
On-the-job learning
Her employer can claim to be the largest business-to-business distributor of over-the-counter personal care products in North America. Given the rules and regulations that apply to such an industry, that alone could keep the in-house legal department occupied. But even more so for a company like Prestige, which subcontracts the manufacturing of most of its products while striving to expand its global footprint.
Such challenges only serve to motivate Nelson, who won't regret having come to the company when it was still called Prestige Brands Holdings, Inc. in June 2017, following her nearly four year stretch in a similar capacity with The Maesa Group, another New York City area cosmetics and personal care company.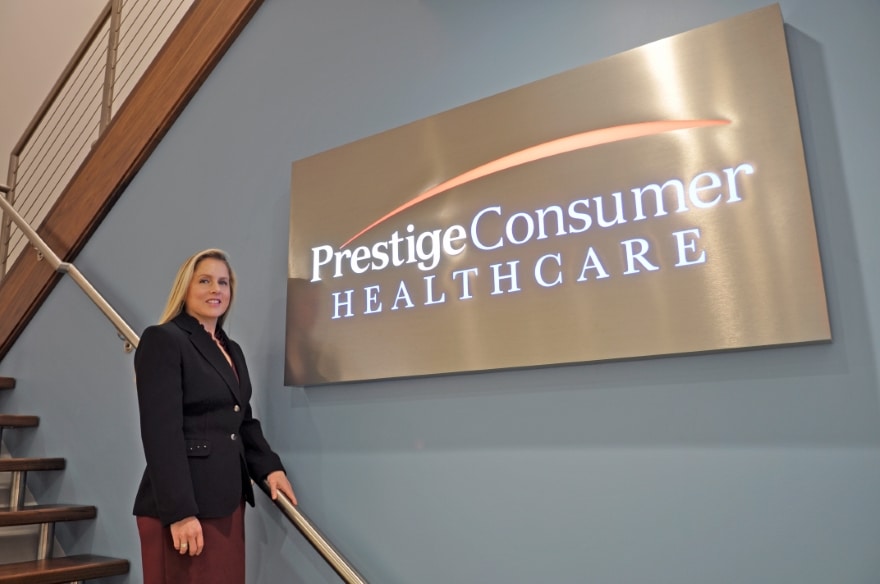 Her Maesa responsibilities included regulatory compliance, which prepared Nelson to step into a larger role at a publicly held company where her mix of legal and business skills would have more room to grow.
"It was definitely a learning curve from the start, even though a lot of tasks were in my comfort zone," she says. "The reporting requirements were much different, as were the policies and governance. But it was such an exciting time."
She'd help ensure that the excitement would also be productive. The ensuing months would see Prestige divest its household cleaning products—hence the name change—while retaining its portfolio of health care products, with half of that portfolio put under her supervision and the rest under the other Senior Associate General Counsel, Richard Weiss, who with paralegal Ivone Milani, all report to General Counsel Bill P'Pool.
Other duties would include the integration of Prestige's new acquisition,  the cosmetics and OTC company C.B. Fleet, purchased for $825 million in early 2017, bringing into the fold such products as Summer's Eve®, Fleet® and Pedia-Lax®, as well as a Lynchburg, Virginia, manufacturing facility.
And with the General Data Protection Regulations taking effect in the European Union last May, compliance remains as much a part of Nelson's job as IP protection. She must pay similar attention in California where its Consumer Privacy Act takes effect Jan. 1, 2020, further regulating the collection, use and disclosure of personal information by for-profit enterprises regardless of where they are based.
Then there are the closer to home responsibilities that include corporate governance, employee law, ensuring that anti-harassment and anti-discrimination policies are in place, and simply being a trusted business partner.
She means business
"Every in-house lawyer has to have some business acumen today," Nelson says. "You've got to be comfortable wearing that business hat, and you've got to be an asset to the organization's mission. We're not a money-making department like marketing, but each of us has got to bring to the table some value."
Reducing the need for outside counsel certainly is a value-add, Nelson reminds. Though the in-house legal team is lean, Nelson says they'll take first swipe at claims clearance and trademark matters before calling upon outside counsel.
As for Nelson, she's right at home in an in-house role following an earlier run that saw her juggling professional responsibilities with single motherhood.
A Brooklyn Law School grad with a master's of law in taxation from Georgetown Law Center, Nelson cut her early legal teeth at Schatz & Schatz Ribicoff & Kotkin and then in U.S. Tax Court before running her own firm from 1992 to 2004. Following a year at DelBello Donnellan Weingarten Wise & Wiederkehr, she went in-house with Fidelity National Financial Inc. from 2006 to 2009, followed by five years as special counsel for AriZona Beverage Co. and then the stretch with Maesa.
"I really found my niche at Fidelity," she says. "I never enjoyed the aspect of racking up billable hours at the firms. In-house the company is your client, and as I work across all departments, they're all my clients. It's very interesting, and they all hold me responsible."
Long remarried to her high-school sweetheart, a high-end windows and doors distributor William Flynn, Nelson speaks proudly of her family that also includes her two biological children, data engineer Hailey Heinberg and screenwriter Louis Heinberg, as well as her two stepsons, Brooklyn Law grad attorney Tyler Flynn and Connecticut teacher Mason Flynn.
"Each and every one of them has been instrumental to my success," Nelson says.
But maybe not quite as much as her mother.
A teacher during the first half of her working life, Beth Nelson opted for law school when her daughter was a teenager. She'd go on to pass the bar exam when Jennifer was in her second year at Tulane University, and continue on to a distinguished career in real estate law.
"My real role model," the 54-year-old daughter says. "She always said what a great education law school was even if you didn't become a lawyer."
Showcase your feature on your website with a custom "As Featured in Vanguard" badge that links directly to your article!
Copy and paste this script into your page coding (ideally right before the closing