John Christopher – Monmouth University
From the corporate world to the campus
As vice president and general counsel at Monmouth University in West Long Branch, New Jersey, John Christopher is responsible for providing legal advice and representation on a broad range of topics, including labor and employment issues, business matters, contract reviews, litigation, copyright, student and faculty issues and property acquisition.
After earning his JD from SUNY Buffalo Law School in 1988, Christopher joined Hodgson Russ LLP, one of New York State's largest corporate legal defense firms. In his time with Hodgson Russ, Christopher honed the skills that would prepare him for the role of general counsel with Monmouth by serving as the leader of the firm's college and university practice group, and the labor and employment law practice group.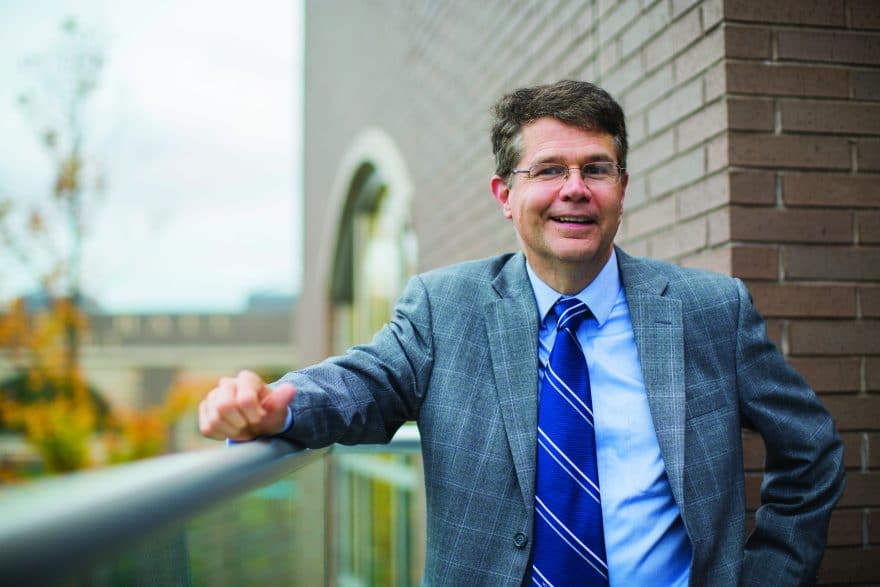 "My interest has always been in constitutional law and law relating to education," says Christopher. "I ended up setting a course representing universities over my career and now I'm representing Monmouth full time."
While the general counsel role is a change of pace for Christopher, it's a welcome change. "The nature of this job is much more strategic," he says. "I'm making legal and business decisions and contributing to strategic thinking and development. In the old days I would be like a fireman who was called in to fix problems once they had already started, but now I'm involved right from the beginning where you can make sure things are being done as best they can right from the outset."
A niche in employee relations
Christopher's predisposition to a life in the legal field was evident from an early age. "As a kid I loved arguing with everybody, so people kept saying that I should be a lawyer," he jokes.
In his time at Hodgson Russ, Christopher gained exposure to sophisticated legal issues and was able to travel the world to work with a number of Fortune 500 companies. "That was very valuable and a strong platform for what I'm doing now," he says.
Christopher joined Monmouth eight months ago, after the retirement of the university's previous general counsel, a decision he says was spurred by the energy and enthusiasm of Monmouth president Paul Brown. "He was on fire with making the institution better and more strategic," says Christopher. "The fact that the university was in that strategic thinking mode is what really got my attention."
Now at Monmouth, Christopher often finds himself dealing with employee relations issues such as grievance documentation and bargaining with unions, a skill that he honed at Hodgson Russ and has even instilled in his own children.
"On a cruise to Haiti I gave each of my children $10 and let them loose in a little bazaar, and they dove right in," he recounts. "It was fun watching them; while one is not much of a bargainer, another now bargains with me over everything."
While the atmosphere at Monmouth is slightly less hectic than a large firm such as Hodgson Russ, Christopher says there is truly no such thing as a typical day on campus.
"In November we had that very unfortunate situation in Paris and the university actually had some students in Paris. Fortunately that doesn't happen every day, but it raised a lot of issues such as how do we get them out of a country that has closed its borders," says Christopher.
In his role with Monmouth, Christopher is able to take on a more central role in shaping the institution's future. "It's very rewarding to be involved in all aspects of university decision making. There's a lot of legal work involved, but also a lot of critical thinking about effectively running a complex organization such as a university, that you wouldn't typically have a good opportunity for in a traditional law practice.
Building healthy relationships
Throughout his career, Christopher has found himself constantly trying to differentiate himself from the stereotype of the unscrupulous lawyer. "It's easy to sacrifice the long-term for short-term gain; you can't nail your opponent in court and surprise them when you know you're going to be going up against the same guy in court two years later," he says.
This lesson extends to Christopher's current role in working with labor unions. "It makes a lot more sense to work with them rather than treat them like the enemy," he elaborates. "There will be times when you'll be on the ground fighting, but there will also be times when they need your help or you need their help on something everyone knows is right."
While Christopher says he enjoys the collaborative nature of the university and the way in which it attempts to involve myriad stakeholders in issues, he also sees it as his job to help speed that process along when needed. "The university is very into these processes so you can't just push those along, but my job is to create a sense of urgency without stifling the process," he says.
Monmouth occasionally retains outside counsel to handle specialized issues such as litigation, intellectual property and zoning. The university is currently working to expand the number of patentable research opportunities on campus and is turning to an outside legal team to help the institution prepare.
In the end, Christopher sees his role as something of a resident analytical mind. "I think what I add to the mix is experience in evaluating and making judgements with legal issues and then helping them to be able to navigate, actually making decisions about those things," he says.
In his spare time, Christopher is an avid traveler, having recently returned from Croatia. With the family in town, he is likely to be found vacationing on Mackinac Island on Lake Huron or at Walt Disney World in Florida. He's also found the time to recently publish his first book, a collection of short stories called "The Christmas Village and Other Tales of the Magic and Memories of Christmas," which is available on Amazon.
With a wealth of private firm experience under his belt and an expertise in educational law, John Christopher, general counsel, will continue to help shape the future at Monmouth University.
Showcase your feature on your website with a custom "As Featured in Vanguard" badge that links directly to your article!
Copy and paste this script into your page coding (ideally right before the closing