John Muckelbauer – VFW
A call to duty
All too often, those who've served and put their lives on the line all over the world come home to discover that needed support and benefits are hard to find—or even unavailable.
John Muckelbauer, general counsel for the Veterans of Foreign Wars, knows he's one of the fortunate ones. Since leaving the Marine Corps in 1996 following more than 10 years of service including combat duty, Muckelbauer has known exactly where to go to get the benefits he's earned.
He's spread his good fortune with the VFW, which he says functions both as a charity and social welfare organization, lobbying on behalf of veterans to ensure health care and disability needs are met, and that education and employment assistance are available to help them return to civilian life.
That's actually a small slice of his duties, and he's not just following orders to get them done. This service is dedication from his heart.
"I can be part of the team that has a direct impact in turning someone's life around," Muckelbauer says. "Nothing means more to me than making sure no veteran is left behind."
The birth of advocacy
The VFW traces its roots to 1899, as veterans from the Spanish-American War and ensuing insurrection by natives of the Philippines began organizing locally and advocating for rights and benefits from their service.
"Many arrived home wounded or sick. There was no medical care or veterans' pension for them, and they were left to care for themselves," notes the VFW website.
The movement coalesced in chapters that eventually became the Veterans of Foreign Wars of the United States. The VFW was chartered by Congress in 1936. Today, there are more than 1.6 million VFW and Auxiliary members.
From its headquarters in Kansas City, Muckelbauer coordinates the legal issues facing the VFW.
"In today's environment, it is important to have a voice in shaping the strategic vision of the organization," he says. "I work closely with our national commander and others in leadership positions in this regard."
In their efforts, few things stand out as much as the 2019 law expanding benefits to Vietnam veterans and their family members.
A long time coming
The Blue Water Navy Act extends the presumption of exposure to herbicides during the Vietnam War to veterans who served offshore from the Republic of Vietnam.
It's a crucial and perhaps life-saving distinction. It allows Vietnam veterans exposed to defoliants—most notably Agent Orange, which was typically loaded on aircraft to be dropped on enemy territories across the region—to get treatment for diseases associated with the herbicides.
The short list of those diseases includes Hodgkin's disease, non-Hodgkin's lymphoma and Parkinson's disease. The new benefits are also extended to veterans serving in the Korean Demilitarized Zone, and to children of those affected veterans with spina bifida.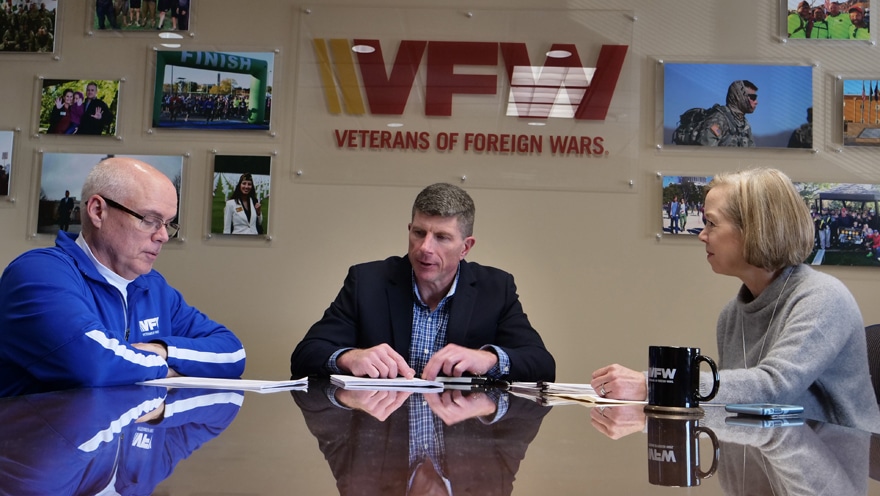 Enacting the legislation was a major victory for the VFW and a team effort made it happen.
"These are veterans who were overlooked for too long, their families, too," Muckelbauer says. "We have a great staff of people who come to work each day with the same mission of taking care of veterans."
Comrades in law
Muckelbauer also relies on a strong network of outside counsel.
Kevin Coventon, a partner at the law firm of Holland & Knight, is one of them, and says few people are better suited than Muckelbauer to guide the VFW's legal mission.
"I've had the privilege of working with John for six years and can confirm that no one does more for veterans," Coventon says. "He's leveraging his Gulf War service, legislative and Labor Department experiences in Washington, D.C., each day."
It's his determination and organization that stand out to Coventon.
"I've seen John routinely tackle unique veteran issues," he says "He assesses the facts and potential outcomes and makes the executive decisions. In sum, he is the right Marine for the job."
Enlisting for a career
Becoming the 'right Marine for the job' as an attorney was hardly Muckelbauer's aspiration when he joined the Marines at 17. He expected it would be a career, with no intention of attending college.
The discipline and hard work that goes into serving changed Muckelbauer's view of himself, he says, and he began taking undergraduate courses through the University of Maryland just as he was deployed to serve in Operation Desert Storm in 1990, as part of a light armored reconnaissance unit.
His advocacy for veterans began when he returned from combat.
"I started working for the VFW in Washington, D.C.," Muckelbauer recalls. "I really loved doing that, and one day my boss came to me and proposed the idea of me going to law school."
Encouraged, he enrolled in the University of Baltimore School of Law, where he earned his J.D. in 2000.
After graduation, Muckelbauer worked at the U.S. Department of Labor's Veterans' Employment & and Training Service. In 2012, seeking to expand the variety of issues he was involved in, he became the first general counsel at the VFW.
"When I started, I was told that every day will be something new," he says. "So far, they have delivered in that promise."
While that promise was met, Muckelbauer is also humbled to be carrying on a long tradition of serving those who have served.
"We've been around this long because of our ability to evolve," he says. "To continue to be an impactful organization we need to ensure we are in a position to not only meet the needs of today's veterans, but are in a position to ensure those we have yet to enter the military will have all the protections they deserve."
Showcase your feature on your website with a custom "As Featured in Vanguard" badge that links directly to your article!
Copy and paste this script into your page coding (ideally right before the closing