Keary Dunn – Celularity
Science and law, intersected
Keary Dunn recognized early on the opportunities and implications of immunotherapy and cellular therapy. As new BS graduate and young neuropharmacology lab technician at Georgetown University, he undertook cutting edge science research.
Specifically, he studied the effects of cocaine and heroin on the immune system, testing the theory—on mice—that such narcotics suppressed the body's greatest defense network.
The purpose of the basic science investigation was not necessarily to come to a conclusion—that is, whether or not narcotics do suppress the immune system—but to understand a little more about the enormous complexity of the human body, Dunn says. Ultimately, he describes the experiment as "more science for science's sake."
More than 20 years later, he has taken the legal helm at a company whose work is not at all science for science's sake—Celularity is truly on a mission to cure cancer (and, more recently, COVID-19) and save lives, says Dunn.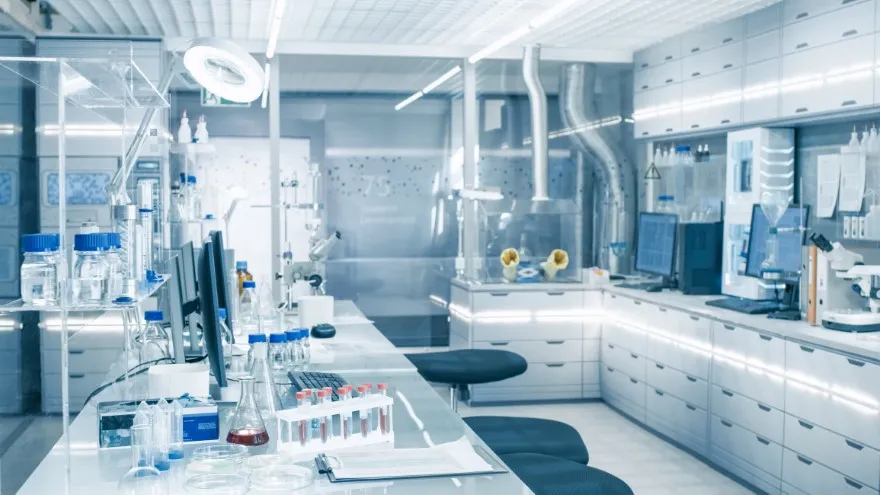 "I believe if we are ever truly going to conquer cancer, it will be by harnessing the immune system, the body's natural defense," says the executive vice president and general counsel. "That's what we're doing here—our goal is to take cellular therapy treatment to another level, to a different place."
New science frontiers
The clinical-stage cellular medicines company has been reaching for those new levels since 2017, when it spun out of pharmaceutical company Celgene. And while Celularity's founding vision was—and continues to be—to alleviate and potentially cure hematologic cancers and solid tumors, it has most recently shifted its sights and efforts to COVID-19.
In early April, shortly after Dunn joined and the U.S. was grappling with methods to contain the disease's spread, the Warren, New Jersey-based company received FDA safe to proceed authorization to perform trials with its product CYNK-001 on those recently diagnosed with COVID-19.
Celularity is now recruiting patients for Phase 1 and 2 trials, Dunn explains, which will evaluate the safety and efficacy of doses (provided through infusion). Those trials are expected to be completed by November.
And while clinical trials with certain cancers—acute myeloid leukemia, multiple myeloma and glioblastoma, for example—have been slowed, they have recently restarted as the company has re-opened post-COVID-19.
"It's really exciting, it's a crazy time, a crazy virus," Dunn says.
And how it works?
As Dunn explains, Celularity is using natural killer cells, or NK cells, harvested from healthy, postpartum human placentas. NK cells are a natural part of our immune system; think of them as security guards constantly circulating to identify virus-infected cells, cancer cells and other stressed or abnormal cells.
When COVID-19 infects a cell, that cell expresses stress antigens, Dunn explains. The NK cell then identifies that antigen, attacks it, and ideally kills the cell. This same exact process goes for cancer cells, he says.
Celularity's work revolves around engineering NK cells to target COVID-19, hematological cancers, solid tumors, inflammatory and age-related diseases.
But as Dunn notes, solutions never come easy; they are the result of hours of tireless work, trials and many failures. "But that's all part of clinical research, is the struggle," he says.
Non-traditional work, a non-linear journey
Dunn's background in neuropharmacology and biochemical pharmacology—disciplines concerned with drug and nervous system interaction—has been a great benefit as Celularity navigates these new scientific landscapes, he says.
After earning his Bachelor of Science degree from the State University of New York at Buffalo, he took the lab tech position at Georgetown. While there, he not only performed his scientific research, but soaked up as much knowledge as he could from everyone around him. Notable among them: Carl C. Peck, a former director at the FDA.
"The beauty of being in an academic environment is you're around a lot of smart people," says Dunn. "I always had a view that your career doesn't have to be linear. I like to think that your career is a journey, take some risk, be nontraditional and enjoy it."
In his case, that included the FDA—at Peck's suggestion—where he served as a regulatory project manager. The experience of shepherding applications through the review process and providing regulatory interpretations sparked his interest in law school, he says, and he went on to earn his JD from George Mason University.
Following in-house positions at Angiotech Pharmaceuticals and Sanofi U.S., he got a big break with pharma giant Novartis. There, he dealt in part, with business and legal issues involving the company's cell and gene unit, which was developing cell therapy treatments for cancer.
"I loved that experience, being part of something truly meaningful, really on the cutting edge of science, legal issues, business issues, everything on the vanguard of everything," he says.
Now, having just joined Celularity in late March 2020—and going through a virtual onboarding because offices were shuttered due to COVID-19—he has been instrumental in helping the company move to the next phase in its life cycle: managing its legal, IP and compliance teams.
His other focus is financing; Celularity, still a startup, recently completed its Series B round of financing, and the company eventually intends to go public, he says.
"I'm not afraid of sitting down and talking to scientists," Dunn says. "I'm thankful to be a part of a really good team here; I'm lucky to have joined a company that's trying to create treatments that will have a meaningful impact on society."
Showcase your feature on your website with a custom "As Featured in Vanguard" badge that links directly to your article!
Copy and paste this script into your page coding (ideally right before the closing