Kirk Berger – National Basketball Players Association
Putting the players first
In the winter of 2016, representatives from the National Basketball Association (NBA) and the National Basketball Players Association (NBPA) met regularly to hash out the league's new collective bargaining agreement (CBA)—five years after contentious negotiations nearly derailed the 2011-12 season.
This time, the two sides were determined to reach a deal. With billions of dollars and myriad demands on the table, that outcome was far from a slam dunk.
Kirk Berger never entered the room where the high-level negotiations were taking place. His role, however, was anything but ancillary.
"There was a team of us in what you could call the "back room", gathering information, doing due diligence and making sure we were putting our best foot forward," says Berger, the NBPA's associate counsel. "There was a lot of number crunching. But every number mattered."
By the numbers
Much of Berger's work involved what he calls "system issues": how player contracts are counted against the team's salary cap; provisions relating to trade kickers (extra cash a player can receive if he's dealt to another team); how so-called "max contracts"—those reserved for the league's top talent—should be structured; and so on.
Throughout the process, Berger spoke regularly with players' agents to understand how certain structural changes might impact their earning potential—and their future.
"The goal was to try and figure out an ecosystem that works best for everyone," Berger recalls. "Every time we make a rule, it's like creating a fork in the road. If we increase max salaries, how does that impact the minimum-salary earners? Or vice-versa. It's an incredibly complicated calculus."
On December 14, 2016, the league's new CBA was ratified, guaranteeing that 51 percent of the league's basketball-related income (BRI) went directly to the players; an improvement from the 2011 CBA where players were guaranteed between 49 and 51 percent of BRI. Additionally, the 2017 CBA saw an increase of 45 percent for players being compensated at the minimum, mid-level and rookie scales.
For Berger, the agreement—and the balancing act it required—represented the culmination of years of hard work. Now, nearly three years later, part of his job is ensuring that balance isn't thrown out of whack.
Due diligence
To ensure teams keep up their end of the BRI bargain, Berger sits down each year before the league's July moratorium—a week-long stretch during which free-agent players are able to negotiate with potential suitors—to conduct an extensive audit of every NBA team's salary.
Accordingly, Berger scours everything from player salaries to performance bonuses and suspension amounts in order to properly determine the salaries for players league-wide.
Once the NBPA knows the exact figure for league-wide player salaries, a portion of the players' salary that was withheld in escrow is returned to the players, ensuring those salaries don't, in the aggregate, exceed that 51 percent limit.
"Everything is taken into account during the BRI audit; from sponsorship contracts to ticket and concession sales, our team is looking for the tiniest discrepancies," Berger says. "It's more than just looking at player contracts. We have an unbelievable team comprised of NBPA staff and outside experts that help us square the numbers."
Best practices
Another bargaining initiative in which Berger is intimately involved is the union's impact studies. According to Berger, the goal of the studies is to create a "backward-looking" tool to determine whether specific CBA provisions yielded a net positive impact for players.
For example, under the 2011 CBA, the Designated Player Criteria for certain "max" players was contingent upon being named to the NBA All-Star Game (whose rosters are based on votes from fans). By contrast, the 2017 CBA stipulated that the criteria be tied to all NBA team selections (voted on by the media).
The new CBA also made changes to the language regarding cap holds, or placeholders, for returning players a team expects to sign in the future. In these and other cases, it's Berger's job to assess how those rule changes played out over the course of the CBA.
"It's about determining the ultimate impact on the ecosystem," Berger says. "Did this benefit more players or not? How many teams does it impact? How many players?"
Agents of change
In concert with these efforts, Berger gives player agents detailed information on things like salary guarantees, trade kickers and player options (where a player can choose to become a free agent despite having a year left on his contract) and other contract specifics.
He's also the go-between when new contracts are being negotiated and haven't been made public. For instance, it's not uncommon for agents to want to see data on players they deem comparable to their clients—to get a better sense of the latter's potential market value.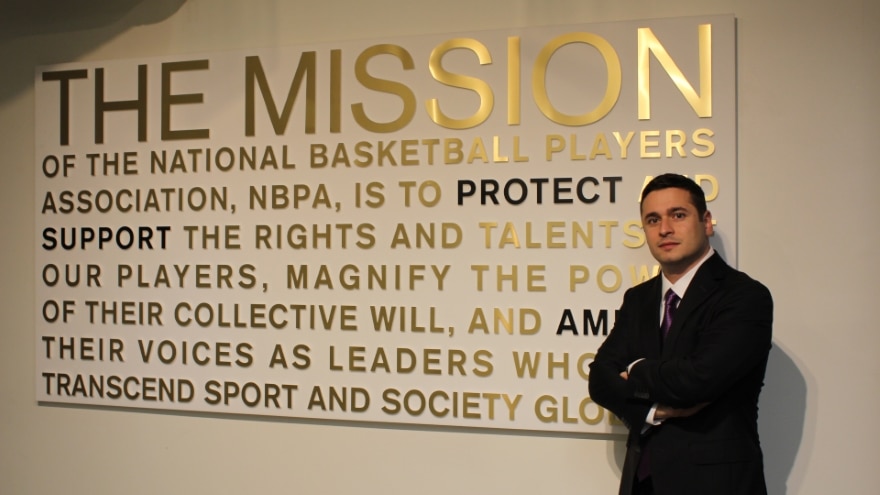 To bolster the relationship between agents and the union, Berger and his team conduct a series of annual agent seminars—in New York, Chicago and L.A., respectively—to better determine best practices going forward.
"The most important thing in negotiating contracts is precedent," Berger explains. "What we do is try to educate every agent so they can negotiate the most money possible on the best terms possible for players."
Players first
That, in turn, requires its own kind of balancing act. According to Berger, the union works to protect the interests of all the players—from the league's top stars to the mid-level and minimum-salary earners—who may sometimes have different views on issues that affect the entire union.
Indeed, Berger says it's critically important to foster a strong collaborative relationship with the union's 30 player representatives (one for each team) and nine-player executive committee—to be a "sounding board for their values and concerns."
It's a role for which Berger is uniquely equipped: Prior to joining the NBPA in 2015, he served in four different NBA-related roles; as a sponsorship intern for the New Jersey (now Brooklyn) Nets; a basketball operations intern and "capologist" (or salary cap expert) for Excel Sports Management; a summer law clerk for the NBPA; and—briefest but not least—a three-month internship with the NBA's front office, where he got a first-hand look at the league's growing analytics movement.
"The money is the money, but there's so much more that we strive to do, and that includes everything from negotiating the CBA's robust array of benefits to providing career development programs to help players transition off the court," says Berger, a lifelong NBA fan now living his dream job. "It always comes back to our players and operating the union through their vision. There's always more we can do."
Showcase your feature on your website with a custom "As Featured in Vanguard" badge that links directly to your article!
Copy and paste this script into your page coding (ideally right before the closing