Rahn Gatewood – Morehouse College
Big gift, big plans
Commencement day is here. After years of textbooks, papers, equations and theories, the next stop is the real world.
So put on the gown, slap a fun message on your mortarboard, settle down into a folding chair for the speeches, and then strut on up to the stage for a handshake and a degree.
But what if, suddenly, in the midst of a keynote speech coming from someone who has made it in the real world, the speaker announces your tab is paid? Completely. Suddenly, there's no student debt to sweat as you make your way forward in life.
The 2019 graduating class of Atlanta's Morehouse College got just this surprise when investor and philanthropist Robert F. Smith pledged a $40 million grant to pay all the tuition bills for everyone.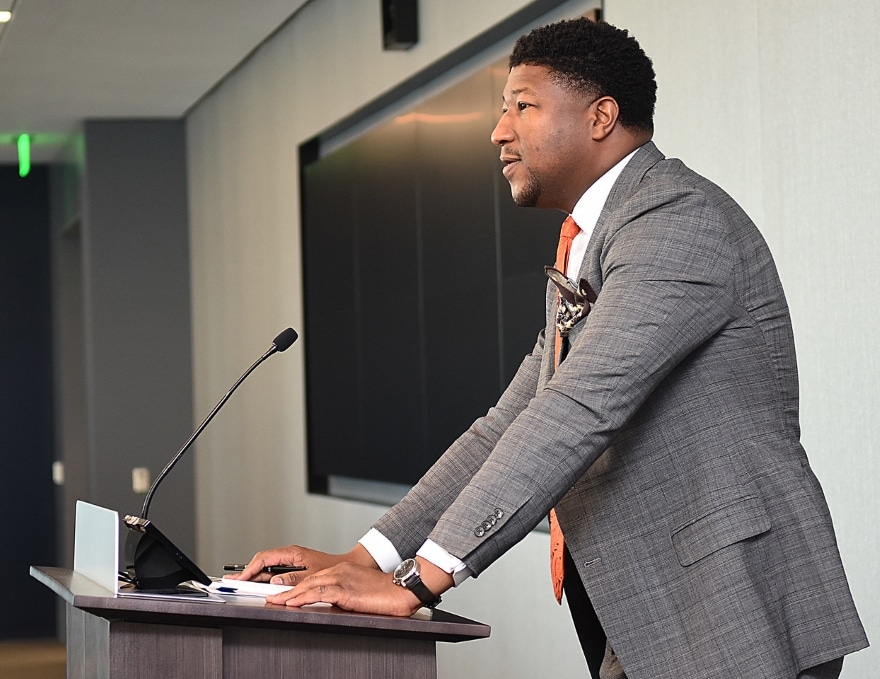 "There was a huge round of applause, then curious head scratching in the same few moments," Rahn Gatewood laughingly recalls.
Gatewood, associate vice president of legal affairs and associate general counsel at the historically black men's college, was one of those scratching his head— it was now up to him and the school's legal department to navigate unique and complicated legal issues to structure contractual terms that would make Smith's generosity a reality.
Answering opportunity's knock
"I knew immediately it would create an exciting and challenging opportunity for my team and me to structure the deal to benefit all the parties involved," Gatewood says.
With the generosity came complexity, he adds, because he and his office had to track who owed what amounts and to what loan servicers, using protected records from the federal Department of Education. The school then needed to contact the potential gift recipients, including 2019 alumni, to verify the data and debt level before any payments could be issued.
"Logistically, it is not easy. With so many moving parts and parties involved, it takes a lot of hands and eyes on deck," Gatewood says. He says drafting the historic gift agreement has been rewarding and inspiring and estimates about 15 lawyers, both in-house and outside counsel, worked on the deal.
Paying it forward
Smith's proposed gift would benefit about 400 students directly, Gatewood says. However, it also spurred Morehouse's board of trustees to take a wider look at student debt at the school where annual tuition, board and housing now cost approximately $50,000.
"Student debt is not a 2019 problem," Gatewood says. "It is a reality for our students and across the country, and I believe this inspired our board to think about student debt differently."
Gatewood says Morehouse is creating new endeavors and scholarships, with a focus on overall student success, as well as promoting financial literacy for its students and their families to help them better understand the impact of student debt.
The board also created the Morehouse College Student Success Program as a structured opportunity for donors to contribute to the success of students and graduates. Alumni and students who benefit from the program will be encouraged to follow Smith's lead and "pay it forward."
And while Robert F. Smiths don't come along every day, Gatewood says the school is hoping a few more may step up.
Opening doors
Gatewood is also among college staff looking to expand opportunities and draw more African Americans to careers in law. On campus, he is implementing an internship program for students interested in a law career, and is also an administrative advisor to the Morehouse chapter of a national law fraternity. The intent is to create networks he did not have.
"Television shows and books shaped my perspective of what I thought lawyers did. I really didn't meet lawyers until I was in law school," he says. "At that time, I didn't know how to build professional relationships, develop a network, or ask the right questions to lawyers."
The internship program allows students to learn what areas of law might appeal to them, and Gatewood emphasizes law school can be a goal no matter the undergraduate major.
"Any degree program that requires students to read, analyze and comprehend a lot of information, and write persuasively, will prepare you for law school, along with good study habits," Gatewood says.
Off-campus, he's on the executive board of the Gate City Bar Association, one of the largest minority bar associations in Georgia. Gate City was founded more than 70 years ago by black lawyers who could not join segregated bar associations in Georgia. It provides legal resources to citizens in need and encourages and empowers African American students to pursue careers in law, while providing financial resources and summer jobs to those who show commitment to community service and academic achievement.
Staying engaged
Whether its high-stake meetings or calls, contracts to review and approve, deals to assess, or litigation that requires his supervision of outside counsel, Gatewood says he stays busy.
"My days are fast-paced, and rarely the same… very non-static, very fluid," Gatewood says. "The pace and complexity of my role requires versatility, creative problem-solving, quick thinking, and a good sense of humor also helps."
Gatewood provides legal support and guidance to the college administration and its 40-member board of trustees and leads compliance efforts for institutional policies and federal regulations. He also keeps students and staff up to date with training on ethics, anti-discrimination and mandatory reporting of alleged sexual misconduct.
"I want to ensure the rights of all students are protected," Gatewood says, "and to make sure our processes are responsive, consistent and fair, with access for all."
Giving back
There are about 100 schools considered to be Historically Black Colleges and Universities, or HBCUs, in the U.S. They opened before the passage of the Civil Rights Act of 1964 that made segregation illegal in schools receiving federal funding.
The youngest of seven children growing up in a no-frills neighborhood in Memphis, Tennessee, Gatewood attended Dillard University in New Orleans, an HBCU, on a full academic scholarship. He earned a Bachelor of Arts in Urban Studies and Public Policy, and credits Dillard for providing the educational, social and cultural cornerstones for his career.
"Urban planning and public policy allowed my exploration of a range of topics," Gatewood says, "including the intersection of law and policy, the operation of city government, political districting and the inequitable accessibility of social services in low income communities. I always expected to become a municipal attorney."
Gatewood then got his Juris Doctor from Atlanta's Emory University School of Law in 2005. He was one of about a dozen black students in a class of approximately about 280 students, and says the experience though culturally challenging, was "equally impactful" on his career for the exposure to a wider world at one of the country's top law schools. He recently joined Emory's faculty as an adjunct professor of law.
Instead of becoming a municipal attorney, Gatewood became a commercial litigation attorney in Atlanta. He was a respected trial attorney for over a decade, but desired to use his skill and experience to do work he found more personally fulfilling. When the opportunity arose to join Morehouse, he saw a chance to begin giving back.
"This was essentially a homecoming," Gatewood says. "The Morehouse mission resonates. For me, one of the most compelling aspects of my experience here is knowing that I have contributed to the success of young African American men who are part of the rich tradition that Morehouse has offered the world for over 150 years. For that, I am grateful."
Showcase your feature on your website with a custom "As Featured in Vanguard" badge that links directly to your article!
Copy and paste this script into your page coding (ideally right before the closing